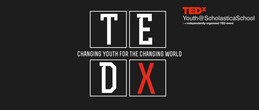 TEDxYouthScholasticaSchool is an independently organized TEDx Youth event operated under license from TED worldwide. The youth may now contribute to a small percentage of our present, but they are 100% our future. It is imperative that we nourish our minds with ideas that make us better human beings- stretching from the depths of business and commerce to the vast field of modern world affairs and humanities. We, are in a mission to spread awareness not of an issue happening but an idea; an idea to think and learn, not only in the box but everywhere else. TEDxYouthScholasticaSchool is the summation of young minds and ideas that instill values, virtues and the urge to excel in the unit that shall be spearheading our future.
Speakers
Speakers may not be confirmed. Check event website for more information.
Adeeb Shams
Chief Executive Officer of Harikken
A charismatic man, Adeeb Shams has the brain and the style of pulling off big ideas and persevere with grit to obtain the goals he desires to achieve.
Ahmed Fahad
Vice President of Pathao
A young man in the dreams of taking Bangladesh places.
Bijon Islam
Chief Executive Officer of LightCastle Partners
Specialized in business model development, financial structuring and inclusive business design with 10+ years of experience in corporate and investment banking (Citi), financial inclusion (Citi Foundation), private, development and public sector consulting. Co-founder and CEO of LightCastle, one of the country's fastest growing data & analytics firm with 175+ projects in 5 years and LC Impact focusing on small business acceleration and impact investments.
Maliha Rahnaz
Lecturer and Activist at North South University
Activist | Lecturer About mental health.
Najmus Islam Albab
Chief Executive Officer of Lighthouse Bangladesh
Najmus Ahmed' is popularly known as 'Albab', a business graduate from Richmond International University, London is Mr. Albab is a Career Leader as well as an entrepreneur. With his 27 years of experience in Banking, RMG, Supply Chain & Distribution, Entrepreneurial leadership, pioneering in some unique industries would love to share his knowledge and expertise with the next generation leaders. He is passionate about the learning and development sector. He is the CEO of a local leading Organizational Development company, Lighthouse Bangladesh He is a Cancer Survivor and The Founder President of 'Bangladesh Cancer Aid Foundation'. He believes in the adage- 'The Power Of Networking Means The Power Of We'
Shehzad Noor Taus
Chief Executive Officer & Co-founder of Gaze Technology Dhaka
Taus is the co-founder and CEO of Gaze Technology, a Bangladeshi-Canadian startup focused on building artificial intelligence and computer vision technologies. He is the recipient of a full ride scholarship called the ILOT at The University of British Columbia, where he's a fourth year computer science student. In the past, he worked at NVIDIA's Intelligent Video Analytics team in San Francisco and IBM's Watson IoT team in Toronto. He is the inventor of a patent pending by IBM Research on an obstacle avoidance technology for self driving cars, filed under the USPTO on March 26 2018, and a recipient of the IBM EPIC Student of the Term award. Right now, he is focused on his vision to turn Dhaka into one of the world's first AI cities.