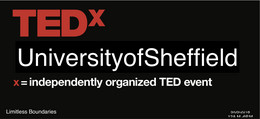 Limitless Boundaries
(A world where everything is possible)
The TEDxUniversityofSheffield is here and we are here with a bang! Our diverse and inspiration rich event will feature some of the best talks of your life from science to arts to global issues to personal development, we guarantee you won't be the same after leaving this event. Come and have an awesome day full of limitless excitement, inspiration, ideas and everything there is to talk about, you name it!
Follow @TEDxUniversityofSheffield on Instagram and @TEDxUoSh on twitter for regular updates
Speakers
Speakers may not be confirmed. Check event website for more information.
Andrew Pain
Motivational speaker
Andrew has 20 years HR and coaching experience and having lived and worked in France, Mexico and El Salvador, he is now based in the UK. Andrew divides his time between his own leadership development business and a homelessness prevention charity in Birmingham. He is the author of "The Impact Code - Unlocking Resilience, Productivity and Influence", the creator of 'Menspace', a support group for male victims of domestic abuse and he delivers speaking and coaching engagements to a varied client base from senior management within the NHS, to repeat offenders and the long term unemployed.
Annalisa Toccara
Freelance journalist
Annalisa Toccara is a freelance journalist, marketer and digital strategist specialising in campaigns. Having graduated with a BA honours from The University of Wales, she has a wide range of industry experience (B2B & B2C) in event management, marketing communications and brand identity. In 2011, she wrote and self-published, her first book Lipstick: A Woman's Best Form of Defence and in 2016, she founded a leading social enterprise (ourmel.org.uk) dedicated to exploring cultural identity, history and talent. In 2017, she launched Sheffield's first Black History Month Festival, an annual month-long arts and cultural celebration in October and became the Vice-Chair of the BAMER hub, Sheffield Equality Hub Network. Annalisa was honoured to receive a Women's Centenary Award for her services to the community by the Lord Mayor of Sheffield in 2018.
Botham Hawkins
Author/Motivational Speaker
In 2017, Bo started 4 Minute Masters, interviewing some of the worlds most successful people. This has lead him to completely changing his life through the power of relationships. He is currently writing his debut book 'The Principle For Extraordinary Relationships'' and gives talks and workshops around the world on the topic. He currently lives in London with his wife Stacey and dog Terrance
Author, Business Negotiator, motivational speaker
Keld Jensen is an internationally recognized expert and advisor on business, communication and negotiation. He works with governments and major corporations toward achieving greater levels of success through optimized solutions to complex problems. Keld's background is primarily in sales and marketing; he has also served as CEO of a publicly-traded Scandinavian company. Born in Denmark, residing in the US and working globally. He teaches at top-ranked universities around the world. These include MBA programs at the Thunderbird School of Global Management, the Baltic Management School (nominated one of the world's 18 most innovative business schools), and Denmark's Aalborg University. He has lecture frequently at Copenhagen Business School, and served as chairman of the school's Center for Negotiation. Mr. Jensen has made more than 200 international TV appearances, contributes regularly to Forbes magazine, and has published hundreds of articles in other major business publications.
Liam Mckelvie
Disability Activist
Liam McKelvie is an upcoming disability activist and motivational speaker who's aim is to spread awareness of and perhaps change social attitudes towards disability. Having lost all four limbs to meningococcal septicaemia aged two he has led a life of having to overcome and adapt to many problems' others would never experience; he has learned to walk using prosthesis and how to write using his remaining upper limbs to name just a couple of examples. Also, having battled with depression and extreme anxiety, he has built a resilient and determined attitude and now feels he is in a place to inspire others, disabled or not, to cope with any problems that have arisen in their life and to encourage them to reach out to their full potential in the face of darkness.
Matt Finch
Primary School teacher
Matt is a primary school teacher based in Sheffield. His interest is in behaviour management and finding new ways of encouraging children to behave in school, within society and at home. The subject is widely debated regularly and Matt believes one particular strategy is not getting the recognition that it deserves.
Michael Conroy
Consultant
Having stammered since a young boy, Michael Conroy has worked hard over the years using the McGuire Technique and has found control. He regularly attends the public speaking club Toastmasters. He graduated from the University of Nottingham in 2015 and University of Sheffield in 2016. He currently works as a Town Planning Consultant for CBRE, a global real estate adviser.
Mike Omoniyi
Activist
Mike Omoniyi is the Founder and CEO of TCS Network. He oversees and is responsible for the direction of TCS Network. Mike is an activist, singer/songwriter and keen athlete. With a degree in Politics Philosophy and Economics, MA in Political Science (Democracy and Elections) and an incoming PhD on a study of Balkanisation, Mike is passionate about politics and the study of argumentation. He is also the Director of OGGM (a christian charity) and consults with various charities and organisations.
Rob Allen
Marketing and reasearch manager
Rob is a climate optimist who passionately believes that climate change can be solved by using the latest in sustainable technology to create solutions that mean we can have zero carbon lifestyles without having to compromise on how we live. Rob's Masters in Global Development with International Political Economy from the University of Leeds led him to specialise in researching the economics of renewable energy projects in Africa. Seeking to apply this background in the economics of sustainability to developing & promoting practical solutions to climate change in the UK, Rob joined Citu, one of the UK's most innovative property developers. Citu have developed the first carbon negative houses to be built at scale in the UK. Rob believes that transforming houses from being one of the UKs largest sources of carbon emissions into a 'carbon sink' can put the UK on course for becoming one of the world's first zero carbon nations.
Stuart Astill
Research Associate/Motivational speaker
Stuart Astill creates innovative insight through strategy and evidence in the UK, EU and around the world. He works with with governments, international organisations, business and the third-sector. Stuart has academic affiliation as Research Associate at the Public Policy Group of the LSE and previously was visiting lecturer in the Department of Politics at the University of Sheffield and on the faculty at Sciences-Po, Paris.