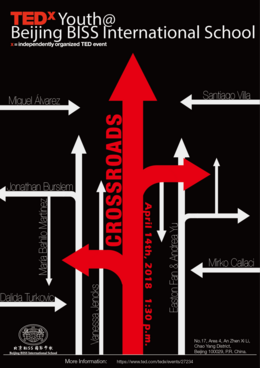 Challenging choices. These two words summarize best who I was, who I am today, and who I will most probably be in the future to come. Hence, this TEDxYouth event is also the fruit of a risk-taking decision that was originated in June 2017 when some of my current grade 12 English B students and I organized BISS Talks. As for our event name today, Crossroads, I have always believed that being in the position to choose something is optimal, even though it might force you to be at a crossroads. Choosing for me is not a concern, but a box full of new opportunities. This is the way I have always measured my personal growth and my lifelong learning.
In his Nicomachean Ethics, Aristotle describes choice as voluntary and preceded by deliberation. Without either of these two characteristics, he stated, we would be acting by compulsion or impulse, which could lead us to a fiasco. The former reminds me of the verses "I am the master of my fate, I am the captain of my soul" from William Ernest Henley's "Invictus", the poem Nelson Mandela used to recite to himself while serving his time in captivity. Definitively, we are responsible for our own life choices. Furthermore, deliberation gives us room to ponder our options before acting, allowing us to choose the best course of action. Although we can still choose poorly even if we do so voluntarily, good choices imply that our reasoning is justifiable, since it is the product of our own thoughts.
This is exactly what all talks today have in common. Many were the crossroads our speakers were at and, subsequently, the many choices they made to overcome the crossroads they faced. Whether the deliberations and subsequent decisions they made, which they are going to share with us today, were good or not, that is for you to decide. Yet I am certain the way they solved the crossroads that they were stood at will help us better understand why we are who we are.
Finally, organizing this event has been a big puzzle, which we have solved to the best of our abilities. Many voluntary decisions have been made after much discussion. Embracing imperfection has been our way to move forward. It has not always been easy and we have faced a few challenges. Nevertheless, the team has enjoyed the journey and we hope that you will be inspired today by our passion. It will be our humble reward if we can also provide you today with some ideas that may help find the direction that suits you best next time you find yourself at a crossroads.
Thank you.
Javier Bahilo
TEDxYouth@BeijingBISSInternationalSchool Organizer
Speakers
Speakers may not be confirmed. Check event website for more information.
Dalida Turkovic
Mindfulness Coach
Dalida has been living and working in Beijing since 1993. With over fifteen years experience in practices of internal martial arts, meditation, and mindfulness, she coaches clients how to connect with resourceful states when dealing with setbacks and change within their personal and professional environment. Dalida is a founder of the Beijing Mindfulness Centre and an author of Mindfulness for Beginners, the illustrated book for mindful parenting.
Easton Fan & Andrea Yu
Grade 5 Students
Easton and Andrea are classmates in grade 5 at Beijing BISS International School. They were both born in Beijing but have lived abroad for parts of their childhood. They are both only children. Andrea loves sketching, tennis and piano. She hopes to one day study architecture and build tall buildings and bridges. Easton loves playing the bass guitar and playing soccer. His favourite foods are sushi, especially salmon sashimi. Andrea and Easton have written a TED Talk on their experiences transitioning to new schools. Easton will be delivering the talk.
Jonathan Burslem
Science & Physics Teacher
Science and physics teacher Jonathan Burslem comes to our event from Beijing BISS International School where he has taught MYP science and DP physics for the last four years. Prior to that he taught in the IB programme in schools in Sudan and Turkey for four years and GCSE and A level physics for sixteen years in the UK. He holds an undergraduate degree in engineering from Brunel University, London and a postgraduate teaching certificate from Nottingham University, UK. He is a keen cyclist and loves exploring Beijing on a tandem with his wife Amina.
María Bahilo Martínez
Grade 10 Student
María was born in Spain. She is a Grade 10 student at Beijing BISS International School. When she was a fifth grader, she moved to Beijing when her parents decided they wanted to explore her adopted sister's ancestral homeland. Since then María has been juggling three cultures, the Spanish culture of her origins, the Chinese culture in which she lives today and the multicultural environment at BISS. Maria is an avid reader and loves travelling with her family. She can play the saxophone, but now she is teaching herself to play the Spanish guitar.
Miguel Álvarez
Business Developer
Starting his career in Spain, Miguel has spent the last fourteen years abroad: France, Uzbekistan and China. Moving from one house to another almost every two years, his wife Raquel and their two children have proved to be adventure travelers. Miguel holds a Master Degree in Engineering of Mining and Energy at the Polytechnic University of Madrid and a Global Executive MBA at the China Europe International Business School (CEIBS) in Shanghai. Miguel has analyzed many new markets, developed a lot of business opportunities (few of them successful), identified new partners and leaded the implementation of several new projects and start-up companies. Passionate for new challenges and learning experiences, Miguel attends our event to share his own ideas with the hope you may find them useful.
Mirko Callaci
Artist
Mirko Callaci was born in Rosario, Argentina. He has achieved international success as a performer and has visited more than 40 countries around the world. Mirko has performed in some of the most important cabaret shows in Europe, such as the Crazy Horse in Paris, Portugal, Germany and Singapore. Lately he has been working on a series of events that includes installations, visual campaigns, creating new concepts using art and technology, setting new trends for companies in China. Mirko is innovating continuously saying keep dreaming, but enjoy the present.
Santiago Villa
Journalist
Santiago Villa is the current China correspondent of Colombia's newspaper "El Tiempo". He was awarded the "Simon Bolivar" national journalism prize, Colombia's most prestigious award in this field, for an investigation about Colombia's armed conflict. He has also been a foreign correspondent in South Africa, Venezuela and Ecuador. He writes for several newspapers and magazines in Latin America, Spain and South Africa.
Vanessa Jencks
Writer and Founder, Innovative Educators
Vanessa Jencks was born in South Carolina. She has been homeless, lived in over 30 homes, and was sexually abused as a child. Identifying as a multiracial American, Vanessa felt comfortable living in an urban area, but in high school she moved to a rural area with very low diversity, and higher than normal poverty. She experienced culture shock for the first time and experienced racism aimed toward her. When she moved to Beijing with her husband and two children, she felt at home among expats and international Chinese for the first time. Since then, she published work in anthologies, became the managing editor of beijingkids magazine, started several blogs, and founded the Innovative Educators community group for passionate educators. She currently works in Human Resource at Beijing SMIC Private School and Kindergarten.