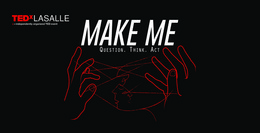 Make Me Think. Make Me Question. Make Me Act. TEDxLASALLE: Make Me, offers you a challenge. To see things from a different perspective and to witness a platform that will act as a catalyst for norm critique.
As the very first TEDx initiative taken by an arts institution in Singapore, TEDxLASALLE: Make Me challenges mindsets with speakers who offer their thoughts on issues present today through their personal experiences. Exploring into the realms of art, adventure, business, social science as well as science & technology, it is time to gather and explore new perspectives and angles. Join us as we kick-start the journey in opening our minds to the ideas less thought about.
Speakers
Speakers may not be confirmed. Check event website for more information.
Becca D'Bus
Drag Queen
Becca D'Bus is a drag queen host, performer, emcee and producer. Currently resident on Saturdays at LuLu's Lounge, and the producer and host of The Glory Hoes present at The Projector. Becca can also be seen about town at various clubs and parties. She is the producer and host of RIOT! which besides its own residency (currently on hiatus) has been presented in various forms at The Singapore Night Festival, The Singapore Theatre Festival and the Neon Lights Festival. Becca has also appeared in plays at the NUS Centre for the Arts, Teater Ekamatra and The Singapore International Festival of Arts. She has never won an amateur contest.
Laurence Vandenborre
Art Therapist
Laurence Vandenborre is the Founder and Managing Director of The Red Pencil, an international humanitarian organisation with a mission to bring the power of arts therapy to children, adults and families who have been through traumatic life circumstances. She is a registered arts therapist, with a background in professional counselling and life coaching. For years, her interest has included working with adults and family dynamics, in a multicultural context, helping them to journey through their challenges towards a happier, more fulfilled and hopeful life. Through her experiences, she witnessed first-hand how arts therapy enables beneficiaries to convey, address and release deep emotions for which there are no words, fostering their journey towards healing and growing. This motivated her to establish The Red Pencil in 2011, which has brought the power of arts therapy to impact over 16,000 beneficiaries in 28 countries to date.
Muhd Ammar Nasrulhaq bin Abdul Karim
Dancer & Visual Creator
A visual creator both on the dance floor and through the lens, Ammar has spent most of his time creating magic for the audience. Driven by adrenaline, he loves pushing and transcending boundaries and believes in experiences more than certificates. He was born hearing but was hit with a high fever when he was an infant, resulting in his loss of hearing. Growing up in both Deaf and Hearing worlds, he witnessed and identifies with many differences and similarities in both of them. Despite his deafness, he has always had a passion for dance since he was young. He has been a member of the Redeafination dance crew since 2011 which has taken his passion to a whole new level. Redeafination (spelt with "Deaf" and "Nation") is an independent hip hop dance club for the Deaf that aims to nurture and develop performing arts talents within the Deaf community. Currently a resident choreographer and instructor in the crew, Ammar hopes to spread his passion for dance to more Deaf youths.
Pamela Ng
Writer & Poet
Pamela Ng is a published writer and poet, arts manager, curator and budding artist. Pamela has written about art both online and in print as well as in the fine art galleries she worked in and managed. She has a professional background in writing, public relations, marketing, communications and advertising. On 7 March 2013, the eve of International Womens' Day, she inaugurated and curated "Celebrating Women", a group exhibition featuring 15 Singapore-based visual artists, musicians and poets, with a portion of proceeds shared with AWARE. Pamela believes in the power of art to transform, heal and empower and looks forward to writing about, creating and curating more art.
Priscilla Boh
Model, Stylist & Make-up Artist
Priscilla Boh is an established stylist, make-up artist and a Singapore plus size model. Graduated from Murdoch University (Perth) with a degree in Media and English; Priscilla has always had a passion for Fashion, Stage, Make Up Artistry and Media production since a very young age. Most recently she put herself on a journey to challenge herself by joining Miss Top of the World International Plus Size Pageant that was organised and held in Singapore. Her intention was to challenge the core values of beauty stereotyped in Asia. She came in 1st runner up in that competition. She has succeeded in leaving a footprint in reevaluating the core values of beauty in the local plus size scene. Over the past 10 years, she has been searching for a platform to advocate self-love and self-acceptance though make up artistry and fashion to others. She also conducts group make up classes to teachers, office executives etc, to motivate ladies to believe in their beauty through make up.
Sarah Bagharib
Social Advocate
Sarah Bagharib is a former documentary producer/director who has worked on a wide range of programmes, from hard-hitting current affairs for Al Jazeera to a series on contemporary artists for Bloomberg TV. After five years of working in TV/documentary production, Sarah decided to try something different and now works as a humanitarian communications officer. Outside her job, she is also a founding member of The Codette Project, a ground-up initiative trying to increase awareness and access to tech for minority women, and currently sits on the Corporate Communications Advisory Committee at the Singapore Muslim Women's Association (PPIS). Sarah's also a social advocate who pushes for all things that empower women. In December 2017, she launched Crazycat, a media platform for the everyday women who are living life serving their own purpose.
Sharda Harrison
Actress and Arts Educator
Sharda Harrison is a Singaporean actress and arts educator who resides in Singapore. Her most recent production are, 'Hotel' by W!ld Rice, 'Medea' by Cake Theatrical Productions, 'Ghost Writer' By The Necessary Stage and "Tropicana the Musical' produced by Tan Kheng Hua and directed by Beatrice Chia. Sharda runs her own theatre and education company, Pink Gajah Theatre which she founded in 2013. Her most recent work under Pink Gajah Theatre is, Temuan (the meeting) which she recently toured to the Perth Fringe festival. She has been nominated numerous times for Best supporting actress at the Life Theatre Awards and recently was part of the winning ensemble for 'Hotel' by W!ld Rice.