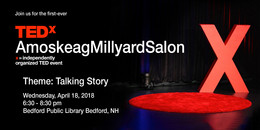 The first TEDxAmoskeagMillyardSalon will be held at the Bedford Public Library on Wednesday April 18, 2018 at 6:30pm.
The goal of the TEDxAmoskeagMillyard salon events is to spread ideas and build community in our corner of Southern New Hampshire. We will be creating space (in a local place) and time (about 90 minutes) to watch TED talks together and have informal facilitated discussion, in person, about the ideas we encounter in the selected talks.
The theme of the first salon is Story. From the time we are children, we know the world through stories. Who decides which stories get told? And how they get told? How do we know we have the right story? Or that it is complete? Join us for this discussion about one of the building blocks of society—story.
Learn more about our Salon events at https://tedxamoskeagmillyard.com/salon/.