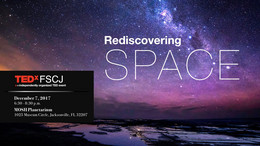 For millennia, people looked to the stars as a source of awe and inspiration. Today, new ventures between private industry and government agencies like NASA have reignited our sense of wonder, prompting many to ask not only when humans will finally reach Mars, but what careers and businesses are experiencing the greatest growth and how ordinary people and science professionals can get involved.
Join TEDxFSCJ as we partner with the Museum of Science & History (MOSH) in hosting a salon focused on how Florida and the First Coast are accelerating the pace of space exploration. The evening's speakers will include NASA engineer Kathleen O'Brady, Lockheed Martin engineer Chelsea Partridge, Professor of Astronomy Mike Reynolds, Made In Space CEO Andrew Rush, and host Jennifer Ruliffson, a student at the University of North Florida.
At the close of the evening, attendees will have the opportunity to look through telescopes positioned atop the museum roof—courtesy of JAX #popscope, the local affiliate of #Popscope, an urban movement of astronomers who host free, "pop-up" events across North America.