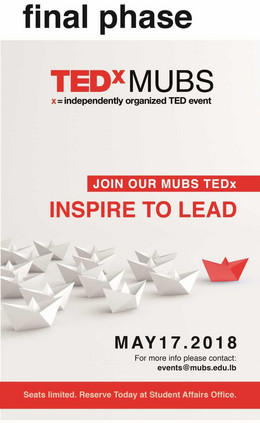 Under the theme Inspire to Lead TEDxMUBS featured a list of inspirational speakers recognized as social entrepreneurs who are changing our community in Lebanon for the better.
Speakers
Speakers may not be confirmed. Check event website for more information.
Anwaar Abu Hamdan
Media personality, Social Entrepreneur
Anwaar's career path has been versatile and extensive, including stints with UNHCR, the United Nations Refugee Agency, management, and social work. She co-founded I Made It Designs, an online store for handmade jewelry, which supports underprivileged communities, through empowerment and expanding opportunities to those in need. She is also a presenter for Klangoo, a firm that supports media companies in achieving their Business and Editorial objectives.
Fadi Fayyad
Zajal poet
While his profession is Sports manager , Fady is dedicated to composing and performing Zajal poetry
Firas Khaddaj
Musician
Guitarist