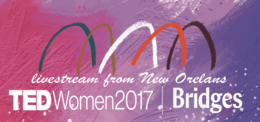 Co-sponsored by TED ED Club and Gender Equality Club, TEDxPineCrestSchoolWomen will feature 3 segments:
Segment 1 | Opening Forum | 8AM-9AM
Featuring guest speaker Evelina Galang, author of the recent book Lola's House, which sheds light on Filipina Comfort Women--survivors who tell their harrowing tales of abduction and rape at the hands of the Japanese during World War II
Segment 2 | Livestream | 9AM - 11AM
Livestream of TEDWomen2017 from New Orleans
Segment 3 | Audience Talkback | 11AM-12PM
Audience members will have an opportunity to engage in a talkback moderated by TED Ed Club and Gender Equality Club members
Speakers
Speakers may not be confirmed. Check event website for more information.
Writer / Professor
M. EVELINA GALANG has been named one of the 100 most influential Filipinas in the United States and at-large by the Filipina Women's Network. She is the author of the story collection Her Wild American Self (Coffee House Press), novels One Tribe (New Issues Press), and Angel de la Luna and the 5th Glorious Mystery (Coffee House Press), and the editor of Screaming Monkeys: Critiques of Asian American Images (Coffee House Press). Her most recent book, a creative nonfiction work documenting the testimonies of WWII "comfort women", is Lolas' House: Filipino Women Living with War (Curbstone Books/NUP). Among her numerous awards are the 2004 Association of Writers & Writing Programs (AWP) Prize for the Novel, the 2007 Global Filipino Literary Award for One Tribe, the 2004 Gustavus Myers Outstanding Book Awards Advancing Human Rights, and a 2002 Senior Research Fellowship from Fulbright. Galang directs the MFA Creative Writing Program at the University of Miami.