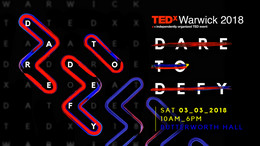 Defiance. Refusing to obey. Striding into the unknown.
In today's society, we face a plethora of expectations, stereotypes, and standards which impede the development of our individuality. But what if we rejected these externally imposed conditions? What if we defied societal standards? What if we chose to live free of expectations?
Celebrating its 10th anniversary, TEDxWarwick honours those who have revolutionised our society and continue to do so. Those who have redefined 'the possible'. Those who have taken risks and acted against the norm. Our aim is simple: to spread the ideas of these daring individuals and to inspire you to go beyond the ordinary. This year, we choose to outclass the orthodox, surpass the standard, and challenge the conventional. Will you join us? We dare you.
Speakers
Speakers may not be confirmed. Check event website for more information.
Avivah Wittenberg-Cox
Avivah Wittenberg-Cox is an author and authority on leadership, gender and business. She is also CEO of a leading gender consultancy, 20-first, that works with progressive global companies to gender-balance their workforce. Having witnessed significant advances toward gender equality, she is keen to help others fulfil their relationship potential and defy the traditional notion of choosing one partner for life. Her latest book Late Love explores the notion that everyone may have three mates during their life; their first love, their spouse and co-parent to their children and finally their soulmate. Building on that idea, Avivah focuses on the third phase of love—a deep, wise and nourishing relationship—and encourages women to reevaluate and redesign their relationships.
Climate change scientist
Professor Corinne Le Quéré FRS is the Director of the Tyndall Centre for Climate Change Research and a Professor of Climate Change Science and Policy at the University of East Anglia. In 2017, she chaired the International Panel of the 'Make the Planet Great Again' campaign led by French President Emmanuel Macron, which awarded grants to outstanding climate scientists around the world. Le Quéré also initiates and directs the yearly update of the Global Carbon Budget, a publication by the Global Carbon Project which aims to inform readers about the latest developments in global and national carbon cycle changes. A member of the UK Committee on Climate Change and author of the 3rd, 4th and 5th Assessments of the Intergovernmental Panel on Climate Change, Corinne has contributed to advances in the quantification of the causes and trends of atmospheric carbon dioxide as well as the use and development of carbon cycle models in carbon budgets.
Harnaam Kaur
Model + body-positivity activist
Harnaam Kaur, also known as the youngest woman in the world to have a full beard, is a body positivity advocate, anti-bullying activist, model and world record holder. Born in England, Harnaam was diagnosed with Polycystic Ovarian Syndrome, causing an imbalance of hormones, and spent her youth removing the unwanted body hair to avoid taunts from her peers. However, after years of hiding, at the age of 16 she decided to embrace her body and today is a spokesperson on diversity and self-acceptance. Harnaam has walked London Fashion Week, and has contributed to the House of Parliament on mental health, body image and LGBTQIA issues. Recently, Harnaam created a report on social media and body image for the British Council Youth Select Committee.
Jamie Whyte
Politician + author
Dr Jamie Whyte is a Director of Research at The Institute of Economic Affairs (IEA), a free market think tank, based in London. Dr Whyte is also a former leader of ACT New Zealand, a free market political party of New Zealand, from which he resigned upon an unsuccessful attempt to be elected to parliament in the 2014 general election. In his wide-reaching career, Dr Whyte has worked as a management consultant, philosophy lecturer and has authored numerous books, including 'Quack Policy' (2013), 'Free Thoughts' (2012), 'A Load of Blair' (2005) and 'Crimes Against Logic' (2004). He won the Bastiat Prize for Journalism in 2006 and was runner-up in 2010 and 2016.
Kriti Sharma
AI technologist
Kriti Sharma is an AI technologist and one of the leading executives in the chatbots industry. At the age of 15, she built her first robot and has been developing AI technologies ever since. Currently, Kriti oversees bot development and AI at Sage Group, one of the largest tech companies in the UK. She is also an inventor of Pegg, the world's first accounting chatbot for entrepreneurs, startups and enterprises. In 2017, Kriti was named in the Forbes magazine's '30 Under 30' list and was included in the 'Recode 100' list of key influencers in technology alongside Elon Musk, Jeff Bezos and Mark Zuckerberg. She was also recognised as a Civic Leader by the Obama Foundation for her work in ethical technology and she recently advised the UK Parliament in the House of Lords on AI Policy.
Matthew Johnson
Matthew Johnson is Professor of Atmospheric Chemistry at the University of Copenhagen and co-founder of and Chief Science Officer at Airlabs, a company made up of a team of atmospheric chemists and airflow engineers devoted to reducing people's exposure to air pollution; they do this by designing flexible, low powered, low maintenance air cleaning installations.
Plasma physicist + Communications Consultant at Tokamak Energy
Melanie is the Communications Consultant at Tokamak Energy—a pioneering company aimed at the development of Nuclear Fusion Energy technology. They are designing the first fusion reactor, called ST40, to achieve commercial nuclear fusion power. If successful, the ST40 will reach 100 million degrees—the temperature required to fuse charged atoms and generate large amounts of energy. Melanie holds a PhD in Plasma Physics from Imperial College London where she worked in research surrounding the tokamak, the device in which the fusion of charged particles takes place. She is the author of a book on fusion energy, entitled 'Star Chambers: The Race for Fusion Power', and of the popular science book 'Aurora: In Search of the Northern Lights'.
Polar adventurer
Diagnosed with Muscular Dystrophy at the age of 18 in 1984, Michael made history 20 years later by becoming the first—and only—disabled person to lead expeditions to the North and South Poles. The journey gave rise to a new life trajectory which propelled Michael into a vibrant career as founder and CEO of The Muscle Help Foundation, a multi-award winning family charity that delivers transformational experiences to children with muscular dystrophy. Michael was recognized by the Queen in 2004 for his 'contribution to national life' and received the '2005 Business Traveler of the Year Award' in Dubai. A Paralympic Torchbearer in 2012, he was named one of the most influential disabled people in Britain, featuring in 'Power 100' 2016 and 2017.
Campaigns manager at Open Rights Group
Michael Morel is a campaigner for the Open Rights Group (ORG), an organisation which serves to defend our personal rights and freedoms in the digital sphere. Michael is equipped with an MA in Government as well as BAs in Political Science and Physical Anthropology and has previously worked as a media reform advocate, having written on topics such as net neutrality, political polarisation and media bias. Currently, Michael runs ORG's digital campaigns and provides support to local ORG groups across the country.
Pragya Agarwal
Dr Pragya Agarwal is a creativity coach, social entrepreneur and academic. As a trained Architect, and with a PhD in GIS and Spatial Cognition, she has worked in some of the top UK Universities. Pragya is a founder and CEO of The Art Tiffin, the social enterprise which campaigns for creativity to address mental health, loneliness and isolation, and a STEAM-based model of education, promoting the value of nurturing creativity in children. As a creative strategist, she works with organisations and individuals to foster a culture of creative thinking to create innovation. Pragya is also an artist and she writes about the sense of place, design and creative thinking for The Guardian, Telegraph, Huffington Post, and Thrive Global amongst others.
Data scientist
A Harvard-trained economist, former data analyst at Google and New York Times writer, Seth Stephens-Davidowitz has devoted the past four years to perusing anonymous Google search histories, Facebook posts and other digital platforms. By delving into the deepest recesses of this big-data goldmine, Seth's bestselling book 'Everybody Lies' offers groundbreaking insight into the anxieties, desires and prejudices which lurk in the deepest recesses of the human psyche.
Temi Mwale
Founding Director of The 4Front Project
Temi Mwale is the founder of the 4Front Project, a youth-led enterprise aimed at finding solutions to street violence that is targeted at young people. The organisation is built on the principles of handling violence with compassion and finding the root cause of violence through holistic, community-based intervention programmes. The 4Front Project empowers the youth to proactively tackle street violence and has so far engaged 365 young people who have been victimised by serious youth violence (SYV). Temi was named in Forbes' second annual '30 under 30 Europe' list in the Social Entrepreneur category for the impact she has made through social entrepreneurship.
Founding trustee of The Bhopal Medical Appeal
Tim Edwards is a founding trustee of The Bhopal Medical Appeal (BMA), an organization that funds medical relief in Bhopal, devoted to aiding chronically-ill survivors of the gas disaster. In 1984, half a million people were exposed to a lethal gas that escaped a Union Carbide plant in Bhopal, India. Tim was inspired by the strength of the survivors after visiting the city 15 years later, and has been advocating on behalf of Bhopal ever since, advising on the social, legal, environmental and medical complexities of Union Carbide's disaster. The BMA currently supports the Sambhavna medical clinic and the Chingari Rehabilitation center. Both clinics provide direct treatment and support to over 70,000 gas and toxic water-affected people.
Photographer
Tim Flach is an acclaimed animal photographer with an interest in the way humans regard animals, derived from his concerns with anthropomorphism and anthropocentrism. He is the author of the books 'Endangered', 'Evolution', 'Equus', and 'More Than Human'. His projects are well-known for the originality that they bring to conceptually capturing animal behavior and characteristics, and have been displayed all over the world, from Japan to Russia to the United States. Tim's latest major body of work, titled 'Endangered', is a powerful visual record of animals that find themselves on the edge of extinction.