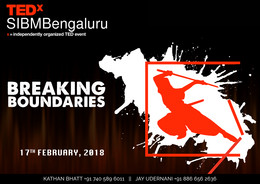 In continuation with previous theme 'Beyond Imagination' this theme elevates us to the next stage of the journey – doing something which challenges the status quo. The ever-changing ebb and flow of human history, technology, and even ideology is all taking us to what is next. The only true boundary lies between day and night, between hope and loss and between life and death. The real struggle lies beyond boundaries.
The history of mankind reveals that walls and boundaries were created by humans themselves. As we have been progressing over the course of time, we have discovered that the creative solution is how we actually transform and transcend our limitations – unleashing the power of our minds.
Be it Demonetization, GST and emerging technological disruptions like Bitcoin and Hyperloop.
Speakers
Speakers may not be confirmed. Check event website for more information.
Dabboo Ratnani
Celebrity Photographer
Gaurav Tripathi
Poet, Writer and Screen-Writer
Nitesh Kadyan
Co-Founder, Graviky Labs
Pandit Debashish Bhattacharya
Classical Musician
Protik Banerji
Space Technology Start-Up
Punita Arora
Lieutenant General of Indian Armed Forces
Radhabinod Barman
Chief Statistical Officer of India
Sandip Soparrkar
Celebrity Choreographer
Sanjeev Kapoor
Celebrity Chef
Celebrity Chef & Padma Shri Awardee. Sanjeev Kapoor has been one of the most influential chefs in shaping the culinary landscape in India.
Saurabh Taneja
CEO - Akanksha Foundation
Shilpi Kapoor
Social Enterprenuer
Tukaram Mundhe
Renowned IAS Officer
Yahya Bootwala
Writer and Poet