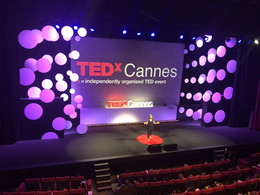 Remember your first step, when you set out to conquer the world. The discovery was so exhilarating.
Going out of ourselves, of our culture, our comfort zone… We are ceaselessly encouraged to push our limits, as if all the wealth were outside.
It would be enough maybe to return in oneself. Concentrate ourselves to find our peculiarity, but not get lost… Know each other to know better the Other one and get his substance.
Every experience is a round trip between our heart and the unknown. Lift the hood / close the lid. Build a shelter / expose oneself to winds. Frame / Experiment.
September 15th of this year, let's come to the Palais des Festivals in Cannes to cross your borders... or simply return back to what is essential.
Speakers
Speakers may not be confirmed. Check event website for more information.
Carl-Magnus Helgegren
Original Father
Carl-Magnus Helgegren is a former freelance journalist. He has also worked as a sailor, dj, taxi driver, bartender. He currently works as a software and concept developer and runs a bed and breakfast in Luleå, Sweden. Carl-Magnus is the father of two teenagers: Frank, 15 and Leo, 14 years old. He has applied an original way to empower them: he lets the teenagers make their own decisions by taking in the real world on location: the wild forest or a war zone. Frank and Leo educated themselves and formed their own opinion which led to global debate and media attention.
Navi Radjou
Bestselling author and advisor to global leaders
Navi Radjou is a thinker, advisor in innovation and leadership based in the Silicon Valley. He is a Fellow at the University of Cambridge's Judge Business School. He has spoken at TED Global 2014 and won the 2013 Thinkers50 Innovation Award. He is the co-author of three bestsellers: Jugaad Innovation, From Smart To Wise, and Frugal Innovation published by Diateino. His next book, Conscious Society, will be published in 2019. Born and raised in India, he holds dual French-American citizenship.