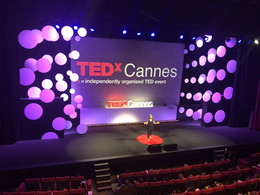 Remember your first step, when you set out to conquer the world. The discovery was so exhilarating.
Going out of ourselves, of our culture, our comfort zone… We are ceaselessly encouraged to push our limits, as if all the wealth were outside.
It would be enough maybe to return in oneself. Concentrate ourselves to find our peculiarity, but not get lost… Know each other to know better the Other one and get his substance.
Every experience is a round trip between our heart and the unknown. Lift the hood / close the lid. Build a shelter / expose oneself to winds. Frame / Experiment.
September 15th of this year, let's come to the Palais des Festivals in Cannes to cross your borders... or simply return back to what is essential.
Speakers
Speakers may not be confirmed. Check event website for more information.
Arthur Le Vaillant
Navigateur
Navigateur, sportif de haut niveau et entrepreneur, Arthur Le Vaillant est un compétiteur hors pair depuis son plus jeune âge. Déjà doté d'un riche palmarès, dont la 2ème place sur la Transat Jacques Vabre en 2017, il est arrivé 4ème de la Route du Rhum 2018, une performance pleine de promesses, pour une première transatlantique en solitaire. Il se vit comme Ambassadeur des Océans, qui est source de liberté mais aussi de devoirs.
Blaise Benghiat
YouTuber, vidéaste, activiste
Blaise Benghiat utilise YouTube pour aborder les sujets de l'adolescence et de la sexualité sur sa chaine YouTube « La ChroNique » tout en proposant des interventions en milieu scolaire lors d'ateliers d'éducation populaire. A travers un langage courant et facilement accessible, Blaise démystifie des sujets souvent tabous pour permettre aux jeunes générations de les appréhender de manière ludique et non conventionnelle.
Carl-Magnus Helgegren
Original Father
Carl-Magnus Helgegren is a former freelance journalist. He has also worked as a sailor, dj, taxi driver, bartender. He currently works as a software and concept developer and runs a bed and breakfast in Luleå, Sweden. Carl-Magnus is the father of two teenagers: Frank, 15 and Leo, 14 years old. He has applied an original way to empower them: he lets the teenagers make their own decisions by taking in the real world on location: the wild forest or a war zone. Frank and Leo educated themselves and formed their own opinion which led to global debate and media attention.
Estelle Cruz
Architecte
Diplômée Architecte d'Etat en 2014, Estelle Cruz a effectué un tour du monde du biomimétisme en architecture. Durant une année, elle s'est formée à la pratique et recherche fondamentale dans ce domaine via des collaborations au Zimbabwe (Mick Pearce), Nouvelle Zélande (Maibritt Pedersen Zari), à l'Université de Kyoto (Satoshi Sakai) et MIT (Lidia Badarnah). Actuellement en thèse au CEEBIOS et au sein du laboratoire MECADEV du Muséum d'Histoire Naturelle à Paris (MNHN), elle poursuit ses recherches en biomimétisme pour le développement de façades multirégulantes en s'inspirant du vivant.
Linda Bedouet
Néo-paysanne et auteur
Linda fait partie de cette nouvelle génération d'agriculteurs qui se défait des pratiques d'exploitation intensive de ces 50 dernières années pour favoriser l'agro-écologie et la permaculture. Elle promeut la micro-agriculture, la biodiversité ainsi qu'une dynamique collective et a publié un ouvrage de référence « Créer sa micro-ferme – Permaculture et agroécologie » préfacé par Pierre Rabhi et Nicolas Hulot et publié aux Editions Rustica.
Mehdi Tayoubi
Explorateur en innovation
Mehdi Tayoubi co-dirige la mission ScanPyramids qui a mis en évidence un grand vide « the ScanPyramids Big Void » d'une longueur d'environ 30m dans la pyramide de Khéops. Pour cela, il a conduit une mission interdisciplinaire composée de 3 équipes de physiciens qui ont utilisé les particules cosmiques appelées muons et la 3D pour aboutir à cette découverte majeure annoncée dans la revue Nature en novembre 2017. Tous ensemble ils ont démontré comment le retour sur enthousiasme (ROE) précède le retour sur investissement (ROI) pour faire avancer de nombreuses disciplines et tenter de percer un mystère de plus de 4500 ans.
Navi Radjou
Bestselling author and advisor to global leaders
Navi Radjou is a thinker, advisor in innovation and leadership based in the Silicon Valley. He is a Fellow at the University of Cambridge's Judge Business School. He has spoken at TED Global 2014 and won the 2013 Thinkers50 Innovation Award. He is the co-author of three bestsellers: Jugaad Innovation, From Smart To Wise, and Frugal Innovation published by Diateino. His next book, Conscious Society, will be published in 2019. Born and raised in India, he holds dual French-American citizenship.