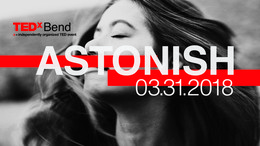 THIS YEAR HAS BEEN WILD. THE DIN CAN BE NUMBING. THE PUSH FOR ACTION CAN BE PARALYZING. BEING HUMAN CAN BE OVERWHELMING. LET'S THINK TOGETHER. LET'S SIT IN A ROOM TO SHARE IDEAS. LET'S RISE TO THE OCCASION TO HAVE THE CONVERSATIONS. LET'S HAVE AN EXPERIENCE TO PUSH US, INSPIRE US, AND ASTONISH US.
Sparked by the celebrated TED conferences worldwide, TEDxBend is our very own locally organized event featuring talks and performances under 18 minutes each. TEDxBend exists to connect emergent ideas with people, and people with each other to provoke change at an individual, local and global scale.
Join us for our 7th annual event March 31, 2018: Astonish. Bend Senior High School 12:30-6:30 pm.
Premium Seating: $68 | General Admission Seating: $40 | Student Fee: $15 | Young Professionals: 20% Off Premium and General Seating.
Idea Social, with heavy appetizers and beverages following the event: $25
TEDxBend is a 501(c)3 non-profit dedicated to ideas worth sharing.
Speakers
Speakers may not be confirmed. Check event website for more information.
Aisha Fukushima
Performer
Anjali Bindra Patel
entrepreneur
Anna Dolce Dolce
Coach
Bend Camerata
singer
Christina "CK" Kerley
Futurist
Cylvia Hayes
Author
Daniel Wendler
Author
Erik Kancler
lobbyist
Hillary Hurst
Therapist
Joseph Bonneau
Educator
Katherine Center
Writer
Author Katherine Center writes bittersweet comic stories about how we fall down — and how we get back up. "Reading a book by Katherine Center is like having a long lunch conversation with an old friend you haven't seen for a while — familiar, cozy and satisfying in the most soul-nourishing way," says The Dallas Morning News. Her novels have won several awards, appeared in several reputable media outlets, and been published in translation all around the world. Katherine lives in her hometown of Houston, Texas, with her husband, two fun kids, and their fluffy-but-fierce dog.
Kyleanne Hunter
Consultant
Praveen Moman
Conservationist
Ravina Kullar
Doctor
Shannon Stowell
Adventurer
Temple Under the Stars
Singer