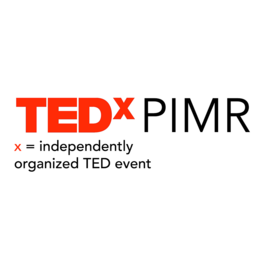 Young minds are flames of change, and their ideas unattended are flames that burn to their own destruction.
TEDx was created in the spirit of TED's mission, "ideas worth spreading."
TEDxPIMR is an initiative to send out endless ripples of ideas, innovations, and constructive opinions into the young minds.
Under our theme at TEDx PIMR- "Deciphering the code" we aspire to decrypt the code behind your powerful thoughts, ideas, and innovations from various and varied strata, like yours, in order to help aspiring minds make their way into the desired field and in life.
The talks will be focused on fresh, unorthodox and consequential topics from diverse backrounds of speakers .
What has made TED, a pioneering global venture is it's authenticity and vision. At TEDx PIMR we ought to bring an outer world experience in order to inspire people with transformative potential of the human mind.
Because if not us, WHO? And if not now, WHEN?
Speakers
Speakers may not be confirmed. Check event website for more information.
Journalist/ Founder: Crowdnewsing
Bilal Zaidi, the founding member of crowdnewsing, is a dedicated individual passionate to bring about social change and create impact through the changing phase of journalism.
Deval Verma
Metal Artist
Deval Verma, is an Metal Scrap artist whose work breaks all stereotypes. With the objective of 'taking trash, making treasure', he transforms metal scraps into pieces of art that are beautiful beyond words.
Freishia B
Youtuber/ Actress
Freishia B is a woman of many talents, along with being the host of the famous YouTube channel Whack, she also has over 10 years of theatre experience, 4 international feature films, 100s of corporate events and dozens of Indian TV commercials to her name, she is committed to leave her impact.
Joyita Mondal
Transgender Judge
Joyita Mondal is India's first transgender judge and stands as an epitome of hard work, dedication and perseverance. Her work ignites hope for transgenders all around the world.
Kapil Jadhwani
Food Blogger
Kapil is a food enhusiast and one of indore's most loved social media influencers. His instagram page- indore food explorer has 110,000 followers and is growing every day. He is a pioneer of food photography in indore, by starting his venture while in his first year of college. His journey of analyzing the public demand and creating his own market is truly inspirational.
Kunal Chandiramani
Developer
Kunal Chandiramani is a 14 year old programming prodigy who has 2 successfully running websites to his name. His talent has made him the winner of a number of tech programs, and his achievements are increasing by every passing day. Surely he's nothing less then a wonder
Prachi Agrawal
Clinical Phycologist
Prachi Agrawal is a clinical psychologist and the founder of DISHA. Her organization deals with counseling, psychotherapy, psychological assessment and group workshops on various issues of relevance conducted throughout the city.
Pratik Uppal
Public Speaking Coach
Pratik Singh Uppal is a speaker whose words drill knowledge and wisdom into the minds of his listeners. His passion for delivering speeches has taken him a step closer to making a world record for most speeches delivered in 24 hours
Entreprenuer
He is a 21 year old speaker who has already spread his wings in over 12 countries. He has grasped knowledge from world's best influences and mentors, is is spreading that at global platforms.
Sanjay Singh
Water Conservative
Mr. Sanjay Singh is the Secretary of the Parmarth Seva Sanstha and is highly devoted for its advocacy, liasoning and management issues. At present, he is also coordinating Jal-Jan Jodo Abhiyan as National Convener. He has successfully conducted hundreds of programs in the dry region of Bundelkhand.