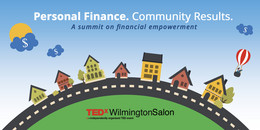 The salon's theme is inspired by Mary Dupont's TEDxWilmington 2016 talk. Mary is the director of Financial Empowerment at the Delaware Department of Health and Social Services which administers $tand By Me in partnership with United Way of Delaware. $tand By Me is statewide financial empowerment partnership focused on increasing financial well-being for all Delawareans.
The salon will feature speakers who are involved in groundbreaking work in the field of personal financial security. Attendees will hear from 15 educators, nonprofit leaders, public officials, employers and researchers who agree that without financial security, Americans are held back from achieving higher-level goals in life.
Speakers
Speakers may not be confirmed. Check event website for more information.
Alexandra Bastien
Senior Program Associate, PolicyLink
Alexandra Bastien is a Senior Program Associate at PolicyLink – a national research and action institute dedicated to advancing social and economic equity. In her role, she works to lift up policy solutions pertaining to wealth inequality across the nation. She conducts research, provides technical assistance and helps to lead program strategy related to asset building and equitable economic development. Prior to joining PolicyLink, Bastien was a 2012-2013 cohort member of the Proteus Fund Fellowship for Diversity in Philanthropy, and served as the Co-Executive Director of the National Black Women's Society, Inc. Alexandra earned a B.A. in Communications from Boston College and a Master of Public Policy from the Heller School for Social Policy and Management at Brandeis University
Anna Maria Chávez
Chief Strategy Officer, Senior Vice President for External Affairs, National Council on Aging
Anna Maria Chávez is a lawyer, celebrated speaker, and award-winning thought leader. She has been named one of FORTUNE's World's Greatest Leaders brings a wealth of experience from legal, public policy, non-profit management, and brand management positions in Arizona, Texas, Washington D.C., and New York City. Today, she continues her public service as the Chief Strategy Officer and Senior Vice President for External Affairs of the National Council on Aging based in Washington DC. From 2011-2016, Chávez was the first woman of color to lead the iconic Girl Scouts of the USA in their 104-year history where she led an era of historic brand and organizational transformation.
Denise Freeman
Program Manager, $tand by ME and Program Director for NCALL Research, Inc.
Denise Freeman, Program Manager for $tand by ME Financial Empowerment and Program Director for NCALL Research, Inc. with over 18 years experience in credit, budgeting housing counseling and financial coaching. Her passion and drive has always been about ensuring access to resources and financial tools to achieve financial success. Denise earned her Bachelor of Science Degree in Human Resource Management from Wilmington University and is a Board Member for the Delaware Federation of Housing Counselors, Dover Federal Credit Union and Diamond State Community Land Trust. Denise is published in the NeighborWorks Works Practical Solutions: Building Bridges to Success for Immigrants.Denise and her husband are military transfers
Irene Lee
Director, Family Economic Success (FES) unit, Center for Community and Economic Opportunity, Annie E. Casey Foundation
Irene Lee is Director of the Family Economic Success(FES) unit in the Center for Community and Economic Opportunity at the Annie E. Casey Foundation, a private foundation that works to build better futures for disadvantaged children and their families in the United States. She has been a member of the Foundation's Committee of Managers since 2004. Lee has more than two decades in philanthropy – including at the Eugene and Agnes E. Meyer Foundation and The Cleveland Foundation. She has developed expertise in housing and community development, community capacity building, adult education and workforce, children of immigrants and immigrant economic integration.
Javier G. Torrijos
Chair, Delaware Hispanic Commission
Javier Gilberto Torrijos, P.E. is the Chair of the Delaware Hispanic Commission, a volunteer task force, appointed by the Governor to recommend strategies and policies that support equity and fairness for the Hispanic residents of Delaware. In his day job, Javier is a registered Professional Engineer in the State of Delaware with over thirty years of experience in Roadway and Bridge construction management. He is the Assistant Director of Construction for DelDOT. Mr. Torrijos is a member of the American Society of Highway Engineers (ASHE) First State Chapter. He received his Bachelors of Science in Civil Engineering from Drexel University in 1987.
Jonathan Morduch
Author, Faculty, New York University
Jonathan Morduch teaches at New York University where he focuses on the connections between finance, inequality, and poverty. Together with Rachel Schneider, he's an author of The Financial Diaries: How American Families Cope in a World of Uncertainty. The book tells the stories of working families in four regions of America and how they made ends meet over the course of a year. Their stories and data open new (and sometimes surprising) perspectives on how families today earn, spend, save, borrow, and deal with ups and downs. Morduch has also written on microlending and global poverty. Morduch received his BA from Brown, Ph.D. in Economics from Harvard, and an honorary doctorate from the Free University of Brussels.
Kara Walker
Cabinet Secretary for the Delaware Department of Health and Social Services (DHSS)
Dr. Kara Odom Walker is Cabinet Secretary for the Delaware Department of Health and Social Services (DHSS). She has a chemical engineering degree from the University of Delaware, her medical degree from Jefferson Medical College, a Masters of Public Health from Johns Hopkins and a Masters in Health Services Research from UCLA. She is a board-certified family physician who has provided care to uninsured and underserved populations. Secretary Walker previously worked as Deputy Chief Science Officer at the Patient-Centered Outcomes Research Institute (PCORI) in Washington. As DHSS Secretary, she is charged with keeping Delawareans healthy, ensuring they get the health care they need, and providing children, families and seniors with essential social services. She and her husband have two children.
Kevin Gilmore
Sussex County Habitat for Humanity
Kevin has served with Habitat for Humanity for 25 years. He started by volunteering with the Campus Chapter at Elon University in North Carolina. After college, Kevin worked with Habitat International at their headquarters in Americus, Georgia. From there, he went on to serve with Habitat for four years in Guatemala. In 2003, he served as a graduate student with Public Allies Delaware focusing on non-profit management and building volunteer programs. After earning his Master of Public Administration degree at the University of Delaware, Kevin came to work with Sussex County Habitat for Humanity in 2004 as their first paid employee. The organization engages over 3500 volunteers a year to carry out its mission of building homes, communities and hope
Luke Rhine
Director of the Career and Technical Education (CTE) and STEM workgroup, Delaware Department of Education (DDOE)
Luke Rhine is the Director of the Career and Technical Education (CTE) and STEM workgroup at the Delaware Department of Education (DDOE). He is responsible for leading the development, implementation, and continuous improvement of the statewide system of CTE in Delaware's secondary and postsecondary institutions as well as STEM initiatives in grades k through 12. Luke is also responsible for developing and implementing educational policy. Prior to working at the DDOE, Luke was a Program Specialist in CTE and STEM with the Maryland State Department of Education. He has also worked as a high school and middle school teacher. Luke has received several state and national awards for educational leadership and was a Fulbright scholar.
Mark A. LoGiudice
Manager of Benefits and Wellness, Christiana Care Health Services, Inc
Mark LoGiudice is the Manager of Benefits and Wellness with Christiana Care Health Services, Inc. In this role, Mark leads a team providing all aspects of employee benefits, including Health & Welfare, Retirement and Wellness. Mark holds a Bachelor of Science degree from Seton Hall University. Mark has more than 30 years of experience in Employee Benefits. Before joining Christiana Care Health Services in 2010, Mark was a Principal at Towers Perrin leading a successful practice, The Specialty Call Center, offering benefits administration service delivery. Mark's varied background in benefits, wellness and service delivery provided the perfect foundation for his current work as the Manager of Benefits and Wellness, serving over 10,000 employees.
Shana Payne
Director of Higher Education, State of Delaware
Shana Payne, a native Delawarean, graduated from Yale University with B.A. in American Studies and Teacher Preparation. After college, Shana taught Global Studies and African American Studies in the Coatesville. After completing an M.A. in Urban Affairs and Public Policy at the University of Delaware, she transitioned to College Summit, where she engaged schools in urban and rural settings nationwide, and provided a strong foundation of best practices focusing on increasing college access, school district relationship management and scaling of best practices. Now serving as Delaware's Director of Higher Education, Shana and her team serve as a liaison between the K-12 system and the higher education institutions working to increase college access, reduce remediation and increase college affordability.
Susan Getman
Deputy Director, $tand By Me
Sue Getman is the Deputy Director of $tand By Me, a community partnership led by the State and United Way that offers financial coaching to help Delawareans achieve economic security. Before joining $tand By Me, Sue was the executive director of the Wilmington Senior Center for 20 years where she developed programs for grandparents raising grandchildren and family caregivers and created $tand By Me 50+, which provides financial empowerment for seniors. She has also directed two Big Brothers Big Sisters agencies. Sue is a community advocate and past chair of both the Delaware Aging Network and the National Institute of Senior Centers. Her undergraduate degree is from Wake Forest University and he
Whitney Williams
Supervisor, Parents as Teachers program, New Castle County, Delaware
Whitney Williams is the Supervisor for the Parents as Teachers program of New Castle County, Delaware. Parents as Teachers is an international early childhood home based parent education program serving families with children ages birth to five. Parents as Teachers is housed within the Christina School District where Williams is a member of the district's Executive Leadership Team; overseeing staff who provide up to 5,000 home visits to almost 500 families a year. Having over twenty-five years of experience in the areas of early childhood and K-12 education, her leadership positions have spanned over the classrooms of Pennsylvania to the northern county of Delaware, where she holds administrative certifications for Parental Engagement, School Leader, and District Executive Leader positions.