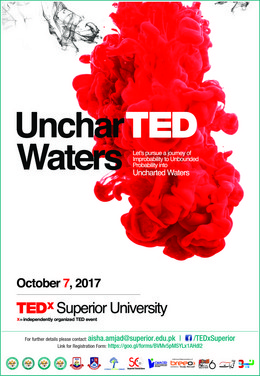 In the spirit of ideas worth spreading, TEDx is a program of local, self-organized events that bring people together to share a TED-like experience. At a TEDx event, TEDTalks video and live speakers combine to spark deep discussion and connection in a small group. These local, self-organized events are branded TEDx, where x = independently organized TED event. The TED Conference provides general guidance for the TEDx program, but individual TEDx events are self-organized (subject to certain rules and regulations).
Speakers
Speakers may not be confirmed. Check event website for more information.
Haseeb Khan
Educationalist, Motivational Speaker and Actor
Over 19 years of experience in fields of teaching, training, management, academics and showbiz. Life is what you live! Is his vision of life and believes in delivering the best.
Madiha Nasrullah
Entrepreneur
Madiha Nasrullah is a Marketing consultant with experience in development, consumer research, public relations, and large scale event management for internationally recognised companies such as Nielsen, Pepesi and Diageo.
Qasim Ali Shah
Inspirational Speaker, Corporate Trainer & Success Coach
Qasim Ali Shah is a Corporate/self-help trainer, professional speaker and writer who is also serving in the educational sector for last 16 years. He conducts a variety of training classes for beginners and students of advanced levels. He has created 1000s of video lectures on the social issues and personality development.
Raza Naeem
Social scientist
Raza Naeem is a Pakistani award-winning translator and dramatic reader currently engaged as Instructor in History at the Senior School in the Beaconhouse School Systems in Lahore.
Shahzad Nawaz
Shahzad Nawaz is a Pakistani filmmaker, actor, singer, advertiser and graphic designer.
Shahzaib khalid
Student and an Entrepreneur
An innovative Artisan, Shazaib Khalid. He has won Asia Young designer Award, and founder of 'House of Bamboo.
Suneel Sarfaraz Munj
Entrepreneur
Suneel Sarfraz Munj is leading auto enthusiast and chairman of PakWheels.com. Apart from PakWheels.com, he has diversified business interest.
Syed Ali Mubshir Kazmi
Business Man
Mr. Ali M. Kazmi is a Founder Partner of Knightsbridge Capital Group. He has over 20 years of well diversified Corporate, Credit and Retail Banking experience with in-depth understanding of Pakistani business and financial sector and exposure in international deals and markets He also served as SEVP/ Retail Banking Head of MCB Bank supervising over 13,000 employees and 1200 branches. He was also a board member of MCB Financial Services Ltd.
Umair Qureshi
Educationalist
Umair Qureshi is an educationists, a Practitioner of modern educational and educational leadership practices, writer, activist to bring educational reforms in Pakistan, Advocate of educational legislation, a TEDx speaker, first Pakistan ASCD Emerging Leader, first Pakistani who is the nominee of Harold's J.McGraw Jr Award 2016, International Conference presenter, CEO of Leaders in Education and Academic Development (Pvt) Limited and Founder and Executive Director of Pakistan ASCD which is an affiliate group of leading global educational organization ASCD. He is certified in instructional leadership from USA, fellow member of Oxbridge Academics and member of leading educational organizations such as American Association of Physics Teachers, American Evaluation Association and ASCD.
Usman A khan
Management consultant and Motivational Speaker
Muhammad Usman A khan is working as chief strategy officer for Checkmate Consultancy/Travis and Ivan, Dubai. He is also practicing trainer and has an IFC (World Bank Group) Business Edge certification for conducting trainings on Youth and Women Entrepreneurship, Entrepreneurial Mindset Development, Gender Diversity, Motivation and Productivity, Soft Skills, Customer Services, Frontline Staff Training etc. Prior to this assignment, Mr. Usman has been working with a London based Management Consulting Firm for over 8 years. During this time, he has had extensive exposure with top airlines of the world including British Airways, Air France – KLM, Iberia, Alitalia, Easy Jet, Lufthansa etc
Yousaf Jmashed
Motivational Speaker