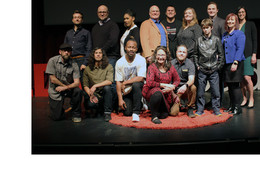 Our speaker "solvers" will take the stage to share ideas that will facilitate understanding, stimulate conversation, and instigate
action. This year's theme of "solve for why" is meant to focus speakers on exploring the 'why 'behind something they care about; the 'why' behind history repeating itself or the 'why' behind new ideas they may have.
Speakers
Speakers may not be confirmed. Check event website for more information.
2bitt & JW Barney
Artist & Poet
2bitt is a poet who uses music as a weapon against social injustice and as a tool for teaching. Hoping to bring awareness and acceptance to those of need and returning the power to the people. A father of two, joined by his youngest son Joe, who has himself, began to act and perform. 2bitt and JW show that two generations can come together to address the problems of the past, to install a more fair and helpful future. The father-son duo asks, "Why not us? And, Why not now?"
David Cobb
Revolutionary
David Keith Cobb is an American attorney, liberal political activist, campaign manager, and politician. He was the Green Party presidential candidate for the 2004 presidential general election. David is the co-founder of Move to Amend. He later became the campaign manager for fellow Green Party candidate Jill Stein during her presidential run in 2016.
Dance Group
Demolishion is Humboldt State University's student-organized hip-hop dance team that collaborated all choreography together and love performing any chance we can get! We perform at pep rallies, football and basketball games, dance showcases and spring concerts, and even outside events! We are a family and push each other to be the best dancers and individuals we can be.
Ian Ruddell
Student/Bartender
Ian Ruddell is just a regular guy with an interesting story. He graduated from college in 2013 with degrees in Multicultural and Gender Studies, Women's Studies, Sexual Diversity, and Sociology. He has given lectures on gender, inclusivity, best practices, sexual orientation, and his experience as a trans man. He's looking forward to "T Time", addressing some of the most common curiosities cisgender people have about transitioning from one gender to another.
Jeffrey Delgadillo
Juice Master & Yoga Instructor
A University of California Santa Barbara graduate with a degree in Psychology, Jeffrey gained a passion for health and wellness. As a fitness and yoga instructor, he developed an interest in how important balance is for our daily lives. Through meditation, he also made a connection between the individual and the world around them and how our actions have consequences that affect our environment. He aspires to inspire others to be the best version of themselves. And not just for themselves but for the people around them, the animals they share their space with and the environment they inhabit.
Joyce Hinrichs
Presiding Judge of the Superior Court of California, County of Humboldt and of its Juvenile Court
Hon. Joyce D. Hinrichs. Judge Hinrichs is currently the Presiding Judge of the Superior Court of California, County of Humboldt and of its Juvenile Court. Judge Hinrichs grew up in Humboldt County knowing she wanted to be involved in Juvenile Justice, even though she did not know that is what it was called at the time. She went away to college thinking she was never going to live in any rural part of the State. Still, after graduating from the University of the Pacific with a B.A. in Psychology in 1980 and from McGeorge School of the Law, UOP, with a law degree in 1983, she came home to await the results of the State Bar Examination, only to stumble onto the career she had only dreamed of up until that point. Following the advice of her mentor attorney, she applied for jobs in Humboldt County as either a deputy district attorney or public defender, so she would get extensive litigation experience before moving to a larger venue. She was hired by the local District Attorney's office an
Nicholas Crapser
Deputy Director of Sponsors, Inc.
Nicholas Crapser, Deputy Director of Sponsors, is a Ph.D. student in the Counselor Education and Supervision program at Oregon State University. Nick is a state and nationally licensed addictions counselor, mental health counselor, and clinical supervisor. He received his Master of Arts in Counseling, Bachelor of Science in Human Development, and has a specialized degree in Chemical Dependency Studies. His workplace includes county drug courts, family treatment/dependency courts, and jail reentry programs as both a counselor and adviser. He has worked in every modality of addictions and behavioral health treatment from medically managed detoxification and hospitalization to aftercare. In addition to his time as an adjunct professor, he spent a number of years working with a Washington based Indian Tribe providing behavioral health and addiction treatment services to Native American populations. As Deputy Director of Sponsors, Nick works to ensure consistent and evidence-based pro
Rashad Hedgepeth
Spoken Word Artist
Rashad Hedgepeth is a passionate spoken word creator, born and raised in Rocky Mount, NC. He received his bachelor degree In business from Northwood University (Midland MI) in 2015. With the gift of self-expression, Rashad intends to travel the globe sharing and connecting with others through his words.
Sofia Pereira
She Should Run Incubator Director
Sofia Pereira is an elected official, "policy wonk," and an expert in women's political leadership. She brings years of political organizing experience to She Should Run, a national organization dedicated to expanding the talent pool of women running for elected office. As the community manager, Sofia oversees the She Should Run Incubator, supporting thousands of women across the country as they consider running for office. Prior to joining She Should Run, Sofia served as a field representative for Assemblymember Wesley Chesbro in Humboldt, Del Norte, and Trinity counties, and as a legislative analyst for the Humboldt County Department of Health and Human Services where she focused on state and federal policy ranging from social services to health care. Sofia has direct campaign experience having worked on political campaigns at the local and congressional level. Sofia is a 2014 graduate of the Women's Campaign School at Yale, after which she ran successfully for the Arcata City Counci
Stacey Farmer
Director, Sisters That Have Been There
Stacey Farmer, known in the streets as Steeda, a name given to her while serving an 18-month sentence after 17 years in the criminal justice system. Steeda reentered society with a new found dream to never forget the people behind the walls. She has continued to remember them and stay connected with a program she created for them while incarcerated. She provides reentry reform planning for individuals who are exiting and offers a family unit that caters to the emotional needs of the rehabilitating individual so they don't have to face society alone.
Tex Keith
Entrepeneur
Keith is currently a Humboldt State student double majoring in International Business Management and Accounting while partaking in athletics for the school as well. Keith has taken many leadership roles which include hosting community events, organizing fundraisers, being a captain in multiple sports and achieving state and national recognition in both academics and athletics.
Tomas Pueyo
Author/Storyteller
Tomas Pueyo Brochard is the author of "The Star Wars Rings", an Amazon Best Seller that analyzes the storytelling patterns that underpin great stories such as Star Wars, Beowulf, and Harry Potter. He grew up in Europe, throughout France, Spain, and Italy, as part of a family of filmmakers. Tomas was fascinated with the Why behind everything, he studied two MSc in Engineering from ICAI Madrid and Ecole Centrale Paris. After a few years of management consulting, he moved to America in 2008 to pursue his MBA at Stanford University. He specialized in Behavioral Psychology, Design, Storytelling, and Scriptwriting in an effort to uncover how people think and why they think the way they do. Since Stanford, he has applied his knowledge to design, fabricate, and market products for companies throughout Silicon Valley. He has created video games enjoyed by millions and viral applications used by tens of millions. He is now in charge of Growth at SigFig, where he strives to make investments acc
Vanessa Vrtiak
Programs Coordinator for the Humboldt County Sheriff's Office
Vanessa Vrtiak is a passionate community member driven by service to others. As a child of Humboldt County, Vanessa loved school and challenging the community she lived in. She graduated from Humboldt State University with an MA in Public Sociology in 2017. Vanessa works as the Programs Coordinator for the Humboldt County Sheriff's Office in the daytime. By night she is the co-founder for A Reason to Listen Poetry Collective. Vanessa has co-hosted an open mic for the past 12 years. She has performed across the country in venues ranging from The Apollo Theater, The Nuyorican Poetry Cafe, and The Lensic in Santa Fe. In addition to being a performance poet, Vanessa has directed, produced, and starred in several plays that explore social and political issues. Vanessa believes in the power of performance to not only educate and inform but to heal from life's unique challenges.