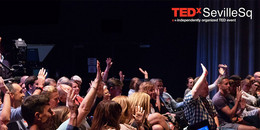 TEDxSevilleSq 2018 Saturday August 4 2018 is located at WSRE TV Studio in the quaint Southern historic coastal town of Pensacola city, situated on the emerald coast of the Florida panhandle. Our 2018 event theme is Change Your Mind Change Your Life, hosting a variety of 8 speakers from a Jazzprenuer to a suicide comedian. There will be a piano performance, including brunch & afternoon tea from popular local artisans. You can also find more information at FB.me/TEDxSevilleSq and you can apply as a volunteer or a speaker for our future events, at TEDxSevilleSq. Tickets for our 2018 event are now on sale on Eventbrite.
Speakers
Speakers may not be confirmed. Check event website for more information.
Life Coach
CPT BCS is a life coach, public speaker, Inc Magazine contributor and the best-selling author of Do a Day, in which he teaches how to overcome challenges and achieve goals. He went from being obese and depressed to running marathons. He's faced nearly losing his wife to illness while their young son watched. He became vegan in just one day. He got his masters from a top school and rose to a senior executive position in a successful business. He's transformed his life that he uses to help others do the overcome and achieve.
Podcast Show Host & Attorney
For nearly two decades, Carolyn Cole was a Fortune 100 & Fortune 200 Senior Company Trial Attorney. Now she makes the case on behalf of others' Business and Professional dreams - happiness too. She is a Global Business Consultant/Coach, Organization Development Consultant, Entrepreneur, Show Host of the Boomtank Business Show Podcast, Speaker, Livestreamer and a Certified Professional Coach. Her company is Boomtank.com. - Boomtank is where business success and happiness meet. - From business, life or professional reinventions, to living your true life, creating happiness by design and more, she helps C-Suite Executives, Business Executives, Business Owners, Entrepreneurs and Professionals achieve the success and happiness they dream of achieving for themselves and others.
Dana Bridges
Artist
Former public school educator. Dana re-purposed her teaching skills to educate in other contexts; creative reuse. During her workshops and with her art, she reveals the empowerment of taking "trash" and turning it into something beautiful and useful. Dana conducts workshops and displays her work in various organizations and businesses around Fort Walton Beach.
Energy Architect
30 years in the energy and environment fields, with 12 years developing technologies for companies in the ocean energy industry. Founder of the tidal energy collection technologies at the core of the Oceana patents. Principal technology investigator under the company's Cooperative Research and Development Agreement with the U.S. Naval Surface Warfare Center. Mr. Power previously served as a senior U.S. Air Force engineering officer, where he was responsible for managing military construction programs with costs totaling $180M each year. He successfully managed the Air Force's pilot Energy Conservation Investment Program that ultimately resulted in cost savings of $6.3 billion. Mr. Power was a founder of the Climate Institute in 1986 with the goal of alerting the planet to a warming that we very much hoped would not occur. In the mid-1980s , Mr. Power led the Climate Institute's Cities Initiative in an effort to stimulate interest among policymakers at the national level.
Joyologist
Top 10 sales director for one of the world's largest direct sales brands. Author, speaker, entrepreneur and mentor. Dawn empowers women in their professional and personal lives. Self-proclaimed Joyologist, having achieved happiness and success in even her darkest days.
Author
Best-selling Oprah Book Author and International Leadership Speaker Ranked 23rd on the Prestigious Global Gurus List of the Best Leadership Speakers Worldwide. Fawn has interviewed more than 300 of the most accomplished leaders of our times, including Olympic athletes, CEOs, prime ministers, presidents, Academy Award winners and many other trailblazers who shared with her the secrets of true success. From them, she learned that success is born in risk, and power comes from the self-awareness that disables our doubt and self-esteem issues.
Frank King
Corporate Comedian
Former writer for the Tonight Show for over 20 years. Suicide Prevention and post-vention public speaker and trainer. Frank is a corporate comedian, syndicated humor columnist, and radio personality featured on CNN's Business Unusual. Depression and suicide run in his family.
Jim Roberts
Environmental Spokesperson
"I'm a storyteller" three-time recipient of the Edward R. Murrow journalism award, launched the FOX TV and Sports Network PR in Los Angeles and Denver, former NBC reporter (NYC), CNN Business anchor for 9 1/2 years. At present, Public Relations Emerald Coast Utilities Authority (ECUA), national spokesperson for the Natural Gas Vehicle Association (NGV-Washington, DC), Public Relations Board member NACWA (Washington, DC), Vice-Chairman of the Transportation Planning Organization (TPO-CAC) of Florida-Alabama, national speaker on environmental topics (Recent keynote speaker at American Society of Civil Engineers world conference in Orlando-August 2017), and I speak at events on a local, statewide and regional basis 165 times a year.
Marie Incontrera
Jazzpreneur
Winner of the inaugural Fred Ho ASCAP Award, and a long list of others, Marie considers herself an avant-garde musician whose multi-genre work spans opera, big band, heavy metal, post-modern orchestra, and chamber music. Marie is also a social media, publicity, and speaker consultant for thought leaders. She is a best-selling author and fitness enthusiast.