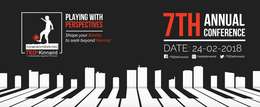 In the spirit of ideas worth spreading, TEDx is a program of local, self-organized events that bring people together to share a TED-like experience. At a TEDx event, TEDTalks video and live speakers combine to spark deep discussion and connection in a small group. These local, self-organized events are branded TEDx, where x = independently organized TED event. The TED Conference provides general guidance for the TEDx program, but individual TEDx events are self-organized (subject to certain rules and regulations).
Speakers
Speakers may not be confirmed. Check event website for more information.
Adeel Hashmi
Screenwriter and Educationist
Introducing Adeel Hashmi as our next Speaker for TEDxKinnaird 2018! He is very well acclaimed for his comedy roles. He is an experienced speaker that focuses a lot on youth. He believes that dreaming is the first step to achieving. He comes from a well-known background and holds immense experience of what fame is like in Pakistan. He is an inspirational personality that has riveting discussions which leave you wanting to succeed.
Aurélie Salvaire
Social Entrepeneur
Aurélie Salvaire is a French social entrepreneur as well as a remarkable storyteller and the owner of Shift Balance, an organization dedicated to gender equality. She is an experienced TED speaker that talks about feminism, and emerging countries etc. With a wide repertoire under her belt, Salvaire has flair of rejuvenating her audience and shaking their opinions, she also has been working in Pakistan about raising awareness over taboo and uncommon topics, which makes her a perfect candidate for this year's event.
Daniyal Siddiqui
Electrical Engineer and Entepreneur
Mr. Daniyal Siddiqui is a young achiever who is an energy expert currently leading the country wide operations of a Multinational Renewable Energy Company and a successful well reputed corporate trainer. He backs his Scottish academic experience with global exposure and expertise as he is an advisor and consultant to various Pakistani corporate firms for Organizational Development, Strategy Development, Relationship Building, International Business Management, Establishment of New Ventures, Contract Negotiations, Energy Management Systems, ERP Implementation & Business Mergers. Coming from an educational family background, he holds double Masters Degrees in Engineering from prestigious University of Stratbolyde, Glasgow, Scotland, UK & Engineering Management from UET Lahore in addition to various other International certifications to his name
Huma Kirmani
Writer
She writes about unusual and unconventional topics that most authors refuse to speak about. She is a gallant person who speaks boldly. She is a fascinating speaker that enraptures your attention and changes your perception of 'taboo' topics in Pakistan. Join her discussion to truly have your thinking changed.
Rejja Irfan
Doctor and social worker
This classy lady has worked at AIESEC and manages the Zain Ul Haq Foundation, an organization dedicated to counselling and helping stressed out students. She's an advocate of mental health issues among the youth as well as a doctor that personally helps them with such problems.
Roshaan Bukhari
Astronomist
Roshaan Bukhari is a LUMS Astronomy Instructor and a very inspiring personality. He believes in following your dreams no matter what the cost. He has been awarded several international awards for his knowledge and ability to spread that knowledge. He is a star speaker and his discussions are truly otherworldly. And, yes he is as liable to puns as we are.
Saad Mohamed
Mountaineer
He is an adamant and passionate mountaineer, a practiced photographer cum-filmmaker and a digital content creator by profession. He has Recieved the certificate of distinguished services by GC University for leading a hicking and mountaineering team to the k2 base camp. Has been a remarkable president of Dramatics society at GC University being rewarded with Roll of honor. The gist of his history as a mountaineer highlights his expedition of Spantik and virgin peaks of Shamshal, making him the 1st non-shimshali to grace the vergin peaks.He is a motivational speaker, welcomed on the prestigious platform of TEDxKinnaird to acknowledge us about the zig zag journey of achieving his dreams.
Yusra Amjad
Literature teacher
Yusra Amjad uses her knowledge and clarity of human complexity to talk about issues like institutionalization of marriage in Pakistani Culture as well as oppression of women. She is adamant about being non-judgmental but still manages to challenge the old-fashioned mentality and social norms enforced by our society. She has a unique perspective regarding these issues and is extremely understanding. With the help of her hard hitting poetry she enraptures the attention of her audience and forces them to deeply think and change their wrong ways of treating women. In short, she is a master at challenging you and your perception.
Zenith Irfan
Motorcyclist
We all know her as the first Pakistani woman to travel the country on a motorbike. In a conservative country such as Pakistan, Zenith is breaking stereotypes and forcing people to change their age old opinions of women. In addition to being a great rider, she is a great speaker who has experienced firsthand the problems women face, she works hard to empower females to overcome such problems. She defies traditions and confronts these imposed typecasts of women in our society.