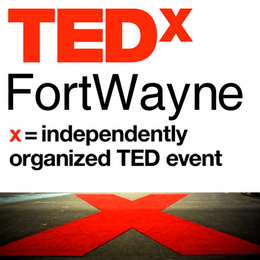 After a 3-year hiatus, TEDx FortWayne will experience a Resurgence on March 24, 2018. Our intent is to build on the legacy created by the original TEDx Fort Wayne and Northeast Indiana the theme of Resurgence seems especially appropriate. We have assembled a nimble, experienced and enthusiastic team to bring "ideas worth spreading" to Fort Wayne. We are excited to add to the conversation and hope to lend inspiration to dynamic changes occuring in our community.
Speakers
Speakers may not be confirmed. Check event website for more information.
Ahmed Abdelmageed
Community Advocate
Dr. Ahmed Abdelmageed is Assistant Dean of Experiential Education and Community Engagement at Manchester University College of Pharmacy, Natural and Health Sciences. He joined the Pharmacy Program in November 2011 and is responsible for the administration of the School's Experiential Education program but also teaches within the department of pharmacy practice. Dr. Abdelmageed earned his Doctor of Pharmacy from Ferris State University College of Pharmacy and most recently was founding director of experiential education at Husson University School of Pharmacy in Bangor, Maine. Dr. Abdelmageed is a board member of the Indiana Center for Middle East Peace, Muslim Alliance of Indiana and the United Way of Allen County. He has been recognized by the Manchester community for Outstanding Service in 2014, Greater Fort Wayne Business Weekly as 40 under 40 and the Indiana Pharmacists Alliance's recipient of the state's bowl of Hygeia in 2017.
April Gerard
Community Advocate
April Gerard calls northeast Indiana home and writes under the pen name, A.L. DeLeon. She is the author of the upcoming fantasy novel, Blue, to be published with Dragon Moon Press in 2018. She writes primarily fantasy and science fiction, but occasionally dabbles in poetry, contemporary, and non-fiction. A former non-profit director, April has a background in small business management, foreclosure prevention, financial counseling, and housing issues that affect all. She has a passion for education and helping others achieve their goals and dreams. She loves the arts, traveling, and outdoor activities such as kayaking or hiking. She also spends much of her time between her local coffee shop where she writes and with her three children.
Christophe Dessaigne
Community Advocate
Christophe Dessaigne leads Ambassador's Non Profit Portfolio. He joined the company in 2014 and moved to Fort Wayne after living and working in London, England for the past nine years. Christophe's previous business experience has spanned several sectors, from education to event planning and entrepreneurship to international network development. In each of his previous posts, Christophe was responsible for providing strategic oversight and direction. Christophe received his master's degree in management from SKEMA (Sophia Antipolis, France), which included an MBA program in IESA (Caracas, Venezuela) and a BA in Business Administration from Humber College (Toronto, Canada). He holds a Leadership and Management degree from International Apostolic Bible College (Kolding, Denmark). He currently serves on several for-profit and non-profit boards.
Cory Heimann
Community Advocate
Cory is the creative director and filmmaker at Likable Art. He is the curator of Created a book for artists by artists about bridging the gap. A desire to stir up beauty drives his love for collaborating and creating. His favorite creations are his 3 boys in collaboration with his wife.
Craig Crook
Community Advocate
Craig "birthed" the local TEDx in 2010 with a band of crazy volunteers. Building off the momentum of TED and the new "X" events, the team built the live event to over 300 people, with thousands of followers — hosting over 60 talks with speakers from coast to coast, but mostly right from our own backyard. "I've always been passionate about not just spreading good ideas, but seeing them take root, my TEDx experience was a milestone on my own creative journey and I excited about how Mark and his team are leading a resurgence of TEDx for Fort Wayne!" In his professional roles, Craig has helped large and small companies innovate, companies such as GE, Maersk, Berkshire Hathaway, UPS, Nestlé, Compassion, as well as nimble startups.
David Buuck
Community Advocate
David Buuck and his wife lived in a residential community for adults with intellectual disabilities while he earned his Masters in Human Services. The people with whom they lived transformed what David and Amy imagined what the best possible life could look like for their family. In 2015, he started CASS Housing, a nonprofit organization which partners with families to create customized long-term housing and support solutions for people with disabilities. The Buucks live in Fort Wayne with their three children.
Davonta Beckham
Community Advocate
Davonta Beckham is an accomplished and enthusiastic fine artist with a mission: to tell stories that will set people from everywhere up for success in life. With dreams of telling those stories through relevant art and the opportunity to work towards that goal while in college, Davonta designed a set of innocent and powerful characters to speak about the truths and challenges that we all face in life. Born and raised in Dayton, Ohio, Davonta came to Fort Wayne in 2013 for college and to run track. He graduated from Indiana Tech in 2017 with a degree in Marketing and Graphic Design. He's the creator of Art of Beckham, captain of Indiana Tech's national champion track and field team, marketing intern at MedPro, and an eternal optimist who looks to people for continued inspiration to create authentic art that communicate these beliefs best.
Lindsay Racine
Community Advocate
Lindsay Racine is a High School English and Special Education teacher. She is a mother to one 12 year old son and Chihuahua named Alfredo. Lindsay is pursuing her second master's degree in Education Administration and hopes to become a principal in the near future. She has always been an avid reader and enjoys helping youth find a passion for reading. In her free time, Lindsay is an active swimmer and softball player. She enjoys traveling, Netflix, and music as well.
Matthew Hawkins
Community Advocate
Matthew Hawkins is a Broker and Realtor with Wieland Real Estate in Fort Wayne. He has great insight on the real estate market in Fort Wayne, and specifically the growth that we are seeing in some of the historical neighborhoods in Fort Wayne. When not working with real estate, Matthew is an associate pastor at Harvest Fellowship. Matthew has a beautiful wife and three wonderful children and live in the 05 neighborhood. He enjoys traveling, tinkering with electronics, and watching Chicago sports – so basically he is depressed most of the year.
Rena Bradley
Community Advocate
Réna Bradley is a designer and community advocate. Her experience working across the private, public and nonprofit sectors, has taught her that design is a tool to develop not only places, but a sense of well-being, unity, joy and agency in individuals and communities. In her current position as Bridge of Grace's Community Development Director, she uses design as a tool to mobilize youth, residents, and volunteers who want to make a difference in their neighborhood. Her work in Fort Wayne has included 1) Launching Tired a Lot: a design camp where middle and high-school students design and build installations to activate vacant lots, 2) Leading Park to Park: an effort to engage University students and community members in the process of designing and building a neighborhood-playground using upcycled materials (including pallets), and 3) Creating and coordinating Wonderfully Made- an afterschool program that promotes faith, creativity, and career-exposure for young girls.
Victoria Trabosh
Community Advocate
Victoria works as a leadership coach and speaker and is an expert at helping executives and entrepreneurs realize their most ambitious performance goals and achieve excellence. She has over 40 years of experience leading companies and teams across the U.S. and the world. In 2005 she co-founded the Itafari Foundation in Rwanda and travels there frequently. Victoria is an international speaker, and author of two books: Dead Rita's Wisdom – Simple Words to Help You Live an Extraordinary Life and Cancer: From Tears to Triumph. She is also the host of the podcast, Wisdom with Victoria Trabosh. She serves as a columnist for the international quarterly publication, CHOICE Magazine featured in the column, Sticky Situations. She was featured in Oprah.com for her work in Rwanda. She hosts the podcast: Wisdom with Victoria Trabosh. She's been interviewed on over 100 radio shows regarding leadership and wisdom.