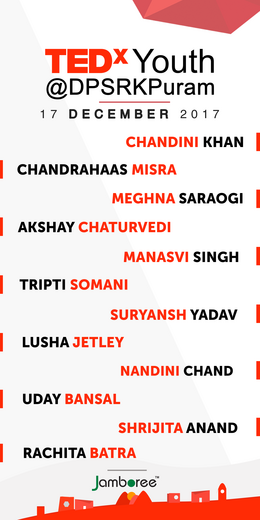 TEDxYouth@DPSRKPuram is an independently organised TED event which is held at Delhi Public School, R.K. Puram and is focused on bringing students and professionals from all over India to share their unique ideas, perspectives and innovations with the world.
The Organising team encompasses dedicated high school students from all over Delhi-NCR, who put in their best to bring to you the most inspiring and enamouring ideas from all over Delhi.
Speakers
Speakers may not be confirmed. Check event website for more information.
Akshay Chaturvedi
CEO & Co-Founder, LeverageEdu
Part of Selected Entrepreneurs invited by the Hon'ble Prime Minister Narendra Modi for the "Champions of Change, Akshay is transforming India through G2B partnership. The 25-year old Akshay Chaturvedi is one among the 35 people across the globe, and the only Indian, to be selected for Draper University in Silicon Valley.
Chandni Khan
Founder, Voice of Slum + Child Rights Activist
Chandni is one of those extraordinary souls who has taken a burden to change the life of millions of kids around her. Right now she is leading a Non Government Organisation in which all the members are kids from slums who have done something extraordinary in their life. She has been awarded the Karmaveer Puraskaar, National People's Award for Citizen Social Justice.
Chandrahaas Misra
Acid Attack Survivor + Public Relations Officer, Acid Survivors & Women's Welfare Foundation
Chandrahass Misra is an Acid attack survivor and also a public relations officer to the Uttar Pradesh chapter (Acid survivors & women welfare foundation). He also works for acid attacks survivors, treating them and is doing sterling work in handling cases for compensation for survivors. As a survivor himself he shares empathy with other survivors.
Lusha Jetley
Student, The Sanskriti School
Lusha Jetley is a Humanities student of class 11, studying in Sanskriti School. When she is not globe trotting for Model United Nations or debates, she spends her time painting her thoughts onto paper or sharing stories through the lens. Her Talk, "Discussing the lulz", is an analysis of meme culture in urban India as well as the intersection of this immensely popular element of culture with one of the most important role that members of a society have to play i.e, the role of citizens.
Manasvi Singh
Co-Founder & CEO, Buddy4Study + Educational Activist
Buddy4Study, with a vision to make "Quality education accessible to all students", is an end to end scholarship solution platform for students & providers. He aims to create an ecosystem to empower deserving students, nurture their merit and talent through existing scholarships.
Meghna Saraogi
Founder, Styledotme + Fashion Entrepreneur
Juggling roles and harnessing untapped opportunities has always been up Meghna's alley. Having done her BFA in Applied Arts from College of Arts, she spearheads StyleDotMe by blending her creative expertise, her PR skills and her teensy bit of technical know-how to make it the one-stop destination for everything fashion!
Mukesh Kumar
Technologist + Innovator
Mukesh Kumar is a Computer Science Teacher and loves to share IT knowledge actively with students and colleagues alike, enabling greater awareness and learning on topics like C++ Programming, Data Structure, Database, SQL, PLSQL, Web Designing, Web Development, Computer Networks, Social Networking and Google Apps. He has been responsible for Training over 2000 computer science teachers from various states of India, Bahrain, Muscat, Dubai and Sharjah from CBSE as a resource person, 4 Yrs as Asia Pacific PL/SQL Instructor for Oracle Academy and has trained teachers from Singapore, Hong Kong, Indonesia, Malaysia, China, Egypt, Prague and India 2006-2009. Google Certified Educator, Teacher, and Innovator.
Nandini Chand
Student, Delhi Public School R.K. Puram
Nandini is a self aware individual who is a culmination of strength, clarity and the ability to perceive things as they are. She has a power over words to express her ideas and opinions along with a deep affinity for arts. Her poetry has been published and she is currently working on her own compilation. All across the globe, people enjoy art. Entertainment acts as a buffer for many but as prevalent as it might be, people hardly bother to know what our artists go through. It's time for a curtain call and a look into the reality behind this facade.
Praveen Prem
Student, Delhi Public School R.K. Puram
Praveen is a senior high student, and is instinctually a philosopher. He's been working on several research papers in existential physical sciences and psychology ever since he was able to read. Except accompanying his intellect with serene solitude, he also loves to photograph, design, discover abstract art. With his talk, he introduces his ideological research on a mere flaw in our subconscious perspective on attaining happiness, which has disfigured our way of life, drastically.
Rachita Batra
Student, Delhi Public School R.K. Puram
Rachita Batra is a sixteen year old, studying Humanities in grade XI. She is an enthusiastic public speaker. She is extremely interested in study of mind and behavioural psychology. Her own experience has inspired her to conduct research on how people are affected by the judgements surrounding them and will be sharing her findings and experience in this talk
Shrijita Anand
Student, Delhi Public School R.K. Puram
Shrijita aspires to be a psychologist whose sole purpose is to study and help people. She is a passionate writer and wishes to make a difference through those words. Stars to most people are just tiny dots in the sky, she says. But, if looked at from a new perspective, they can be so much more. They can be used to see people in a completely different way. They can make us realise how significant the role of a single person can be.
Suryansh Yadav
Alumnus, Delhi Public School R.K. Puram
Suryansh is a former DPS RKP student and currently studying Economics at Ashoka University. He is a classical Hindustani violinist, a long distance runner, an avid literature aficionado, and a Formula One enthusiast. In his talk, he explores how he handled some very challenging times in his life
Tripti Shinghal Somani
CEO & Co-Founder, KGS Advisors
Ms. Tripti Shinghal Somani, chartered accountant by profession, is the CEO & Managing Director of KGS Advisors, which has a distinctive platform providing advisory services to SMEs and Start-ups in India as well as foreign companies looking to establish presence in India. She is also the President of COWE India- Delhi Chapter (Confederation of Women Entrepreneurs)
Uday Bansal
Student, Delhi Public School R.K. Puram
A class XII student and the President of 'Samvaad'-Hindi club at DPS RK Puram, Uday is an avid public speaker who has participated and won competitions from Intra- School Level to National Level in three languages. His talk will explore the misconceptions about the Urdu language, its relevance in today's times, how it has been hidden in plain sight and how it is spoken without knowing the same. It will also explore the mesmerising world of Urdu Poetry and its various forms so that there will be no shortage of Sher-O-Shayari!