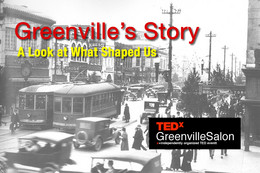 Greenville's success is not an accident. Much of this success is built on the historic guidance and vision of our past leaders. To continue to excel as a community, we must learn from, and be shaped by our past, by the stories of our history.
Come join us for the July TEDxGreenvilleSalon where we will talk about some parts of our history you may not have heard, feature two speakers, a TED talk, and a short discussion afterwards.
Speakers
Speakers may not be confirmed. Check event website for more information.
Courtney Tollison-Hartness
Historian
Courtney Tollison Hartness teaches History at Furman University and serves as Public Historian throughout the Upstate. A native Greenvillian, she works closely with local media and various community organizations to highlight local history throughout our community.
Historian
John came to Greenville from Toledo, Ohio in 1992 and worked as the curator of the Bob Jones Art Museum for 20 years before moving into his current position as an Assistant Professor teaching studio art and art history courses. In 2006, he started Greenville's first tour company, Greenville History Tours, and has since written a book on Greenville's history and led thousands of guests on weekly historic walking tours, driving tours, and culinary tours.