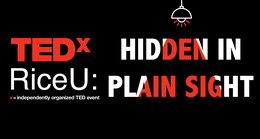 In the spirit of ideas worth spreading, TEDx is a program of local, self-organized events that bring people together to share a TED-like experience. At a TEDx event, TEDTalks video and live speakers combine to spark deep discussion and connection in a small group. These local, self-organized events are branded TEDx, where x = independently organized TED event. The TED Conference provides general guidance for the TEDx program, but individual TEDx events are self-organized (subject to certain rules and regulations).
Speakers
Speakers may not be confirmed. Check event website for more information.
Abdulbasit Kassim
Doctoral Student of Religious and African Studies, Rice University
Abdulbasit Kassim is a third-year Doctoral student pursuing a Ph.D. in Religion with a primary field in Islam and a secondary field in African Studies. His research focuses on the Intellectual History of Islam in Africa, Contemporary Islamic Movements in Africa, Postcolonial African States, African Religions, and the International Relations of Sub-Saharan Africa. His first book The Boko Haram Reader: From Nigerian Preachers to the Islamic State (co-edited with Michael Nwankpa) is published by Hurst Publishers and the Oxford University Press
Ghulam Kehar
Founder and CEO, Amaanah Refugee Services
As part of Amaanah's founding group, Ghulam has been the visionary at the helm of Amaanah and a voice for refugees for almost 12 years. Ghulam is a regular speaker and presenter on refugee-related topics. He has also served on the advisory board for the Mayor's Office of Immigrant and Refugee Affairs in Houston. Ghulam holds a bachelor's degree in economics and entrepreneurship from the University of Houston and a nonprofit leadership certification from Rice University.
Houston VIP Slam Poets
The Houston VIP Poetry Slam team was founded in 2009 as the H-Town Slam Team by Marcell Murphy, Deborah "D.E.E.P." Mouton, Seth Walker and Vincent "Black Blues" Johnson. In 2011, our name was changed to the Houston VIP Slam Team and we became a program of Expressions-EWCOC. It's mission includes creating community where writers can come to create, practice, and sharpen their skills for the page and the stage. Through the medium of slam poetry, we are able to bring literacy to the forefront. Our blend of writing an theatrics cause for an engaging and entertaining take on life, and offers our writers the chance to "spit" about their issues and experiences that concern them and their communities.
Lisa Helfman
Founder and Board Chair, Brighter Bites
Lisa Helfman is the Founder and Board Chair of Brighter Bites, a non-profit that has delivered over 15,000,000 pounds of fresh produce and nutrition education materials to more than 30,000 families at over 100 schools in Houston, Dallas, Austin, New York City, Washington DC and Southwest Florida with more to come. When she isn't pushing kids to drink kale smoothies, Lisa is Director of Real Estate for H-E- B Grocery Company and is working on the company's innovative expansion in Houston. Lisa received her JD Magna Cum Laude from the University of Houston Law Center and her BA Cum Laude from Tulane University.
Nancy Niedzielski, Ph.D.
Associate Professor of Linguistics, Rice University
Nancy Niedzielski is an associate professor of linguistics at Rice University. She has published work on sociophonetics and speech perception, including two manuscripts with Dennis Preston. Her research is currently focused on HUES (Houston Urban English Study), which deals with the production and perception of variation in Houston, Texas, and how this impacts institutions such as education, or the courts. In conjunction with this, she has held consulting positions with, for example, the Houston Independent School District, the FBI, and NASA.
Rengin Yigitbas Akillioglu
Eisenhower Fellow
Rengin Yigitbas Akillioglu is an Eisenhower Fellow and inspirational speaker at Indeks Speakers Agency of Leigh Bureau. She is the former CFO of Turkish Airlines Inc., former CFO and Advisor to the Chairman of Acibadem Healthcare Group, former General Manager for Sales in Middle East at GE Aviation. She served as Director of the Board at many Companies and NGOs. Her career story and business vision had been honored by former Chairman of Turkish Airlines Dr Cem Kozlu and award winner historian Theodore Friend in their books. She received national and international awards for her groundbreaking leadership. She holds B.Sc. in Management Engineering from Istanbul Technical University and M.A in Economics from Bosphorus University in Turkey. She attended Leadership Program at Harvard Business School during her Eisenhower Fellowships Program.
Sam Sun
Resident Physician, Baylor College of Medicine
Sam Sun is a resident physician specializing in radiation oncology at Baylor College of Medicine. His research interests include: 1) developing novel nucleic acid technology for cancer diagnostics; 2) leveraging molecular phenotyping to identify and exploit therapeutic vulnerabilities in cancer. Previously, he worked at the McDonnell Genome Institute, where he contributed to publications in Nature Communications and Nature Genetics. In addition, he cofounded a bioengineering incubator (IDEA Labs, now Sling Health), and consults for a late-stage biotech startup in San Francisco. He received an MD from Washington University and a BS from Olin College of Engineering.
Weijie Violet Lin
Medical Student, Baylor College of Medicine
Weijie Violet Lin is a third-year medical student at Baylor College of Medicine and 2016-2017 Schweitzer fellow. She is passionate about health advocacy, in issues ranging from clinical research to policy to narrating patient stories. She has authored research publications and textbook chapters and has presented at local and national conferences, including Association of Research in Vision and Ophthalmology, American Psychiatric Association, and American College of Physicians. She has contributed opinion pieces to nationally-acclaimed KevinMD blog and ACP IMpact. For her work with refugees, she was featured by Houston Public Media and KHOU Houston.