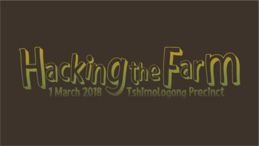 TEDxJohannesburgSalon: Hacking the Farm
The nature, texture, and complexion of the farm is changing. The gates are opening—slowly if not surely—to many who were previously excluded. Land reform promises to deliver tangible justice to those who've been deprived for far too long. Human population is projected to reach an astounding 9.7 billion by 2050. Every mouth will need to eat, and to do so well. What needs to be done today, to ensure that none go to sleep on an empty stomach tomorrow, is no longer a mystery. Climate change remains a challenge. But human ingenuity is hard to beat. Strategies and tactics will emerge. They must emerge. Business models are shifting—the farm is transforming into a high performance, high growth enterprise. It's adding value to crops, turning commodities into products, and moving up the supply chain. The modern farm is a brand, with a USP, and a target audience. It can double-up as a factory, distillery, restaurant, place of learning, or even a wedding venue. Today's farm is experimenting with new production methods and processes: biotechnology, big data, GPS, drones, robotics, and autonomous systems. Even the adjectives are changing: the farm can now be smart, precise, vertical, sustainable, organic, hydroponic, or aeroponic.
The farm, like the future, is not what it used to be.
Get ready for TEDxJohannesburgSalon: Hacking the Farm. The event takes place on 1 March 2018, at Tshimologong Precinct, in Braamfontein. We're selecting our speakers from a range of farmers, technologists, agronomists, policymakers, entrepreneurs, commodity traders, chefs, restaurateurs, analysts, and activists. Each will take the farm apart, and put it back together again. Collectively, they will give us a perspective on the exciting changes that the farm is going through, as it transforms to meet the demands of a rapidly approaching future.
Speakers
Speakers may not be confirmed. Check event website for more information.
Angus Donald Campbell
Industrial Designer, Design Researcher
Angus Donald Campbell is the Head of Department and Senior Lecturer at the Department of Industrial Design at the University of Johannesburg. He is a qualified industrial designer with a Masters degree and over a decade of university lecturing, research and freelance design experience. His design research focuses on innovation at the nexus of social, ecological and technological systems within the South African context.
Brad Meiring
Entrepreneur, Geologist
Brad is a passionate family man who wears his heart on his sleeve. While he is a geologist by profession with a BSc Honours degree from Wits University, he is an entrepreneur by nature. Always looking for opportunities to put a new spin on an existing idea, Brad is totally besotted with The Munching Mongoose, his current entrepreneurial venture that is shifting food production, supply and enjoyment. Traveling the world is something he has been fortunate to do. He credits the experience with exposing him to a wide spectrum of cultures and ways of living.
Brian Dick
Slow Food Advocate
Brian is co-owner of Cheese Gourmet and chairman of Slow Food Johannesburg. He has a passion for all local food with special emphasis on small producers who hold the recipes of our heritage and who grow on small-scale farms, producing good, clean and fair food for all. Involved in cheese for twenty-six years, Brian has watched an industry grow and mature to world-class standards, and is proud to represent cheese makers, locally and internationally. He aims is to create environments where small producers have a voice, and are afforded dignity through their association with their land.
Busiso Moyo
Researcher, Food Activist
Busiso is a human rights defender and scholar. His current research projects shine light on three important areas: inequality and decolonization struggles in South Africa; the geographies of hunger; and the geopolitics of food and agriculture. The latter examines the global political economy of food, which in turn illuminates the persistence of imperialism and neocolonialism in contemporary world politics.
Claire Reid
Inventor, Architect, Gardener
Claire is an innovative thinker and an entrepreneur at heart. She has an ability to look at processes and products and see a simpler, better method of getting the job done. This was the case when Claire encountered the process of vegetable gardening at the age of sixteen, and subsequently invented and patented a new process for planting seed known today as Reel Gardening. Claire obtained her Masters in Architecture from the University of Pretoria in 2010. She attributes her business management style to the creative thinking skills she learnt while becoming an architect.
Ed Mabaya
Agricultural Economist
Ed has more than two decades' experience in agricultural development and food security issues in Africa. He earned his MSc and PhD degrees in Agricultural Economics at Cornell University, and a BSc in his home country, at the University of Zimbabwe. He is involved in several programs that seek to improve the lives of African farmers, including being Principal Investigator of The African Seed Access Index, and President of African Association of Agricultural Economists. Ed was amongst Ventures Africa's '2016 Top African Innovators to Watch.' He is a 2007 Archbishop Tutu Leadership Fellow, and a 2016 Aspen Global Voices Fellow.
Veterinarian, Smallholder Farmer
Emma is known for being an innovative farmer with skills in veterinary, piggery, fishery, vegetables, training and capacity building. Her ingenuity has earned her several awards in her native Uganda, and globally. She holds a Masters of Health Services Research, and a BSc Veterinary Medicine, both from Makerere University in Uganda. She has collaborated with the University of Wisconsin, with students visiting her farm for training every year since 2014. Emma has served as Chairman of Red Cross Mbarara and has written several op-eds published in the Guardian, Mail and The East African.
Drone Master, Incubator, Entrepreneur
Frank Wernecke works at the intersection of strategy, technology, design and communications. He has founded several digital communications businesses, and anchored some of the most successful political campaigns in his native Germany. His most recent venture is an urban drone incubator called DroneMasters GmbH, where he is founder and CEO. Through DroneMasters, Frank has organised numerous cross-industry platforms around automated mobility, including DroneMasters Summit, which attracted a hundred thousand people, and Drone-a-Thon, a drone marathon for commercial drones.
Horticultural Engineer
Gertjan graduated in 1983 from the University of Applied Sciences in 's-Hertogenbosch, The Netherlands. He and his wife Lianne are business partners since 1989. They were pioneers in the field of hydroponics, assimilation lights, robotics, mathematical models and indoor farming. They co-founded PlantLab in 2010 and Here, There & Everywhere in 2015. Today their latest company, Seven Steps To Heaven, applies controlled environment solutions and decades of experience in order to enable breakthroughs in breeding, propagating, and growing.
Jimmy Botha
Farmer
Jimmy's farm, Tila's Herbs, is situated in the Tarlton area, northwest of Johannesburg. Thirteen years ago when he first walked onto the newly purchased twenty-two hectares, his knowledge of farming was virtually non-existent, and the infrastructure poor at best. His determination to learn led him on a mission to engage neighbouring farmers and suppliers. Today, Tila's Herbs is a supplier to one of South Africa's major retailers. Jimmy is living his dream: he's a successful farmer, with dedicated staff, and his youngest daughter will soon qualify as an agronomist.
Joshua C. Ngoma
Serial Entrepreneur
Joshua is a mining engineer, with a Bachelor of Engineering from Camborne School of Mines, UK, and a Master of Engineering in Project Management from University of Pretoria. He has close to three decades of mining experience, half of which was spent in building and running mining related businesses. He went on early retirement in 2012, and is now using that experience to help others achieve similar successes. He is the founder of Enterprising Africa Regional Network (EARN) Group, formed in 2013 with the overriding goal of developing, supporting and promoting entrepreneurship.
Matt Purkis
Green Economy Entrepreneur
Matt is passionate about working out of the box to see the development of a sovereign ethical, fair food system, and practical solutions around sustainable human settlements for the people of South Africa. He is committed to seeing a strong organic agriculture sector develop in South Africa as an alternative to the current conventional system, with the aim of getting clean food to the people. He's an advocate of Participatory Guarantee Systems (PGS), and believes that the quality assurance platform is a powerful vehicle that could drive socio-economic development through agriculture, and build communities from the grassroots level.
Michael Rudolph
Professor, Urban Farming Advocate
Michael is Emeritus Professor at Wits University, and Research Associate at the University of Johannesburg. He is best known for Siyakhana Initiative, a hallmark for integrated urban agriculture, ecological health, job creation, and healthier environments. At the forefront of teaching, research, advocacy and community engagement, Michael has spawned black academic leadership in South Africa, and Africa. A keynote speaker at conferences around the world, he has published in local and overseas journals, and is a Wits Vice Chancellor's Academic Citizenship awardee.
Michris Janse van Rensburg
Farmer, Inventor
Operating out of Bultfontein in the Free State, Michris Janse van Rensburg invents practical solutions to many of the problems associated with improving the success rate of small-scale farmers. With a series of cleverly constructed, hand-propelled applicators, he has brought much-needed precision into the operations of small-scale farmers, vastly increasing their crop yield in the process. Michris' inventions have taken root all the way up the African continent, helping farmers turn their fortunes in Lesotho, Botswana, Mozambique, Zambia and as far afield as Ghana.
Mojisola Ojebode
Biochemist, Social Entrepreneur
Mojisola is the founder of Moepelorse Bio Resources, a start-up venture for the commercialization of environment-friendly organic pesticides. She is involved in the coordination of capacity building programmes for legume and cereal crop farmers in her native Nigeria. She has an MSc in Biochemistry from the University of Ibadan, and is the author of Essential Oils in Food Pathogen Mitigation. She is a Global Innovation through Science and Technology (GIST) awardee, and an alumna of Mandela Washington Fellowship and African Women in Agricultural Research and Development (AWARD).
Naudé Malan
Developmental Studies Researcher
Naudé is Senior Lecturer in Development Studies at the University of Johannesburg. He is the convener of iZindaba Zokudla, a multi-stakeholder engagement project that aims to create opportunities for urban agriculture in a sustainable food system in Soweto. The project engages with and links urban farmers, entrepreneurs, academics, civil servants and other stakeholders to create a sustainable food system in South Africa through the use of social media, collaborative projects, participatory technology development and the creation of sustainable enterprises.
Entrepreneur
Ntuthuko Shezi has always enjoyed creating things. After graduating from the University of Cape Town with an engineering degree, he found himself at Accenture, the global consultancy. He proceeded to rise rapidly through the ranks. When the inevitable entrepreneurship bug bit, he duly embarked on a journey to dream up businesses, build them and then sell them. His latest idea uses technology and crowdfunding to unlock the full investment value of cows.
Thabi Nkosi
Agricultural Economist
Thabi currently serves as Executive Director: Research and Investments at AFGRI Group Holdings (AGH), an investment holding company with interests in a number of agricultural and food-related companies across Africa. Prior to joining AGH, she was Sector Specialist for agribusiness at the Public Investment Corporation. Thabi is passionate about agriculture and has, throughout her career, held a number of roles in the sector, including Lead Economist at Agri SA, and National Market Manager at the South African Sugar Association.
Thato Moagi
Agripreneur, Nuffield International Scholar 2017/18
Thato manages Legae La Banareng – a family-owned, fifty hectares mixed-farming operation in Modimolle, Limpopo. She holds a BSc Plant Science degree from the University of Pretoria, and is presently enrolled for a BSc in Agricultural Management at the University of South Africa (UNISA). A Nuffield International Scholar 2017/18, Thato was DAFF Young Farmer of the Year 2015, Limpopo Female Entrepreneur of the Year 2015, and a recipient of the Ministerial Award for Youth in Limpopo. She currently serves on the Agriparks District Management Committee for Waterberg, Limpopo.
Tola Okunlola
Researcher, Consultant
Tola is a social researcher and development consultant in the areas of agriculture and agribusiness, public–private partnerships and ethical supply chain management. She is also a director at AfrikaBurn NPC, a 'participant-created movement, an experiment in inclusive community building, decommodification, creativity, self-reliance and radical self-expression.'
Tracy Ledger
Author, Food Security Specialist
Tracy has a Masters's degree in Agricultural Economics and a Ph.D. in Anthropology. She is the author of "An Empty Plate", which considers the twin challenges of food security and sustainable agriculture in South Africa. She believes that some of the most important economic and social problems in South Africa can be traced back to food, and that it should be at the centre of efforts to build a more equitable and just society.