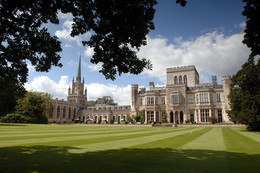 TEDxHultAshridge will brilliantly showcase the diverse expertise and innovative research from Hult International Business school.
Aligned with the two research challenges, Transforming Behavior and Creating Disruption, the theme of this event will be Provoking Change.
We have 17 engaging talks from Hult researchers who are eager to share their findings and ideas on topics including technology, team performance, sleep, slavery, morality and behavior change.
With a beautiful venue and creative lineup, this event will be an exciting opportunity to network, share ideas and become part of the global research community at Hult.
Speakers
Speakers may not be confirmed. Check event website for more information.
Alessandro Lanteri
Professor of Entrepreneurship
Ali Fenwick
Behavioral Scientist
Amanda Nimon-Peters
Global Research Strategy Lead
Daniel Deneffe
Business Strategy Expert
David James
Professor of Marketing, Executive Coach, Mindset Researcher
Jean Vanhoegaerden
Professor of Practice
Kerrie Fleming
Associate Professor of Organisational Behaviour
Lydie Louis
Professor of Finance, Expert on Corporate Governance and Financial Regulation
Mark Esposito
Professor of Economic Strategy
Matt Gitsham
Director, Ashridge Centre for Business and Sustainability
Megan Reitz
Professor of Leadership, Author of "Dialogue in Organizations" and "Mind Time"
Olaf Groth
Global Professor at Hult, CEO of Cambrian.ai
Omar Romero-Hernandez
Professor of Business, Sustainability & Energy Researcher, Author
Omar & Sergio Romero-Hernandez
Professors of Business and Engineering, Sustainability & Energy Researchers, Authors
Rory Hendrikz
Managing Director, Ashridge Executive Education
Ted Ladd
Professor, Entrepreneur, Grizzly Bear Tracker
Thomas Porter
Associate Professor of Accounting, Expert Accounting Witness
Vicki Culpin
Professor of Organisational Behaviour