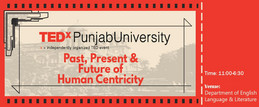 In the spirit of ideas worth spreading, TEDx is a program of local, self-organized events that bring people together to share a TED-like experience. At a TEDx event, TEDTalks video and live speakers combine to spark deep discussion and connection in a small group. These local, self-organized events are branded TEDx, where x = independently organized TED event. The TED Conference provides general guidance for the TEDx program, but individual TEDx events are self-organized (subject to certain rules and regulations).
Speakers
Speakers may not be confirmed. Check event website for more information.
Film actor, Screenwriter, Producer, Comedian
Adeel Hashmi is a famous Pakistani Television film actor, screenwriter, producer, comedian, and a social worker. He appeared in various television shows and films. Multi-tasking seems to be his mantra and he is able to deliver quality in spite of the quantity of his various endeavors. He is known for his comical roles in shows such as 'TEEN BATTA TEEN' where he played part of Luci. He holds an MBA degree from Imperial College and Masters of Fine Arts degree from Academy of Art University in San Francisco, U.S. Currently, he is teaching a course named as "CREATIVE WRITING VS SCREENWRITING" at Lahore University of Management Sciences. He is well known for his innovative ideas in advertisement industry of Pakistan. He is the grandson of Faiz Ahmed Faiz.
Ahmad Bilal
Film and Theatre Director, Script writer and Author
Dr Ahmad Bilal is the first Pakistani to achieve a doctorate in the Art of film-making from the UK. He pursued his career as a teacher in communication design, film and history. His exuberant interests include particularly the social shaping of communication industry in postcolonial societies. He had considerably explored the medium of film and theatre, and experimented with new and convergent media to develop his own style of a "Zero Budget Moviemaking". Some of his films include Rupay Anay Pai, Doosari Taraf, Ladies First, Beneath the Sea, Sohani Dharti. Two of his published books are "Art of Moviemaking" and "Aisa Kaisa Chalay Ga" which are regarded as the 'Theatre Scripts'.
Arsalan Ahmed
Lecturer, PhD scholar
Arslan Ahmed is a Designation lecturer at Air University, Islamabad. He is P.H.D scholar from Quaid-e-Azam University, Islamabad. He has done M.Phil in Asian Studies from Taxilla Institute of Asian Civilisation, QaU and Honors in History from Govt. College University, Lahore. His areas of interest include Muslim History, Political Islam, Islam in Twentieth Century, Sunni Islam with the reference of Salafi Islam in Pakistan. He has taught several courses on Islam and Pakistan in which portrayed a picture of Islam in the 20th century at NUST, and courses such as Political Islam, Islamic civilisation till 1258, Muslim Rule in Spain, Study of Sunny Islam in Pakistan at Quaid-e-Azam University, Islamabad. Arslan Ahmed writes in Daily 'Nawa-e-Wakt' and Pakistan Army's Monthly Journal, 'Al-Hilal'.
Bol Baant
Musicians, vocalists, instrumentalists.
TEDxPunjabUniversity, for the first time, is bringing talented individuals of our institution together on a platform, بول بانٹ, a music band which consists of a guitarist Muzamil Hussain, sitarist Muhammad Effendi, flutist Nazar Abbas, tabla player Amanat Ali, vocalists Muhammad Awais, Zainab Hussain, Muslim Shaggan and Zoufyshan Ahmer. They brought forward a blend of eastern and western music.
Ikram ullah Khan
CEO. Social media consultant, software engineer
Ikram Ullah Khan has been in Information Technology (IT) & ICT consultancy industry for over 7 years. As CEO & Co-Founder of InfoGro.US, he pioneered the concept of Data Analysis & Analytics, SAP modules training & linkage at universities level, Internet of Things (IoT) business needs, support cyber crime prevention policies for secure society and consultancy of computer science course curriculum to achieve international trends in education. Ikram Ullah Khan is a BI/BW & SAP Hana Consultant and professional excellence member for LUMS center for Entrepreneurship. He is a qualified Master in Computer Sciences (MS-CS) form LUMS with VLDB in Information Security who has been drawn since his young age to deep, profound thought, to mysticism and traditions of wisdom. Ikram Ullah Khan has started his work as Software Analyst in 2007 at NetSol, where he was tasked with Implementation of computer system requirements by defining and analyzing system problems; designing and testing standards a
Mountaineer
Sa`ad Mohamed is a digital content creator by experience, a mountaineer by passion and a photographer-cum-filmmaker by accident. He also dabbles into performing arts & aviation. He has an MBA degree from GC University, Lahore and was president of the Dramatics Club at GC University during 2004-05. The highlight of his mountaineering experience is reaching Camp III (7,060m) of Mt. Everest in 2017, summiting Spantik (7,027m) as part of the Pak-China Friendship Expedition in 2012 & climbing two virgin peaks in alpine style in Shimshal in Aug/Sep 2015. He is also former goodwill ambassador for WWF – Pakistan (Oct 2016 to June 2017).
Samira Mumtaz
Teaches English Literature, Writer and Traveler
An alumna of the University of the Punjab with her MPhil and Masters in English Literature from the Department of English Language and Literature, Samira Mumtaz is an inspiring mentor. She has been a source of motivation as a teacher to the students of all levels. She is a passionate traveller, whose photographs as well as her words, successfully depict her vision that penetrates not only into the heart of things but always finds a meaning that is not on the surface. Apart from this, she is also a selfless social worker who has taken some remarkable initiatives with some of her friends like the project "Aftari on Wheels" and is playing her active role to comfort the people of her city.
Child theatre expert
Sarah Zahid lives, works and overworks in Lahore. She is a 2007 printmaking graduate from National College of Arts, Lahore and has continued her art practice on and off through the years. She has taught Art history at PIFD for 5 years while alongside teaching theatre at the LGS JT, Junior and Middle school for girls from 2010 to date. In 2014 she co-founded her non-profit theatre company with her husband, called 'Chota Mota Theatre' which lives by the slogan of 'theatre of the people, for the people, by the people' as they want to spread theatre and its power to all ages, ethnicities and communities. She also writes art reviews and essays for Nigaah Art magazine and maintains her blog beingsarahzahid@wordpress.com which voices her thoughts on child development, psychology and pedagogy through her personal research and study as well as her experiences as a teacher, a mother of two, a Pakistani female and a believer in never to give up.
Shaheer Niazi
Scientist
Shaheer Niazi is a 17-year-old student from LACAS A-levels who published his groundbreaking research on the "Electric Honeycomb" at the age of 16 in The Royal Society of Open Science Journal. His passion for science started at a very early age and he serves as an inspiration to the youth of Pakistan. For Shaheer, age is just a number and he has proven this with his achievements.
Shahid Siddiqui
Writer, researcher and an innovator.
Dr. Shahid Siddiqui is currently the Vice Chancellor of Allama Iqbal Open University in Islamabad, Pakistan. He has been involved with the Educational System of Pakistan in various capacities – as an academic, a writer, a novelist, an educator, and a researcher. He regularly writes on educational and linguistic issues for the Editorial pages of National Newspapers. He is a critical thinker who is also inculcating and imparting this quality among his students as well as people through his books and showing new paradigms to thinking individuals. Recently, he has taken the initiative of offering free education to transgenders uptill PhD at Allama Iqbal Open University.
Tayyab Husnain
Bio-technology scientist, PhD scholar
Dr Tayyab Husnain is a professor and director at the Centre of Excellence in Molecular biology, University of the Punjab. He has successfully completed his P.H.D in Plant Molecular Biology (Plant Transformation) from the University of Nottingham, England (1986-1990). He has been awarded Pas Gold Medal award and Satha Innovation Award IN 2016; Outstanding scientist's award in Biotechnology in 2009; Award of Academic Staff Common-wealth Fellowship in the United Kingdom for the year in 2003 etc. Moreover, he is truly honoured to receive the Certificate of Accomplishment for leading a highly successful project in rice and cotton transformation presented by CEMB in 1997. He is also bestowed with the prestigious Award for excellence in research to improve agricultural productivity in Pakistan; presented by PARC-BOSTID the U.S. National Academy of Science in 1994.
E-commerce entrepreneur
Zarlasht Faisal is the owner of an e-commerce and lifestyle platform at the website www.zarifaisal.com. She started her entrepreneurial journey a few years ago with just 25,000 rupees in her hand, and what started off as a small Facebook page, and today has her own fully functional e-store, lifestyle platform, and her first studio space in Karachi from where the company's operations are also run. Her story is one of resilience amidst the worst of situations; from nearly being evicted from her home, to dealing with the very tough environment that causes barriers to scaling up, and of falling and then standing back up. Today she employs over a dozen people and gives business to micro entrepreneurship production units across Pakistan. Her strength is also recognising young and raw talent and then grooming them in various fields of photography, content creation, blogging and influencer marketing.
Organizing team
Aniza Batool

Operations

Azka Zia

Post production

Hadia Baloch

Team member

Mohsin Iqbal

Operations

Quratulain Fatima

Partnerships/Sponsorship

Ramish Nazirlr

Operations

Ramla Saqib

Operations

Rashid Tashfeen

Curation

Rida Shahid

Operations

Sadia Saleem

Curation

Talat Mahmood

Operations

Zara Ejaz

Partnerships/Sponsorship