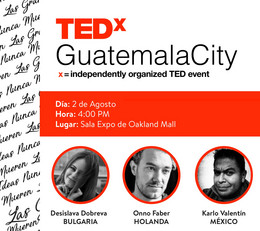 Todos sabemos que la vida es efímera, muchos dicen que se va en un abrir y cerrar de ojos. Nosotros queremos mostrarte que la única forma de inmortalizarte es compartir tus ideas. Aquellos que lo han hecho son recordados aun después de su muerte y gracias a ellos la humanidad ha avanzado en muchos sentidos.
Speakers
Speakers may not be confirmed. Check event website for more information.
Digital Nomad
César es Co-fundador de WOWProjects, IQ Branding Agency e e-Globus Agency un pequeño corporativo de tres agencias de marketing digital, branding y growth hacking, ubicadas en La Antigua Guatemala. Al mismo tiempo César está apoyando a Impact Hub Antigua a desarrollar y ampliar sus programas en la región. Impact Hub es un concepto de espacios de coworking que se está expandiendo por todo el mundo, en la actualidad son una diversa red de emprendedores de más de 11.000 miembros en 73+ ubicaciones. También es Fellow del Young Leaders of Americas Initiative, un programa de liderazgo apoyado por el Departamento de Estado de los Estados Unidos de América. Durante los últimos diez años ha ido ganando experiencia en marketing digital, coworking, liderazgo, emprendimiento y el desarrollo de negocios, en diversos programas y empresas.
Branding Strategist
Known for her unconventional approach to branding, Des Dobreva is the founder of the Badass Brand Squad and one of the big innovators in the branding space. She's a location-independent Brand Strategist with nearly 100 000 social media fans and millions of people who have seen and interacted with her content. As an international speaker and avid live streamer, Des has spoken about the power of branding and social media all over the world and has dedicated her career to helping entrepreneurs share their story to change lives. Des loves 3 things the most (IN THAT ORDER): sloths, telling people what they're doing wrong and reading as many books as possible so she can brag about it later.
Shaper
Soy un joven guatemalteco comprometido con cambiar la realidad en la que vivimos. Tengo 20 años y estudio Ingeniería Industrial. Me apasiona llevar ideas y proyectos a cabo, desde ideas de negocio hasta ideas puramente sociales y siendo sincero mis favoritas son aquellas que mezclan ambas cosas.
Guillermo Sanchéz
Guillermo es medico y cirujano, dedica su tiempo libre a proyectos de voluntariado.
Julián Castillo
Arquitecto apasionado por la naturaleza, el diseño y las ciudades. Enfocado en el desarrollo de proyectos colaborativos que busquen resolver problemáticas por medio de creatividad, impactando positivamente en sí mismos y en el medio que los rodea. Experiencia en diseño arquitectónico y supervisión en proyectos residenciales, comerciales, corporativos, culturales, industriales, médicos y uso mixto en JCH y en Solares y Lara Arquitectos. Desarrollo e implementación de tácticas y herramientas para el urbanismo ciudadano para la integración sostenible de los barrancos a la Metrópolis en conjunto con Fundación Ciudad Emergente y Fundación Crecer. Parte del equipo del Movimiento BARREANQUEANDO y del parque piloto Jungla Urbana. Fascinado por las ideas y la libre expresión. Promotor del diálogo y metodologías de cooperación para transformar positivamente el mundo. Inquieto soñador que utiliza el diseño como medio de creación en un contexto caracterizado por contrastes. Fotógrafo con enfoque artístico, arquitectónico y natural.
Hacker and Maker
Hacker, maker & trouble maker. Emprendedor serial con más de 15 años de experiencia. Actualmente fundador y CTO de Klustera & Grillo. Klustera es una compañía de inteligencia artificial que digitaliza el comportamiento humano y Grillo desarrolla el sistema más accesible y fácil de implementar para la detección y alerta temprana de movimientos sísmicos y desastres naturales. Dedicado a resolver problemas al crear bienes y herramientas que las personas puedan utilizar para mejorar su calidad de vida. Seleccionado como Forbes como una promesa de los negocios y por varias publicaciones internacionales como una autoridad de la Inteligencia Artificial en Latinoamérica.
Kathia Nuñez
Katia Núñez es montañista, ambientalista, que busca hacer conciencia sobre la problemática de la basura a nivel nacional. Realiza "limpiatones", reforestaciones y charlas educativas sobre el tema, promoviendo a la vez un turismo consciente y de voluntariado.
Gratitude advocate
Luis Pedro Recinos cuenta su travesía descubriendo el poder transformador de un diario de agradecimientos, en un año que fue el más intenso y posiblemente triste de su vida, pero que, a su vez, terminó siendo un año muy gratificante y cargado de lecciones. Mediante la exploración de la gratitud por 365 días consecutivos, comprendió que no existen las casualidades y que los eventos desafortunados le prepararon para un futuro muy cercano. En su charla, Luis Pedro nos cuenta sus descubrimientos acerca de la felicidad, los momentos perfectos y la sincronicidad de la vida.
Genetics and Healthcare
I have been building stuff and solving problems for as long as I can remember. I started my first [internet] company in 1998. I studied architecture and got my degree in 2006. Still starting things, solving problems, developing new concepts and products. Most recently, I'm the founder of [RDMD](https://rdmd.com), helping rare disease patients and foundations to accelerate treatments. Born in the Netherlands, I currently live in San Francisco.
Physician
Me llamo Pedro Ayau, tengo 27 años y soy Medico y Cirujano. Comencé estudiando economía en Estados Unidos, sin embargo a mitad de mi primer semestre tome la decision de que no me apasionaba el camino el cual estaba tomando y que lo que realmente quería era tener un papel mas directo en poder ayudar a personas, por lo cual regrese a Guatemala a estudiar medicina. Me gradué el año pasado, y actualmente me encuentro trabajando en el Hospital Obras Sociales del Hermano Pedro de Antigua Guatemala, y estoy en proceso de aplicar a una especialidad de medicina de emergencias.