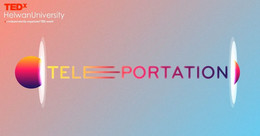 Is teleportation possible?
Will we ever be able to teleport?
But what does teleportation even mean?
Teleportation is the ability to move instantaneously from one location to another without physically occupying the space in between.
So If teleportation is possible, could a baseball transform into something like a radio wave, travel through buildings, bounce around corners, and then change back into a baseball? Oddly enough, thanks to quantum mechanics, the answer might actually be yes!
Many of us wonder whether teleportation is science fiction, thankfully the answer to this question resides in TED theory!
In TEDx HelwanUniversity theory we focus on meanings and the philosophy of ideas that TED adopted.
We strongly believe in the saying: "Ideas worth spreading'', and any idea presented on our stage should be spread and teleported everywhere.
Luckily, the physical medium who will teleport the idea will be you!
you are the chest of ideas, you have to spread the ideas and are responsible for keeping them safe for the rest of the world to hear and learn about them.
Now you can join us on this unique journey!