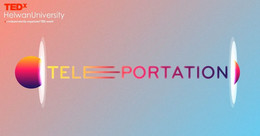 Is teleportation possible?
Will we ever be able to teleport?
But what does teleportation even mean?
Teleportation is the ability to move instantaneously from one location to another without physically occupying the space in between.
So If teleportation is possible, could a baseball transform into something like a radio wave, travel through buildings, bounce around corners, and then change back into a baseball? Oddly enough, thanks to quantum mechanics, the answer might actually be yes!
Many of us wonder whether teleportation is science fiction, thankfully the answer to this question resides in TED theory!
In TEDx HelwanUniversity theory we focus on meanings and the philosophy of ideas that TED adopted.
We strongly believe in the saying: "Ideas worth spreading'', and any idea presented on our stage should be spread and teleported everywhere.
Luckily, the physical medium who will teleport the idea will be you!
you are the chest of ideas, you have to spread the ideas and are responsible for keeping them safe for the rest of the world to hear and learn about them.
Now you can join us on this unique journey!
Speakers
Speakers may not be confirmed. Check event website for more information.
Abdulrahman Alaa
Sales Trainer, Digital Marketing Specialist and Business Development Specialist
Kirollos Rizk
Film Director & Novel Writer
Kirollos Rizk is a 21-year-old 3D Film Director & Novel Writer from Egypt who believes that Talent can always do. To prove his point of view he started an online campaign with the same title "Talent Can Always Do "and started recruiting talented people from all over the world to work together on a 3D Movie for free! The Movie is called "The Legend of The Winged Guardian "as it covers 1 chapter from its original novel that is written by Kirollos. Throughout a year "2015 "the team reached 120 People from 12+ nationalities all working together for free to prove that nothing is impossible and Talent can always do! He is here to show what was achieved by this unbelievable team and what will be achieved in the future.
Mazen Moataz
Painter and Photographer
Mina Henein
Mina Henein believes that life is too short to keep hitting the snooze button. As a certified life coach and motivational speaker, Mina's mission is to help people awaken to the possibilities in their personal and professional lives. Through humorous stories, provocative questions and a fresh perspective, Mina inspires clients to see that just about anything is possible. All we have to do is pay attention, do what works and get out of our own way. Warm, genuine and engaging, Mina's keynotes and workshops combine thought-provoking content, down to earth stories and practical strategies leaving participants feeling uplifted and inspired to transform their lives. Mina assists individual in optimizing their talents, skills and values to enable their own and others' success. He helps clients pinpoint the challenges or obstacles that prevented them from successfully maneuvering through a season in their life. Providing insight, new ideas and action steps for clients that aided them to more clearly make decisions and facilitate change. Mina has Conducted live audience seminars and workshops for inspiration and motivation. He also delivered training and facilitated consultations for individuals and groups
Mohamed Al Sheraie
Graduated from Faculty of Pharmacy Cairo University by his third year at University, He decided to shift his career to Marketing
Nada Khalil
Nada Khalil, raised in a family house in a small village, originated with some specific intellectual beliefs. When she grew up, she left her small village and began to connect with people outside her family and with the community. At that point, it was very normal that she had come into contact with many beliefs compared to the beliefs she grew up with. That is why Nada faced a lot of problems, such as the inability to speak and express her feelings to other people, which has negatively affected her mental health.
Naureen Youssef
Naureen is a marketer, fashion model, and a great writer
Reem Nabil
Standup comedy