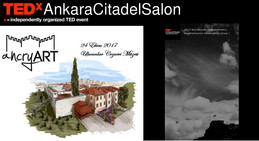 Speakers
Speakers may not be confirmed. Check event website for more information.
Aykut Firat
He was his father's assistant who was also his master and an eminent photographer, Sıtkı FIRAT and he became a member of FSK and one of the first members of AFSAD, established in 1977. He traveled almost all across Turkey and took photographs and in 1980 together with his father and brother, Artuk FIRAT, he founded Fıratcolor Renkli Fotoğraf Lab which was a pioneer in this field. In this lab which was well-equipped with visual arts and photography techniques, he opened many exhibitions for hundreds of photographers.
Evrim Olcer Uzunel
She is a lecturer at Gazi University, Faculty of Turkish Folk Sciences. She teaches intangible cultural heritage museum studies, creative cities, city folk, sustainable development, gender mainstreaming and traditional cuisine culture She is a member of International Council of Museums (ICOM) and the coordinator of Intangible Cultural Heritage Museum. Ms. Özünel who is a UNESCO Silk Road Online Project representative, UNESCO Turkish National Commission of Intangible Cultural Heritage
Farkındalık Korosu
The Awareness Chorus was established for constituting social network of the project "The Importance of Early Diagnosis in Breast Cancer" entitled by Pınar Ayhan in 2008.The Chorus has trained by Cihan Can, director of chorus of Sevda Cenap And Music Foundation, since it was established. The goal of Awareness Chorus which is set up with women treated for breast cancer is to raise awareness about ""The Importance of Early Diagnosis in Breast Cancer" and emphasize the importance of clinging to life. Additionally, Prof.Dr.Deniz Yamaç and Prof.Dr.Suhan Ayhan who have a part in our chorus from the beginning support the Awareness Chorus with both their doctor identities and beautiful voices.
Nejat CUHADAROGLU
He was born in 1966 in İstanbul. Between the years 1989 and 2007 Mr. Çuhadaroğlu worked as a Marketing Manager, Vice President, President, Board Member and CEO in Çuhadaroğlu Holding. Since 2007 he has been in turns working as the Chairman of the Management Board and Vise President at Çuhadaroğlu Metal Sanayi ve Pazarlama A.Ş. and Çuhadaroğlu Aleminyum Sanayi ve Ticaret A.Ş. He used to be a member and the chairman of İstanbul Sanayi Odası Meslek Komiteleri (İstanbul Chamber of Industry Sectoral Commitees) and İstanbul Chamber of Industry councilor. He is, now, a member of IMSAD. His father is the graduate of the faculty of architecture while his mother was the graduate of Fine Arts. He, himself is the graduate of faculty of economics, being one of the rare collectors of models, dioramas and war materials. With his 30-year professional experience he founded HİSART Canlı Tarih ve Diorama Müzesi (HİSART Living History and Diorama Museum) on June, 2014 in his premises in Çağlayan.
Sarp Evliyagil
He was born in 1970. He is the graduate of Bilkent University Tourism and Hotel Management. He received his master's degree in the field of journalism in Ankara University, faculty of communication. He started his career in Ajans-Türk Gazetecilik ve Matbaacılık Sanayi A.Ş. as the chairman of executive board assistant in 1989, and then has been working as the chairman of executive board in Ajans-Türk Holding which carried on business in printing, publishing, educational publishing, paper and cardboard, quality cardboard production and marketing, construction, real estate development, tourism and education. He is the partner of Evos Basım Yayın Web Ofser Ltd. Holding, Ekoyay Yayıncılık Holding and Metropark Concept and Metropark Plus Karma Konut ve Alışveriş Merkezi Projects. He is also the cofounder and the chairman of executive board of Ajans Kart-Ankart Şirketleri. He is a member of TÜGİAD and TÜSİAD. Mr. Evliyagil founded Ankara'nın Çağdaş Sanat Koleksiyon Müzesi (Ankara Contemporary Art and Collection Museum).
Seda Ozsoy
Yoga Instructor I was born in Ankara in 1981. My personal process of becoming as of 1987 has been accelarated with Yoga classes that I started teaching at Bilkent University Sports International in 2000. This life-long learning and teaching Yoga experience enables me to discover recognition of oneself and others. Through various training activities I have established basic information and knowledge about sports and exercises. As I have not had a chance to start Yoga with a Yoga instructor, I believe that the best mentor is within oneself through self acknowledgement. Several trainings and workshops that I have attended in the following years help me to synthesize information from different perspectives. Teaching and sharing Yoga inspires me to create a meaningful and holistic approach for not only Yoga but in all walks of life.