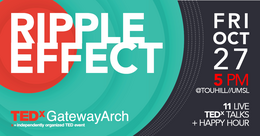 We believe every individual has the ability to change the world, and it can start with just one idea. Experience the Ripple Effect of local thought-leaders sharing their one great idea, the drop of water that cultivates a wave of change and transformation. TEDx events provide intentional, cross-pollinated networking opportunities that spark new perspectives and build connections – sending ripple effects of possibility throughout the St. Louis region.
Speakers
Speakers may not be confirmed. Check event website for more information.
Antoinette Carol
Antionette D. Carroll is the Founder and CEO of Creative Reaction Lab, social enterprise that educates, trains, and challenges cities to co-create solutions with Black and Latinx populations to design healthy and racially equitable communities. Throughout her career, Carroll has worked, in in-house and freelance capacities, for non-profits working for social justice, human rights, and diversity and inclusion. Prior to CRXLAB, Carroll spent 7 years in the advertising and marketing industry. Carroll was named the Founding Chair of the Diversity and Inclusion Task Force of AIGA: The Professional Association of Design in 2014.
Bert Vescolani
Executive Director of St. Louis Science Center
De Nichols
Through a multi-disciplinary design practice, De Andrea Nichols helps change makers nationwide address social, civic, and racial equity challenges within their communities. De serves as Director & Principal Designer of Civic Creatives, a social design organization that produces interactive events, tools, and services that foster the discovery, ideation, prototyping, and actualization of community-driven civic solutions. As an arts-based activist, Nichols organizes communities to develop creative calls-to-action for social justice issues through her leadership with the Artivists STL collective, Citizen Artists STL, and FoodSpark. Nichols also serves as a Board of Directors member for Forward through Ferguson and chairs the Board of Directors for Creative Reaction Lab. She is a national keynote speaker on the subjects of designing for civil rights and social justice, and she is a 2016 recipient of the St. Louis Visionary Award for community impact in the arts. Most recently, De was selected as a 2017 Citizen Artist Fellow for the John F. Kennedy Center in Washington, DC. De is an alumna of the Sam Fox School of Design & Visual Arts and Brown School of Social Work at Washington University in St. Louis, where she specialized in communication design, social entrepreneurship, and socio-economic development. She is a John B. Ervin Scholar, Brown Scholar, and Enterprise-Rent-a-Car Scholar. Her efforts have been supported by the Smithsonian Institute's National Museum for African-American History and Culture, Clinton Global Initiative, Women's Caucus for Art, Gephardt Institute for Public Service, Ideas that Matters, Pulitzer Arts Foundation, StartingBloc Fellowship for Social Innovation, Points of Light Civic Accelerator, Microsoft YouthSpark, and AshokaU Changemakers.
Diane Brockmeier
For more than 40 years, Mid-America Transplant has facilitated and coordinated organ and tissue donation, and now serves 84 counties covering eastern Missouri, southern Illinois and northeast Arkansas. It is federally designated as one of 58 such organizations in the U.S. Mid-America Transplant is a not-for-profit organization. As President and CEO of Mid-America Transplant, Diane Brockmeier oversees strategic operations, including key partnerships with more than 120 hospitals in the counties served by the organization. She has been with Mid-America Transplant for 30 years, first as a nurse and organ procurement coordinator and then rising through the ranks to oversee all organ procurement and clinical services as the chief operating officer before becoming president and CEO in February 2016. Strategically, Brockmeier was the driving force in implementing several innovative best practices over the past several years. Her key accomplishments include overseeing the design, construction and use of a first-in-the-nation, on-site surgical suite for organ and tissue recovery. Brockmeier enhanced the initial vision to include on-site catheterization and CT scanning, which led to praise by donor hospitals and transplant surgeons for its enhanced quality control and convenience. Brockmeier was instrumental in quality and organizational changes that resulted in Mid-America Transplant being awarded the Malcolm Baldrige National Quality Award in 2016. This prestigious award recognizes the organization for its ability to support the community by saving lives through increased organ and tissue donations, and marks the first time an organ procurement organization has been named a Baldrige recipient. Brockmeier's ability to anticipate and understand industry trends also has led to her active role in the national Association of Organ Procurement Organizations, where she has chaired and served on numerous committees related to standards and accreditations, strategic planning and procurement. In addition, she is a member of the Board of Examiners for the Malcolm Baldrige National Quality Award and is a committee member of the United Network of Organ Sharing (UNOS).
Foxing .
St. Louis's Foxing create moody, atmospheric indie-rock incorporating orchestral strings, brass instruments, synthesizer and electronic samples & beats. Since forming in 2011, the band has released 2013's The Albatross & 2015's Dealer on New York label, Triple Crown Records and have amassed a devoted following by touring extensively throughout the United States, United Kingdom, France, Germany, Belgium, Italy, Austria, Czech Republic, Switzerland, Denmark, Sweden, Norway & Iceland. Band members Conor Murphy - vocals Ricky Sampson - guitar Eric Hudson - guitar Josh Coll - bass Jon Hellwig - drums
Jade Harrell
Jade Harrell is the charismatic creator and executive producer of RareGem Productions, a positive media production and creative consultation company. Jade's voice reverberates globally through multiple platforms of strictly positive programming. She recently was named as one of St. Louis' 50 Most Intriguing Women, Delux Magazine's Power 100 Influencers and inducted to the Grace Hill Women's Business Center Wall of Fame. She's been featured in the St. Louis American, The St. Louis Business Journal and her contributing work recognized for Focus St. Louis, 19th Annual "What's Right with the Region" Awards. Her life's work includes extensive charitable efforts, appearances, presentations and productions in television, radio, books, stage plays and conference series. Jade Harrell began her career as the primetime lunchroom DJ at her high school's radio station. She achieved her undergraduate degree in Business Administration while gaining notoriety as a top-booking club jock and television producer.
MADCO .
MADCO entertains, educates, and collaborates through innovative dance programming for communities across the nation so audiences don't just watch dance, they experience it. They are proud to be the professional dance company in residence at the Blanche M. Touhill Performing Arts Center on the campus of University of Missouri – St. Louis. The company reaches over 30,000 people annually and is known for its high energy, athleticism, and entertaining style that leaves audiences wanting more. Since 1976 we have promoted dance with touring concerts and educational programs throughout the United States. Under the Artistic Direction of Stacy West, MADCO has a commitment to collaborations and to commissioning work that makes an impact. Through groundbreaking choreography coupled with relevant education and community outreach, MADCO shares physical, honest, intellectual, and emotional communication with those who experience it.
Marcus Adrian
Marcus is an Architect and Managing Principal of Mackey Mitchell Architects in downtown St. Louis. He has dedicated years of his career to mastering the design of learning spaces, from birth through higher education, and spanning all levels of human ability. Through his design work at Mackey Mitchell and his own volunteer and research work, Marcus has collaborated with over 20 different organizations that offer services for people with a wide range of developmental needs. His research and design work have been published widely and presented at national and international conferences. In 2014 he collaborated in a joint research project with clinical faculty from Saint Louis University's Department of Communication Sciences and Disorders, to study low-cost ideas for classroom improvements at an elementary school in North St. Louis City. Later that year, he co-presented that work at the American Speech-Language Hearing Association's National Conference with his wife Angela, who is a Speech-Language Pathologist and Clinic Coordinator at SLU. Marcus has long used his knowledge and experience to advocate for public policy in support of people with developmental needs. In 2009, he was recruited by ASHA and the US Access Board's Policy Committee to deliver a US Congressional Briefing on classroom acoustics, in support of the 21st Century High-Performing Green Schools Act. Born in Missouri and raised in St. Louis, Marcus received his Bachelor of Architecture from the University of Notre Dame in 1994. He and Angela live in St. Louis Hills with their three children.
Founder of The Women's Bakery
Ness Sandoval
Ness Sándoval studies spatial inequality in American cities and Latino and Immigrant Demography as an Associate Professor of Sociology & Anthropology at Saint Louis University. He is also the Co-Director of the Ph.D. program in Public and Social Policy and the founder of the GeoSpatial Research and Innovation lab (GeoSRI) at SLU. Ness currently serves as an applied demographer and consultant to several community organizations in the Saint Louis and Midwest region. Ness Sándoval was born in Denver, Colorado. At the age of 3, his family moved back to Scottbluff, Nebraska. Ness completed his undergraduate and master's degree at the University of Nebraska-Lincoln. After completing his masters degree he worked for Gallup as a research scientist in the Government Division. He returned to school to complete his Ph.D. degree at the University of California-Berkeley. He moved to Chicago where he was an assistant professor of Sociology at Northwestern University. He met his wife Kasia in Chicago and they have three children, Cyprian, Irenaeus, and Efrem. In 2008, Ness moved to Saint Louis where he starting working as an assistant professor at Saint Louis University. Ness is currently an Associate Professor of Sociology in the Department of Sociology and Anthropology at Saint Louis University. He is also the Co-Director of the Ph.D. program in Public and Social Policy. He is the founder of the GeoSpatial Research and Innovation lab (GeoSRI) at SLU. He has two primary research interests: the intersection of Demographic Techniques and Computational Spatial Science to study spatial inequality in American cities and Latino and Immigrant Demography. Ness currently serves as an applied demographer and consultant to several community organizations in the Saint Louis and Midwest region.
Nick Droege
Nick is the Co-Founder of SafeTrek one of St. Louis' fastest growing companies. SafeTrek is the modern day 9-1-1 and was recently named the #3 early stage startup in the United States by CNBC.
Nicole Paris
Nicole Paris was born and raised in St. Louis, Missouri. In 2012 she was awarded an Associate of Science degree in Culinary Arts from Johnson and Wales University located in Charlotte, North Carolina. After graduating she decide to pursue a childhood passion of hers, freestyle beatboxing. The passion and appreciation of this artistic form encouraged the newly founded organization Drop the Beats. This community based organization provides educational events and a platform for like-minded artist. Nicole has contribute her professional skills to various events held in the Saint Louis, Mo. and Charlotte NC area. She was labeled after appearing on KTVI 2 news with Tim Ezell and April Simpson as the "Best Female Beat-boxer in the Saint Louis area". Nicole now travels around the world sharing her elevated talent to entertain and lift the spirit of all individuals. She is also laboring to translate the beat-box art form into a children's book slated to release by Reveal Publication.
Sheyna Gifford
Dr. Sheyna Gifford (MD, MA, MSc) is a physician at Barnes-Jewish Hospital in St. Louis. Dr. Gifford's previous incarnations include a stint as the scientist-in-residence at the St. Louis Science Center, where she helped design exhibits and outreach activities; a tour as the health and safety officer and crew journalist on NASA's 1-year mission to simulate Mars; a science journalist for NASA; a career as a neuroscientist at Brown University, Harvard University, and Massachusetts General Hospital; a satellite engineering project called R-HESSI at Space Science Laboratories; and an astrophysics researcher for the DEEP2 sky survey at the University of California, Berkeley. Dr. Gifford received a full scholarship to the University of Southern California to study science communication. She also holds advanced degrees in Medicine and Biotechnology, as well as undergraduate degrees in English and Neuroscience. She has written more than 100 articles in the fields of biology, engineering, and space science, and has contributed to a textbook in public health. She has been a guest lecturer at dozens of major universities and conferences. She is a captain in, health officer for, and proud member of the Missouri Civil Air Patrol air force auxiliary.
Theresa Coble
Theresa G. Coble serves as the E. Desmond Lee Endowed Professor of Experiential and Family Education at the University of Missouri – St. Louis in collaboration with Forest Park Forever. Before coming to UMSL, Dr. Coble was a faculty member at West Virginia University (1997-2002) and Stephen F. Austin State University (2003-2015), working in the human dimensions of forestry and natural resources. Since 2011, Dr. Coble has served on the National Park Service Advisory Board Education Committee. In 2010, she was awarded a Fulbright Fellowship that took her to the Graduate Institute of Environmental Education at National Taiwan Normal University. Dr. Coble currently serves as Vice-President for Administration and member of the board for the National Association for Interpretation in Fort Collins, Colorado. Working with the NPS, Dr. Coble helped develop, launch and administer a 100% online M.S. in Resource Interpretation (MSRI) program at SFASU. In 2015, she worked with an expanded set of partners (e.g., National Park Service, U.S. Fish & Wildlife Service, NASA, Chabot Space & Science Center, UC Berkeley), to develop and pilot-test five Science and the Public Interface courses. At UMSL, Dr. Coble is spearheading a new online doctoral program focused on Heritage Leadership for Sustainability, Social Justice, and Participatory Culture. Dr. Coble completed her graduate work in Chinese (M.A.) and Forest Resources (Ph.D.) at the University of Minnesota.