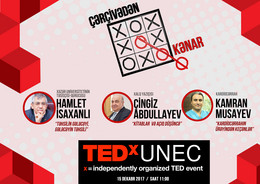 Dekabrın 15-də növbəti TEDxUNEC konfransı keçiriləcək.
"Çərçivədən kənar" mövzusuna həsr olunan konfransda ölkənin təhsil, tibb və mədəniyyət sahəsinin tanınmış simaları məruzələrlə çıxış edəcək.
TEDxUNEC-də Xəzər Universitetinin təsisçisi-qurucusu, Direktorlar və Qəyyumlar Şurasının sədri, professor Hamlet İsaxanlı "Təhsilin gələcəyi – gələcəyin təhsili", Azərbaycan Yazıçılar Birliyinin katibi, Xalq yazıçısı Çingiz Abdullayev "Kitablar və açıq düşüncə" və Mərkəzi Klinik Xəstəxananın baş həkimi, tibb elmləri doktoru Kamran Musayev "Kardiocərrahın ürəyindən keçənlər" mövzusu ilə bağlı fikirlərini bölüşəcəklər.
Bildirək ki, UNEC konfransın təşkili üçün TED təşkilatından rəsmi lisenziya alıb.
Speakers
Speakers may not be confirmed. Check event website for more information.
Azerbaijani writer, Secretary of the Union of Azerbaijani Writers
Chingiz Akif oglu Abdullayev (Azerbaijani: Çingiz Akif oğlu Abdullayev; born April 7, 1959, Baku) is Azerbaijani writer, Secretary of the Union of Azerbaijani Writers.[1] Each book he writes now earns him more than $200,000 within two or three years
founder of Khazar University
Hamlet Abdulla oglu Isayev (Azerbaijani: Hamlet Abdulla oğlu İsayev IPA: [hɑmlet ɑbdullɑ oɣlu isɑjœy]) (born March 1, 1948, Kosali, near Gardabani, Georgia) is an Azerbaijani mathematician, poet, science and social science writer, living founder of Khazar University who served as founding president from April 1991 to September 2010. He is currently the Chairman of the Board of Directors and Trustees, Khazar University (beginning from September, 2010); founder of integrated primary, secondary and high schools (Dunya School); and founder of a publishing house (all in Baku, capital of Azerbaijan) as well as a translator of poetry, lecturer, and editor. He is a founding member of Eurasian Academy.[1] Hamlet Isakhanli (Azerbaijani: Hamlet İsaxanlı (IPA: [hɑmlet isɑxɑnlɯ]) is the penname that he uses as a poet and in his publications in the fields of humanities and social sciences. All his works in mathematics have been published under the surname Isayev (H.A. Isayev, G.A. Isaev, etc. depe
Head doctor of the Central Clinic Hospital / President of the Azerbaijan Society for Cardiovascular Surgery
Kamran Kazım oğlu Musayev 30 oktyabr 1973-cü ildə Qərbi Azərbaycanın Ağbaba mahalının (Amasiya rayonu) Göllü kəndində ziyalı ailəsində anadan olub. 1990-cı ildə Bakıdakı kimya-biologiya təmayüllü məktəbi qızıl medalla bitirdib və həmin il Azərbaycan Dövlət Tibb İnstitutunun (indiki Azərbaycan Tibb Universiteti) müalicə-profilaktika fakultəsinə qəbul olunub. 2 il burada təhsil aldıqdan sonra, 1992-ci ildə təhsilini davam etdirmək üçün rektorluq tərəfindən müsabiqə yoluyla istedadlı tələbələr sırasında Türkiyənin İstanbul Universitetinin İstanbul Tibb Fakultəsinə göndərilir. 1996-cı ildə bu təhsil ocağında 6 illik tibb təhsilini uğurla başa vurub və elə həmin il (uzmanlıq) rezidentura təhsili üçün imtahan verir. İmtahandan müvəffəqiyyətlə keçən Dr. Kamran Musayev, İstanbul Universitetinin Cərrahpaşa Tibb fakultəsində illərdir xəyalını qurduğu ürək-damar cərrahiyəsi ixtisası üzrə rezidentura təhsilinə başlayır.