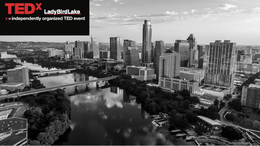 All sorts of strange and wonderful characters come to Austin to have a unique experience. Austin thrives on new ideas, innovation, and creative expression. From start-ups to global giants, Austin hosts some of the most prestigious brands in the world while supporting a robust and vibrant local community. Keeping it Weird is the expression of your unique experience of the world around you, and about how one idea can change the course of history.
Austin is an extraordinary hub of thinkers, dreamers, visionaries, and life long learners who have long been convening on the shores of Lady Bird Lake to ignite imaginative and innovative ideas.
Speakers
Speakers may not be confirmed. Check event website for more information.
Adria Garcia
From Boots to Roots
As a Disabled Combat Veteran, coping daily with invisible wounds became too much. In combat, and in the Military overall, you are trained to adapt and overcome. No time to process, no time for self-care, just roll with the punches and keep on keeping on. I woke up one day sick and tired of feeling sick and tired and decided to take control of my health. Through plant-based cooking and growing my own food I was able to not only reverse an autoimmune disorder but improve my overall health, to include my mental health. On my journey to feeling better, I was fascinated by the similarities of soil health and gut health and that is when "From Boots To Roots" was born. Working with the soil and growing my own food reminded me to also nurture my body. I am a true testament of what food can do for you at a cellular level and I want to share it with my fellow Veterans.
Alex Weber
You're a Kooky Creature
Alex is a World Record Holder, US Lacrosse Coach of the Year, and has been an Award-Winning Host for NBC American Ninja Warrior, Under Armour, and Discovery Channel. Alex is also a Documentarian, International Lacrosse Pro, and has traveled around America giving out Free Compliments to random strangers!
Anna Blanch Rabe
Radical Generosity
Anna Blanch Rabe is an Australian-born speaker, writer, attorney and social entrepreneur. In 2016, she founded Anna Blanch Rabe & Associates, a boutique communications consulting company which serves Law Firms, socially-responsible businesses, and social enterprises with high quality strategy, research, and content services and products. Their mission is to making legalese easy to understand; to share meaningful stories; and to empower those who are building communities.
Barbara Allen
How Patriotism Helped Me Triumph Over My Tragedy
The more I fought to be normal, the harder life laughed at me. Just when I thought I had the last laugh, life turned against me in a tragedy that almost destroyed me. I was 32 years old in 2005, when my world fell apart. My husband Lou had been killed in Iraq. I was left to raise our 4 little boys alone. Lou's loss was compounded by the shocking manner of his death and the aftermath became one of the most controversial cases in military history. Amply blessed with family and friends, I pieced my life back together, & developed a network that spans the country. Not even my worst mistakes overpowered my greatest triumphs as I learned valuable lessons from these experiences, and enhanced my professional worth. Today I'm an award-winning author and co-founder of an exciting platform about patriotism and the American Dream. I'm blessed with the opportunity to learn from extraordinary people, and blend those lessons with my own as I help others forge their own paths in this amazing country.
Bob Pearson
Countering Hate
We all start out the same. Whether born in Damascus or Detroit, human beings begin life with similar DNA, common instincts for survival and a basic desire to learn and explore. So why do some young men and women grow up with plans to promote peace and prosperity, while others set out to harm or kill others? Extremists never stop trying to find the next young recruit. They are smarter, more technically savvy and better-organized than we give them credit for. What are they doing well and what can we learn from these insights? Are we thinking the right way? Bob explores how bias, hate and extremism take root when our brains, memories & habits are being locked in for life. He explains how behaviors are embedded during the natural human development from infancy to adulthood and how we can intercede and guide youth toward a path that enhances global safety and prosperity. If we are going to counter hate, we need to understand its root causes, so we can all join and make a difference.
Catia Hernandez Holm
Social Conditioning
Speaker, author and confidence cultivator with a heart for teaching women how to walk through life with confidence and joy. Proud wife and mama of two amazing daughters, and even though she was a writer before becoming a mama, entering into motherhood rocket launched her into her purpose – championing women and reminding them of their innate worth. Catia's work has been featured in the Austin American Statesman as thoughtful, at Book People as New & Noteworthy, and she was awarded Austin's Best Parent Blogger award in 2017. Catia has been regarded by her audience as "courageous, genius, awe inspiring, funny and encouraging." Kirkus Reviews calls her book, "a winningly personal guide to dealing with life's pitfalls." When she's not writing and speaking, you can find her having kitchen dance parties with her girls, taking her favorite dance class, and eating vanilla cake with girlfriends.
Daniel Alarik
Heroic Team Builder
Military veteran, Army Drill Sergeant and Entrepreneur. I left the Army to start my business, Grunt Style, with only $1,200 and no idea what I was doing. The first 3 years I travel around to different states selling and sleeping in my car. 5 years afterwards we have over 500 employees and have been valued at well over $100 Million dollars. We accomplished this by not being heroic individuals but by building teams that can accomplish heroic things. I have spoken all over the country of how to use successful models from the military that translates into building a successful business.
Duncan Wardle
The Theory of Creativity
I believe everyone is Creative. I also believe the ability to think Creatively is one core human truth that will remain relevant in the brave new world of AI. Haven't we all been told we're not creative? Weren't we all kids once? It's that childlike curiosity that led Einstein & Edison to discover new theories & Disney and Jobs to create new industries. Hasn't our education and corporate life taught us that there is only one right answer, so much so, that we all stopped looking for the next one? Combine our lack of creativity and curiosity with the world around us. Drones will most likely make fireworks irrelevant in less than a decade. 3D printing will most likely make traditional tool industry obsolete in the next few years too. So how will we survive if we keep doing "business as usual," iterating to achieve quarterly results vs innovating to survive? How can we embed a sustainable culture of innovation & creativity throughout our organizations, rather than leaving it to the few?
Janet Zaretsky
The Apology Trap
Janet Zaretsky is a master professional coach, author, and speaker that helps people unleash their brilliance, confidence and visibility in the world. For many of us, this brilliance is trapped inside of an automatic, apologetic way of being, which limits our ability to express our fullest potential. Janet's powerful talk titled, "The Apology Trap", will give you massive a-ha moments that open the door to new language that empowers you. Janet has worked with over 32,000 people in the past 22+ years. She is a frequent contributor to Forbes and the author of "Where'd My Confidence Go… and how do I get it back?". She is an International Coach Federation member, Enhanced Conversational Intelligence Coach, Certified in Behavioral Style Instruments, graduate of Coach U, and former senior program leader for Landmark Worldwide.
Julie Reisler
Get a PhD in YOU
Julie Reisler is a Life Designer® and is the founder of Empowered Living, a personal development and life design company. Julie is the author of Get a PhD in YOU, host of the podcast 'The You-est You', TEDx speaker, and inspirational speaker. Julie leads empowering retreats, courses and workshops around the globe, is a meditation teacher on the Insight Timer app, is on the faculty at Georgetown University in their coaching program and is a Lululemon Ambassador. Julie has a master's degree in coaching and over 12 certifications in health and wellbeing, and leadership. She is all about you being your 'you-est you' and living life with purpose, passion and presence.
Kendall and John Antonelli
passion with Purpose
We are two "kids" in love who seek to get the most we can out of every day life. When my mother said, "You can't have your cake and eat it too," I responded that I could "dang sure try!" John is a CPA by trade and I ran a program at a local nonprofit for immigrant victims of crime. We made a honeymoon decision to quit our jobs. With the goal of being together and utilizing our strengths - eating and talking - we came up with the idea to open our own mom and pop cheese shop to tell the story of artisan food, the producers, and their labors of love. We envisioned starting & raising a family in that shop, becoming contributing members of our community, inspiring and leading a team, and traveling the world in search of good food stories. Eight years later we continue to live the dream and seek for our next daily adventure.
Laurie Frick
I want my Data!
I'm a data artist exploring the bumpy future of data captured about us. We're more than halfway thru the decade when humans shift from mysterious beings - to big data algorithms, where everything about us will be known. Rather than worry, I imagine a time when personal data is a peek into our unique identity and just possibly a glimpse into our future. Will it backfire? Our movements, choices, friends - even the food we ingest will be anticipated. How will it feel when self-delusion becomes impossible? With a background in high-tech I quit my job and went back for an MFA to make hand-built artwork and installations, anticipating the day when patterns of behavior become patterned artworks and the mass of data will predict our lives.
Lolis and Mike Baab
Healthy Enough for ...anything
If there's a story to be told, she's on it! Lolis has made strides, not only for herself, but for all women. Serving as a Girl Guide in her native Mexico, launching a radio show talk show for women, creating an anti-bullying campaign and conference for middle school girls, serving on boards that further female interests- she has been an unrelenting warrior for girls and women's equality and empowerment. Her passion for helping others is undeniable, and she makes it her goal to educate others about how Girl Scouts is transforming girls into women who are forces for good, and catalysts for change in their communities. When Lolis is not shattering glass ceilings, she spends time increasing community awareness and appreciation for Latin culture, serving with local non-profits, and living life with her college sweetheart, Mike, and their two Girl Scout daughters.
Reagan Corbett
Beyond the Canvas
From 2016 college graduation to the pages of British Vogue, Reagan Corbett has paved a contemporary artist revolution of her own. In a world full of artists all after the same goal of recognition and appreciation of their craft, why is it that Corbett has found herself as a front runner? Listen as she reflects on how a career as an artist has become much more than what meets the eye. From a well-rounded education, her background in the arts, to launching The ReagART Collection, Corbett is busy honing her craft as a painter. Her emerging status proves that artists are no longer confined to the limitations of their studio audiences. The old world craft of painting is being contemporized and shared through the power of smartphones and social media. Choosing hashtags and filters have become almost as important as the work being produced. See how Reagan Corbett of The ReagART Collection utilizes social media platforms to share her art with people in all corners of the world.
Reagan Pugh
Does our Best Work have to kill us?
I'm starting to discover that making the greatest contribution through our work has less to do with the actual work itself, and more to do with where we find our identity. It's taken me a long time to remember my identity is an artist. My entire career I've labored to do work others find valuable - as a salesman, teacher, professor, consultant, non-profit director - but through all of those roles the common denominator continued to bubble to the surface: I'm an artist. This doesn't mean I get paid to act or write poetry, but my approach to work changed dramatically when I realized who I really am. Things also started to get a lot easier. And slowly, this surprising truth revealed itself: when we rest in who we really are and bring that person to our work, it's surprising how easy it is to make our greatest contribution.
Rod Hairston
Power of the Mind
CEO and Chairman of Trusum Visions, a family of organizations focused on empowering and unlocking the unlimited potential of organizations, leaders and individuals. I have had the privilege of coaching leaders to Forbes's 400 list, star athletes and organizations. My first book has been highly acclaimed as one of the best books around personal change "Are You Up For The Challenge? Six Steps to Lasting Change, Starting Now...Not Someday." Early in my career I got my certification in NLP and NAC and spent several years as a Master Trainer for Anthony Robbins, where I created my own coaching business.This online coaching system continues to reap results in 19 different nations. For over 20 years I have helped more than 500,000 individuals expand their identities and over 500 companies change, enhance and create high performing cultures. I am enthusiastic to bring these resources to the city that keeps it weird!
Tilde Guajardo
the New IQ
I am an ordinary woman with an extraordinary story of how I went from a life full of anger, fear and shame to a life filled with faith, hope and love. This process allowed me the opportunity to learn life's most valuable lessons about what we each have to go through to embrace our uniqueness or "weirdness" and be able to live a life filled with Joy, Peace, and a whole lot of Adventure! I now want to share this process with others so they can learn to thrive in every area of their life. I have also personally interviewed over 100 women global leaders on camera and 100's more off camera who went through the same process I did to help them step into their own power and greatness.