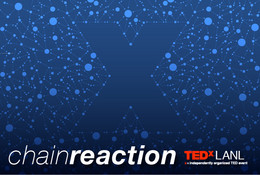 Held in conjunction with our student symposium this year, this TEDxLANL event will feature student presenters.
Speakers
Speakers may not be confirmed. Check event website for more information.
Andrea Albert
Postdoc
Arriving here in the spring of last year, Andrea Albert has been working on the High Altitude Water Cherenkov Observatory detecting high-energy radiation from space. She's completed her Ph.D. and has now settled in with her two cats. She's a member of the Los Alamos Rotary Club and hopes to continue unraveling the "mysteries of the Universe" while here at the Lab.
Arun Ramanathan
Graduate student
Arun Ramanathan, currently works at the Lab on nuclear diffraction of nuclear fuels within the Materials Science in Radiation & Dynamics Extremes group. He's lived in the United States for two years and has a master's degree in materials science. Once he's settled at Georgia Tech next year to begin his Ph.D., he hopes to adopt a dog—something he's always wanted to do.
Brendon Parsons
Postdoc
Having been here for just under a year, Brendon Parsons is a postdoc in the Chemical and Diagnostics and Engineering group. During his time here he, like Tirtha Banerjee, has contributed their expertise to the New Mexico Small Business Assistance Program. Looking forward, he would like to support the Laboratory's mission-related chemistry efforts as a staff scientist.
John Moore
Graduate student
John Moore is truly a student of history. He holds both a bachelor's degree in history and a master's degree in public history. In his four years at the Lab, he's worked for Mechanical and Thermal Engineering and, more recently, has spent the last two years with Records Management Services under the mentorship of Alan Carr. Part of his current work includes archiving the Laboratory's photo and film collections.
Kelsey Neal
Graduate student
With prior internships at ExxonMobil and Disney and the Los Alamos Dynamic Summer School, Kelsey Neal is currently working with the National Security Education Center as a graduate student. She will begin her Ph.D. in mechanical engineering at the University of Delaware beginning this fall and will take the interest she's developed assisting the Lab's "Girls in STEM [Science, Technology, Engineering and Math] Project with her.
Tirtha Banerjee
Postdoc
Tirtha Banerjee comes to us via India, Germany, and Duke University. Currently a postdoc with the Computational Earth Science group, he would eventually like to join the Lab as a staff scientist and continue his research on the interaction between the ecosystem and the atmosphere. When he's not at work he enjoys tennis, playing the violin and having a good conversation.