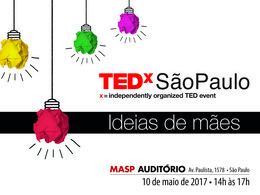 In the spirit of ideas worth spreading, TEDx is a program of local, self-organized events that bring people together to share a TED-like experience. At a TEDx event, TEDTalks video and live speakers combine to spark deep discussion and connection in a small group. These local, self-organized events are branded TEDx, where x = independently organized TED event. The TED Conference provides general guidance for the TEDx program, but individual TEDx events are self-organized (subject to certain rules and regulations).
Speakers
Speakers may not be confirmed. Check event website for more information.
Adriana Jubran
Psicoterapeuta, mãe dos gêmeos Luiza e Antonio, tem estudado as relações entre pais e filhos. Desenvolveu uma metodologia para transmitir esse conhecimento às mães de crianças de 0 e 7 anos, apresentado novas formas de comunicação, principalmente quando os pais querem jogar seus filhos pela janela.
Ana Carolina Guedes
Carol Guedes, gestora cultural, tem por missão promover a expansão de consciência para o mundo. Idealizadora do Quintal de Trocas, uma empresa que busca total horizontalidade em suas relações. Está terminando um livro sobre educação disruptiva, faz palestras, rodas de conversa e workshops.
Empreendedora
MBA em Tecnologia da Informação e Gestão Estratégica (FGV). Especialização em Gestão de Pessoas, Infra-estrutura e canais (Unicamp). Especialização em Marketing (Fundação Oswaldo Cruz). CEO do B2Mamy - Aceleradora de negócios entre mães empreendedoras
Helen Ramos
Cineasta, roteirista, atriz e mãe do Caetano. Seu canal no YouTube e Facebook nasceu no Dia das Mães de 2016, com a vontade de falar sobre maternidade de forma descomplicada e salvar outras mães que precisavam de suporte. Os vídeos semanais têm milhares de visualizações.
Karen Jonz
Tetra campeã mundial de skate vertical. Ganhou a primeira medalha de ouro, pelo Brasil, no X Games. Compositora, artista, empreendedora e mãe da Sky.
Mari Zacharias
Mari
Marie Gabriella
Marie Gabriella - Cantora e compositora
Mônica Japiassú
Analista de TI por formação, revisora de português por paixão e educadora conjugal por missão; autora do livro "Quer ser feliz para sempre? Separe-se!" e, com seu marido e suas filhas, parte da Família Quadrada, com a missão de ajudar as pessoas a ter um relacionamento feliz e próspero em família.
Pat Feldman
Pat Feldman é culinarista, criadora do Projeto Crianças na Cozinha, que visa difundir para o grande público receitas infantis saudáveis, saborosas e livre de industrializados. É também autora do livro de receitas A Dor de Cabeça Morre Pela Boca, escrito em parceria com seu marido, o renomado médico Alexandre Feldman.