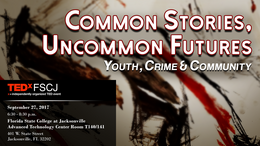 The headlines are painfully familiar: In January, two shootings rocked the Jacksonville Landing, leaving one teenager dead; Duval County remains among Florida's most dangerous; and across the city, people worry Jacksonville might become the next national tragedy. But what happens in between the headlines? And what can ordinary citizens and civic leaders do to ensure the youngest among us enjoy greater safety and security across the First Coast?
Join TEDxFSCJ as we host a salon exploring local efforts to address how crime affects our city's youth. The evening will feature two prominent young leaders, EVAC Movement senior Davin Brown and anti-human trafficking advocate Alyssa Beck, as well as State Attorney Melissa Nelson and New Town Success Zone Executive Director George Maxey. Drawing on their first-hand experience and expertise, our speakers will discuss the often unseen effects of violence and incarceration, the lived realities of racism and gender-based trauma, the economic roots of crime, and innovative policies within the criminal justice system.
The salon will be held Wednesday, September 27th, at the FSCJ Advanced Technology Center (Downtown Campus), Room T-140/141, from 6:30-8:30 pm.
Speakers
Alyssa Beck
Alyssa is the Advocacy Specialist for the Delores Barr Weaver Policy Center. In this role, she interacts with leaders in the anti-human trafficking field, experts in girl-centered relations and members of the state legislature to help develop laws and practices that will support survivors of sex trafficking and youth involved in the justice system. Collaborating with several organizations and councils, she brings her lived experience and passion for improving the lives of young women. Her goal is to change the laws around human trafficking and promote justice for children sent to jail.
Davin Brown
Davin is a 17-year-old senior at Robert E. Lee High School and a founding member of the EVAC Movement, an award-winning leadership course primarily serving young African-American men. As a juvenile justice advocate, Davin believes Jacksonville can and will be a better place for youth like himself, and he has shared his vision with a number of elected leaders, from President Barack Obama to Jacksonville Mayor Lenny Curry, Sheriff Mike Williams, and State Attorney Melissa Nelson. Raised by a single mother, Davin grew up in Riverside's Section 8 housing, where he watched close friends enter the justice system and receive prison sentences ranging from 10 to 25 years—circumstances that fuel his commitment to becoming a juvenile defense attorney.
 
George E. Maxey
George is the executive director of the New Town Success Zone, a collaboration between public and private groups to increase the well-being of residents—especially kids—in the neighborhood between West Beaver Street and Kings Road. He holds a Master of Science in Education from the University of Akron and a B.S. in Education from Kent State University. Born and raised in Brooklyn, New York, and inspired by his third-grade teacher to pursue a career in education, George spent 15 years working as a school administrator. At Cuyahoga Falls High School in Ohio, he became the school's first African-American administrator, and in Jacksonville, he served as principal at William Raines High School and Ribault Middle School, where he guided the school from an "F" to a "B" status.
Melissa W. Nelson
Melissa is the State Attorney for Florida's Fourth Judicial Circuit, where she leads more than 100 attorneys and 200 staff who represent the people of Clay, Duval, and Nassau counties, primarily in criminal matters. After earning her BA and JD degrees from the University of Florida, she worked 12 years as an Assistant State Attorney from 1997 to 2009, prosecuting capital homicides, white collar matters, sex crimes, and crimes against children. In 2009, she joined McGuireWoods and worked in private practice for seven years. Since taking office, Melissa has pursued several important initiatives affecting public safety, strategic prosecutions, and public transparency. Recognized for her integrity, she was recently inducted into the American College of Trial Lawyers and is a member of the Jacksonville Women's Lawyers Association.