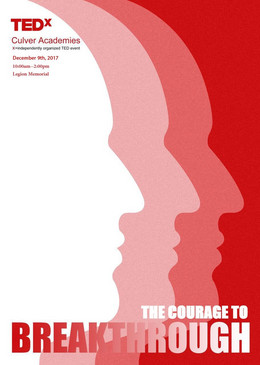 What would you do if you weren't afraid?
This conference is focused on what it means to follow your passions, understand what it takes to break the social norm, and most importantly, do the unthinkable. Targeted at high school students, TEDxCulverAcademies strives to aid students in self identifying what they are truly passionate about.
Speakers
Speakers may not be confirmed. Check event website for more information.
Ava Viohl
Originally from Milwaukee, Ava Viohl is an eleventh grade equestrian attending Culver Academies. In her 16 years of life, Ava has discovered her passion for service work, spending time with Burmese Refugees at the Mae La Refugee Camp located in Thailand and playing with Aboriginal children at a youth hub located in Kununurra, Australia. Through travel and experiencing a multitude of cultures, Ava has furthered her understanding of beauty and how it impacts girls and boys within the communities she has stayed in and within the student body at Culver. Through her extensive research and personal experiences, Ava hopes to shed a light on the social constructs of beauty and spread the message of accepting beauty within.
Connie Yang
Director of Design at Coinbase
Connie Yang is the Director of Design at Coinbase, the leading website for buying and selling Bitcoin. Prior to Coinbase she spent 5 years as a product designer at Facebook, shaping the digital profile of over one billion people. Her work as a designer has spanned advertising, mobile games, social networks, and is now focused on ushering in a new and more secure financial system for people throughout the world. Connie studied design at The University of Pennsylvania and lives in San Francisco.
Demetrius Nash
Advocate
Demetrius Nash- While he was accepted by the University of Illinois-Chicago, he didn't attend, eventually becoming a drug dealer until his arrest at age 26. He spent the next eight years in prison, followed by another four years on probation. During that time, he read several books, including A Long Walk to Freedom by Nelson Mandela, which set him on his current path of giving back to his community. His efforts include completing a 672-mile walk from Chicago to Washington, D.C. to heighten the awareness of gun violence in his hometown. His walk also raised more than $28,000 for his non-profit initiative "Replace Guns with Hammers," which encourages young men to enter the construction trades while also rebuilding their communities. He has been interviewed by ABC, ESPN, and is currently working on a documentary.
Paraolympic Athlete
Growing up, sports were Hailey Danz's passion. At age 12, she was diagnosed with bone cancer in her left leg. A year of chemotherapy and many surgeries saved her life, but left her with a leg that was functionless. In an effort to reclaim her life and go back to the active lifestyle she once had, she made the decision to have her leg amputated above the knee when she was 14. She began competing on the ITU (International Triathlon Union) elite paratriathlon circuit. Haliey won her first World Championship in 2016 and On September 11, 2016, Danz raced her way to a silver medal at the Paralympic Triathlon in Rio. She currently resides in Colorado.
Lex Clay
Consultant, Speaker, and Entrepreneur
Lex Clay is a diversity consultant, speaker and entrepreneur. He began his journey in 2006 with a speech about transgender identity at Culver, which led to intermittent speaking engagements over the years. He has recently founded Box People--a company that educates schools, companies, and organizations about identity and LGBTQ issues. Lex has an M.S. in Medical Sciences from the University of South Florida Morsani College of Medicine and a B.A. in Pre-Professional Studies & Spanish Literature from the University of Notre Dame. Lex's experience as an NCAA Division I athlete for the University of Notre Dame and the University of Tennessee prompted his current work on lectures and workshops which focus on transgender issues in athletics and medicine. Lex is a 2006 Culver graduate and Batten Scholar who served as Diversity Council Chair, Honor Rep, and Senior Prefect. He resides in Bronx, NY.
Molly McGrane
Molly McGrane is a sophomore at Culver Academies