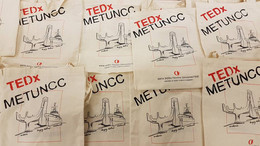 In a world full of ideas and believes that can be perceived in a million ways. Most of us think that their way is the only way to look at things. Until a turning poit forces us to look at things upside down, and let us realize that our way is not absolute.
Speakers
Speakers may not be confirmed. Check event website for more information.
Ahmed Zarrar
METUNCC Student
Humans love other humans. Humans love animals. Humans love food. Ahmed Zarrar loves cars. He really loves them. He is a Mechanical Engineering student from Pakistan, currently enrolled at METU NCC but soon he'll be on his way to grab other opportunities. From creating masterpieces of junk cars to revolutionizing online shopping through mobile apps, he has set his foot and excelled in every opportunity he found on his way. For people like him, the world is really a small place.
Ali Muhtaroglu
Assoc. Prof. Dr.
The Acting Head of the Academic Board of Engineering and Natural Sciences and the chair of the Centre for Sustainability at METU NCC and a master mind in the field of Electrical-Electronics Engineering (EEE). Dr. Ali Muhtaroglu has served Intel Corporations R&D Department for 11 years before becoming a faculty member at METU NCC. To aid to this credentials, his experience and research interests include Integrated Circuit Design, Energy Harvesting and low power system architectures. He was also one of the founding members of the annual Green Brain of the Year Contest held by SEES program at METU NCC.
Anvar Mufazalov
Freediving Instructor
If your interests lie in free diving and the underwater world, look no further. Mr. Anvar Mufazalov is an AIDA certified freediving instructor with a passion for deep underwater explorations. In addition to training, he loves to challenge and push his students to their limits. Because for him, freediving is not only a passion but a way to discover one's physical and mental potential.
Aslı Niyazi
Assist. Prof. Dr.
After completıng her master's degree in the field of Health Psychology from the University of Kent in The United Kingdom, Dr. Asli Niyazi pursued her PhD from London South Bank University. Currently serving as a lecturer in our very own METU NCC campus, she has also worked at various higher education institutions in London as a lecturer and a researcher. If you are looking for some wisdom in the field of addiction and pain management, Dr. Asli is the person to go to!
Brian Kirwa
METUNCC Student
Kenyan born and raised, Lembuss is a 3rd year student majoring in Aerospace Engineering. He's quite an aviation enthusiast and is a certified private pilot. He also speaks a little German and finds peace in the joyful sound of the guitar strings. Lembuss considers himself a life-ist, tackling life a day at a time in line with the famous "carpe diem..." phrase by Horace, the Roman poet. He enjoys reading and listening to spoken word artists and poets, having written several poetic pieces of his own.
Dana Arabiyat
METUNCC Student
*Graduated from The little genius center for mental math. *Won the first place in the Little Genius Competition. *Participated in the FIRST Lego League for 5 years and got many awards with my teams. *Participated in Intel ISEF in 2015. *Participated in INSPO TURKEY (International Science Project Olympiad) and won the 3rd place in the Engineering Category in 2016. *Participated in Intel ISEF 2017 with a "Physics and Astronomy" categorised project and won a special award from NASA. *Won the student of the week from Goodwall Application for recognition of my scientific achievements.
Ersin Oztoycan
Information Assistant, United Nations Peacekeeping Force in Cyprus
Born in 1963, Ersin Oztoycan was raised in the UK. The greater part of her life has been devoted to raising awareness of Dyslexia (Specific learning Difficulty) in Cyprus. She is the founder and Chairperson of the North Cyprus Dyslexia Association and has completed the Hornsby Diploma Course on Specific Learning Difficulties (Dyslexia) in 2001. Ersin has been working for the United Nations Peacekeeping Force in Cyprus since 2003 as an Information Assistant in the Public Information Office. She is the author of her autobiography My Life/File. An inspiring book that recounts the hardships and joys of her life, her family and her work, as she moves between British, Turkish and Greek Cypriot cultures. She also includes a revealing account of her battle with Cancer. She writes as she lives with energy and humour. Ersin has been a member of the Crusaders Toastmasters Club since 2014, and is actively working towards her achieving her goal to become a motivational speaker.
Hazem Maatug
Mr
A 26 year old Libyan, Hazem Maatug has very different ideas for a normal entrepreneur with majors in the field of interior designing. He is a critical thinker and a social analyst for whom, equality in all its forms defy all the other norms of society. This passion and a unique vision has allowed him to strive towards bringing more green friendly construction materials to the market.
Heidi Trautmann
Artist
A passionate painter. A travel guide. A writer. Ms. Heidi Trautmann is a genius at work when it comes to combining travelling with art. Having published several books on art and travel in English, Turkish and German Languages, she also enjoys the credits for organizing three solo art exhibitions in North Cyprus and Germany. Her best travelling experience dates back to sailing across Mediterranean with her husband for six years. She also published two volumes of 'Art and Creativity in North Cyprus', a title which defines her more as a person, than the book itself.
Mariam Gokcebag
herbalist and nutritionist
How often do you come across a half Iraqi half Iranian who has enjoyed the lifestyles of Egypt, Lebanon, London and the United States of America? Ms. Mariam Gökçebağ is one of them currently pursuing her passion of finding and using natural herbal health remedies in Northern Cyprus. After completing her Master's degree in Management Sciences from London School of Economics, she authored a book by the name of 'Healthy Living in Cyprus'
Nigar Huseynli
METUNCC Student
Nigar Huseynli, a 19-year-old ambitious girl from Azerbaijan with dreams to change the world for better. To tell the world she is an Economics student at METU NCC, but her dynamism is far wide. Currently serving as the Human Resource manager for European Youth Parliament, she has organized several events for this NGO in last two years. In addition to volunteer work, you'd often find her travelling with her drawing kit and her sports bag, enjoying a cup of coffee every new place.
Director, Business Systems, TSYS
Vipin is a management professional with close to 17 years of experience in various management and leadership roles. He is currently the Director, Business System at TSYS, a Fortune 1000 company where he has enjoyed a successful and illustrious career as one of the youngest management professionals at his level. His career has spanned numerous business functions including sales , business account management, pre-sales, business analysis, consulting and customer services. Vipin is the author of the book "My Work My Way", (www.myworkmywaybook.com ) a book written to help young professionals to excel and thrive in the early stages of their careers. He frequently writes about career development, personal development and spirituality on his blog www.vipinramdas.com. Vipin holds a Bachelor's degree in Electrical Engineering and a MBA in Marketing.