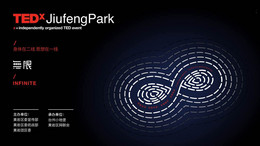 未来对青年的无限可能
科学不是唯一最优解
怀抱对世界的无限种看法
拥抱可能性,不受限
正是我们想要的无限
Speakers
Speakers may not be confirmed. Check event website for more information.
Aurélie Li
Food manufacturing process researcher and practitioner
In 2003 Aurélie together with her husband started up super-stringed cafe business. She also managed delicate brewed wine factory (Mandarin Cove), and a French dessert studio called OuiPâtisserie. In 2016, Aurélie established The Coffee - Beer - Dessert Collection Store -named UND (German meaning is combination) based on previous store establishments. She loves the knowledge and logic in food manufacturing process, appreciates the efficiency and wisdom in commerce, and enjoys a sense of beauty while making the food artistic. The ingredients are gathered from all around the world, she believes nature and organic are our friends.
Ayahuasca Lin
Scriptwriter, Astrologer
The Sun in Libra The Moon in Libra Capricorn Ascendant After graduating from Communication University of China. Ayahuasca decided to pursue her dream of becoming a writer. She enrolled to get a second degree in the Department of Art at Nihon University. Writing is one of her strong talents. She is eager to express herself. But, sometimes afraid to do so. Do well and have well. A good deed is never lost.
Jiaming Su
Director
Good at using camera to grasp social issues. In 2009, inspired by the news of a Shanxi couple who have adopted 38 abandoned babies, he shot the documentary "Where the Flowers Go" in Shanxi province. This particular work won the 2011 Shanghai International Film & Mobile Festival (best documentary, best short film). It also won the Beijing University Student Film Festival contest (jury special award for original short film) and seven awards from the 15th Shanghai TV Festival including "the MIDA director program IV" proposal. He initiated Flower Fund. He also was invited to several entertainment programs including Luyu Talk Show, Chinese Dream Show (received 300 unanimously votes to succeed as the dreamer). He directed several nonprofit short films including One Fund and a series of Coca-Cola public services. In 2016, as the first Yi Bridge Chinese fellow, he founded the "Nature Social Image", dedicated in spreading public welfare via film images. He believes the future is presenting it
Jin Zhang
Sponsor and Chairman of Youwei Library
After working on finance for years, Jin worried about the limited resources of culture activities in hometown. She decided to go back and established the first non-profit private library in Zhejiang province. The library was officially set up at June 2012, Sanmen, Taizhou. After five years, 4% of the local people become frequent visitor of the library. Nearly 8000 people participate in the weekly activity each year. More than a thousand registered volunteers support the daily operation of the library. A library revives a city.
Jueping zhang
Guest Player of China Central Nationalities Orchestra
My talent is playing the erhu, one of the traditional Chinese instruments. I have recorded a solo album "HORA STACCATO-- HUQIN SOLO OF JUEPING ZHANG". I have performed on the stages of the Vienna Musikverein and the Vienna National Centre for the Performing Arts. I have successfully held a solo cencert at Zhejiang Concert Hall and a concert in Australia with my son. I performed in Germany, Japan, Netherlands, Switzerland, Brazil, Egypt, Australia and other countries. I won the first prize in national competitions for five times including the CCTV Nationalities Instrumental Music Competition.My students are enrolled in prestigious music schools such as Central Conservatory of Music, Peking University, Tsinghua University, Renmin University of China, Fudan University and Zhejiang University. Wish everyone will enjoy music!
Kuang He
Researcher
Awarded with the China's Thousand Talents Plan youth program, Kuang received his undergraduate degree from Imperial College London in Materials Science and Engineering. He later carried on his research career by doing a Ph.D. program in Oxford University, covering areas of materials science, electronic devices, inorganic synthesis, and condensed matter physics. The topic of his research focuses on the synthesis of Graphene and the use of High Resolution Transmission Electron Microscope (HRTEM) to characterize the crystal structure in atomic scale. Together with his collaborators, they published more than 30 scientific papers in internationally recognized journals, including Nature Communications, ACS Nano, etc.. He was also invited to give a talk at The Materials Research Society (MRS) annual conference in San Francisco. Kuang has received multiple scholarships during his study, including Oxford University Wolfson College scholarship, Oxford University Materials Department DPhil studen
Liang Zhang
Counselor of Huangyan Writers'Associations and History Society
Ever since he was a child, Zhangliang had been eminently curious about the sly history, yearning for dialogues with the ancients, and revelation to the currents . In order to search for the ruins of ancient states of the western regions, Zhangliang made a trek along the south route of ancient Silk Road in the Taklimakan Desert. Then his photography collection "Wind from the West" was published. Zhangliang dived into the ancient tomb of Zhao Yunbo, the 7th-generation descendant of Emperor Taizu of Song, publishing "Han Chinese Clothing". Every piece of cultural relic can be considered as a window through which we can get closer to life.
Maz Ai
Entrepreneur
Wisdom is knowing I am nothing. Love is knowing I am everything. Between the two my life moves. I'm from the UK. I have been living in China since summer 2010 and enjoying life here in the middle kingdom. I started out by teaching English in Shandong province and started making my way south. I have been living and working in Taizhou for almost 5 years as a Director of studies. Currently all my efforts are devoted to opening my own school and I'm looking forward to other ventures in the future. To practice five things under all circumstances constitutes perfect virtue; these five are gravity, generosity of soul, sincerity, earnestness, and kindness. ~Confucius
Yingchun Xue
Legal representative of Taizhou Chaiu Tangsi Sports &Culture Development Co. Limited
She began the cross-country race in 2014 which beginning a new chapter in her life. She took part in 2014 and 2015 100KM cross-country race in Hong Kong, 2015 OCC of the Ultra-Trail Du Mont-Blanc (53KM), 2016 sty of Ultra-Trail Mt. Fuji (88KM), 2016 CCC of the Ultra-Trail Du Mont-Blanc (101KM) and 2017 TDS of the Ultra-Trail Du Mont-Blanc (120KM) etc.. Thus she found the way to peaceful coexist with nature from the cross-country races. May every man who loves nature can live in harmony with nature.
Yonggang Tao
Ecological agriculture practitioner
Hugo worked at the Agriculture and Forestry Bureau of Huangyan, Taizhou, after graduated from the Department of Agronomy at Zhejiang University at the year of 2006. During his term of office, he was send to the United States to study Agriculture for one year in 2013. Currently, he is committed to practice ecological and organic agriculture. He has successfully guided Taizhou Xihe Farm to use zero pesticides and fertilizers to grow fruits, vegetables, grain and oil crops.
Youli Wang
Chairman of Zhejiang Fore Machinery & Electronic Co., Ltd.
Founded in 1995, the company now becomes a global excellent service provider of precision machinery parts and components for 20 years. It produces small gears, gear boxes, robot joints, powder pressing parts, precision parts etc.. The company has annual profits of around annual turnover of nearly 100 million RMB. Some of the company's global customers are Germany Bosch, Germany Siemens, Japan Hitachi, Japan Makita, American Stanley Dewey, etc. At the same time, Wang Youli is a large shareholder of Huangyan Rural Cooperative Bank and also a sponsor of Huangyan Hengsheng Village Bank. The new replaces the old. The world desires your brilliance, and you need the world more.