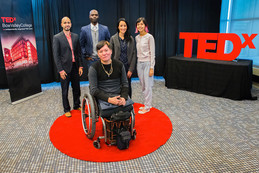 Kintsugi is a 15th century Japanese art form emphasizing transformation, embracing imperfections, and finding beauty in unexpected places.
Kintsugi first emerged as a lacquer art technique, to repair broken pottery and ceramics with a gold-infused epoxy. Over time, kintsugi has come to represent a philosophy that encourages us to embrace our figurative brokenness. By extension, kintsugi considers the concepts of non-attachment and impermanence as fundamental aspects of the human experience.
At TEDxBowValleyCollege, our speakers shared talks that reflected both their expertise and personal journeys within their own distinct fields, each underlying a spirit of renewal and value their respective moments of challenge.
Speakers
Speakers may not be confirmed. Check event website for more information.
Aaron Pelletier
Learner, Bow Valley College
Aaron Pelletier is a learner in the Centre for Excellence in Foundational Learning, working towards his goal of acquiring a diploma in the Justice Studies program, specializing in Youth Justice. Aaron has been recognized for his countless hours of service with the Scobey Hartley Memorial Endowment Award, and the Improving Lives Legacy Award. Aaron volunteers both at Bow Valley College, as well as with the City of Calgary, and most notably, with the Prevent Alcohol Risk Related Trauma to Youth (P.A.R.T.Y.) program, and the Risk Injury Prevention Program (R.I.P.P.).
Dey Rivera
Financial Coach
Dey Rivera is a Branch Manager with a publicly traded financial services firm. He is a coach, teacher, educator, and leader with a passion for helping people realize their full potential; one borne out of witnessing individuals struggle with their finances, early on in his life. He encourages learning and ideas that inspire people from all walks of life to become entrepreneurs. He currently volunteers with the Church of Jesus Christ of Latter-day Saints and is a huge fan of pro-wrestling.
Iman Bukhari
Advocate for Anti - Racism
As CEO of the Canadian Cultural Mosaic Foundation, Iman Bukhari has partnered with the Intercultural Centre on multiple diversity initiatives. She has a Master's degree in Multimedia Communications and has worked in the not-for-profit sector for over 10 years. Iman is also a recipient of an Alberta Council for Global Cooperation's 30 under 30 award. Iman is a Multimedia Storyteller and artist, recently producing a documentary entitled YYC Colours, aimed at sparking discussions about racism in Calgary and Canada in general.
Jennefer Rousseau
Instructor, Bow Valley College
Jennefer Rousseau is an instructor in the Centre for Excellence in Foundational Learning. Jennefer was an active club member and executive member of the Bow Valley College Toastmasters Club, completing her Competent Communicator and Competent Leader manuals. Her areas of interest include research, technology, online learning, and improving quality standards in learning management systems. This path has led Jennefer to study universal design for learning, the future topic of her Master's thesis, which she is currently pursuing at Memorial University.
Reagan Adenyi
Learner, Bow Valley College
Reagan Adenyi is a learner in the Justice Studies program, in the School of Community Studies. He is currently president of the Justice 4 All Club at Bow Valley College, as well as a member of the Bow Valley College Toastmasters Club, and a Councillor with the Students Association of Bow Valley College. He has worked as a community leader, starting and successfully running Africa's Promise Youth Leadership Club, a not-for-profit organization. For Reagan, the stories of Africa and African cultures have shaped his self-image and character.