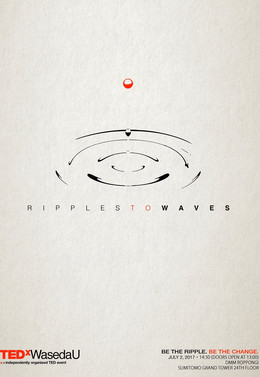 Almost everything we have today started from a small spark. Fueled by passion, motivation, and the urge to make a difference, individuals as well as groups strive to transform society. Everyone has the capacity to think big, take risks and step out of their comfort zones that allow us to make these ideas into reality; can we all push those ideas and make them tangible? Innovation has not only shaped by our ideas, but also by our resourcefulness and dedication. Inspiration is anywhere and everywhere; for some it can be a walk down the park, for others, a lecture depending on the nature of your inspiration. Regardless of where the inspiration comes from, what matters the most is the impact made.
There's no limit to a ripple's potential to become a wave.
Speakers
Speakers may not be confirmed. Check event website for more information.
Eisuke Tachikawa
CEO of Nosigner
Kai Fujii
Born in Musashino, Tokyo, Kai Fujii graduated from Tokyo University of the Arts. She also began practicing karate while in university, and also enjoys playing the viola. In 2007, she began working at the Muza Symphony Hall in Kawasaki, where she plans and produces concerts. In November 2016, Kai spent some time doing research in several cities on the East Coast of the USA, using what she has learned in her everyday work life.
Kohei Kanayasu
Student at Waseda University
Ryota Tomiyama
Consultant at Lifestyle Inc.
Webmaster, Writer, Editor, About-Robots
Head of Nozomi Project
Sue Plumb Takamoto lives in Ishinomaki, Japan where she is the founder and director of the Nozomi Project. She and her husband Eric with their four adopted children, (amazing stories in and of themselves) moved to this fishing city a year after the tsunami swept through it. With their 'Be One' teammates, they have pursued numerous avenues to make a difference in the lives of the local people. The Nozomi Project is a social enterprise employing local women to make beautiful accessories out of broken pottery, much of which was left in the wake of the tsunami. Sue and Eric met at Fuller Seminary in Pasadena, CA, and have been in Japan for 16 years with Asian Access. Although she managed to finish her PhD in Intercultural/Leadership studies, it's in real life where she has needed– and learned! - the most wisdom. Sue loves practical jokes, making unique cakes, beach combing, and being a follower of Jesus.
Xan Varcoe
Marketing Head at Ashinaga
Since founding his own charity during high school, Xan Varcoe has traveled across the world supporting the disadvantaged youth. Four years ago he became familiar with Ashinaga, a Japanese charity, at a seminar at Oxford University and has worked together with them to build a network of future leaders spanning 40 countries. These students receive leadership training and scholarships to study at the world's top universities. Together they hope to change the face of poverty around the world. 高校時代に自身で団体を築き上げて以来、Xan Varcoeは世界中の恵まれない若者たちを支え続けている。4年前、オックスフォード大学のセミナーで慈愛団体の「あしなが」に出会って以来、彼は40カ国に及ぶ未来のリーダーを繋ぐネットワークの構築を目指して、あしながと共に励んできた。学生達は、このプログラムを通して、優秀な大学で学ぶために必要とされるリーダーシップの育成講座の受講や、奨学金を受け取ることが可能だ。Xan Varcoeとあしながは共に世界の貧困問題を変えていこうと日々励んでいる。
COO of Life is Tech!
After graduating from the Department of Science and Engineering at Waseda University, Yuta worked at a consulting company SCRAP, eventually becoming the director of 'Real escape room'. After, he started his own company, Life is Tech! with Mizuno. He offers middle and high school students that chance to learn IT through program planning, branding, and directing. He is officially certified as a workshop designer by the Foundation of Global Life Learnings Center. 早稲田大学理工学部卒業後、人材コンサルティング会社、株式会社SCRAP「リアル脱出ゲーム」のディレクターを経て、水野と共にライフイズテック株式会社を設立。延べ20,000人以上の中高生が参加する国内最大級のITプログラム「Life is Tech ! 」を企画運営している。一般財団法人生涯学習開発財団認定ワークショップデザイナー。プログラム全体設計、メンター育成、ブランディングなどサービス全体の最高執行責任者。エンターテイメントの場作りを武器に革新的な教育デザインに挑戦している。