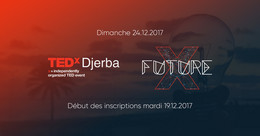 They say "The future belongs to those who believe in the beauty of their dreams." and we say damn right it does. You control your future, your destiny. What you think about comes about.
By recording your dreams and goals on paper, you set in motion the process of becoming the person you most want to be. Put your future in good hands - your own. No dream is too big. No challenge is too great. Nothing we want for our future is beyond our reach, because from where we're standing, magic is being made every single day. The past cannot be changed, the future is yet in your power. Join TEDxDjerba and try to get a brighter future!!
TEDxDjerba seeks to extend the TED experience at a regional level, highlighting exceptional ideas, inspiring people and creative works within our community. We explore big questions with a broad spirit of inquiry. We strive to connect people across disciplines and create conversations that drive action.
Speakers
Speakers may not be confirmed. Check event website for more information.
Achref Aouadi
Achraf Aouadi is a Tunisian activist and academic that founded the watchdog organization I WATCH after the Tunisian Revolution in 2011. The organization is committed to fighting corruption and enhancing transparency. Holder of two Masters degree in cross-cultural studies from the university of Tunis and international relations from the University of Birmingham, UK, Achref has worked in the field of consulting for a number of international NGOs and consulting firms. In addition to his work in the field of anti-corruption, Achref taught International political economy at the higher institute of social sciences in Tunis. He was a Buffet Award for emerging leaders nominee and United Nations Alliance of civilizations fellow.
Belkis Anane
Belkiss is a 21 year old from Djerba. She was the first Djerbian student to adhere to the African Leadership Academy at the age of 16, where she has pursued entrepreneurial leadership studies. Belkiss has occupied multiple leadership positions in her community and globally, namely being the ambassador of the African Union at the G(irls)20 Summit in Sydney, Australia. She is currently pursuing a Pure Mathematics degree at Northwestern University, USA, and dreams of one day starting her own project in Tunisia.
Firas Rhaiem
University Student , Technology Entrepreneur and Influencer. He is the founder of Innovative Partner,a leader IOT startup that currently works on a bracelet for Epilepsy Detection. Firas is a technology Dreamer, his vision is about "Tunisia The future Hub of Technology". He believes in a very promising future to the new Tunisian generation.
Lobna Barouni
Lobna Barouni is a 3rd year medical student. At the age of 16, she discovered her passion about social work and volunteerism through the UNESCO club in high school. In 2014, she was a Tunisian delegate among a group of students in the Peace Academy, Dresden. Since 2015 , Lobna has joined ASSOCIA-MED ( Tunisian Medical Students' Association ) ; She has not only participated at certified trainings but also was part of several Organizing Committees that helped shape her personality and build her capacity allowing her to be the National Coordinator of Anti-Microbial Resistance Program in 2017. Now , she is the Vice-President of MEDDOC ( Medical , Dental and Pharmacy Students' Association from Medenine ). MEDDOC unites students to lead initiatives that impact positively the community we serve and represents the opinions of future health professionals in the field of Global Health
Mehdi Louati
Mehdi Louati is an Heritage researcher, he owns a Master's Degree in Tourism Management. After a good leadership experience, he was engaged as an assistant Secretary General of the Association for the Backup of the island of Djerba ASSIDJE. By the way, as a cultural contributor to the Huffpost, he is also working as an Observator for the Heritage Collaborative Observatory. Actually he occupies the position of spokesman for Djerba World Heritage Project
Mohamed Khlifi
Mohamed Khelifi was inspired by the 2011 Tunisian revolution and Arab Spring to dedicate his career to fighting corruption through law. He is the media representative of the national movement opposing government plans for an amnesty on political corruption. Khelifi is the external relations officer for the Youth Can organisation, a national young people's network that campaigns for reconciliation in Tunisia without impunity for past misdeeds. He is also a writer and his first novel Escape (Al-Harab) was awarded the International Olfa Rambourg Award for Art and Culture in 2016.
Nawres Cherni
Nawres Cherni is the external relations officer responsible for relations with political parties and civil society at the Higher Independent Instance for Elections, since May 2014. Having witnessed three different elections: legislative, presidential, and the Supreme Justice Council, Cherni continues to bring both civil society organizations and political parties together in order to pave the way for the coming elections: local. Cherni's experience in elections started with the International Foundation for Electoral Systems in 2013, when she managed a project that focused on women's political participation. A law school graduate, Cherni holds a bachelor's degree in law, a master's degree in political science (M1) , and was until recently pursuing a master's degree in governance and fighting corruption.
Rabii Ben Brahim
Storyteller and Outdoor-enthusiast on the search for the eternal happiness. On a mission to inspire the hearts around the planet.
Sami Ben Ghazi
Sami ben Ghazi, 25 years old, law degree in 2014 from FDSPT, currently a master researcher in criminal science. Tunisian political militant, formerly leader in a youth leftist organization, assumed responsibilities in the students union UGET, coordinator of Amnesty jurists group, member of " Menich Msemah " campaign Co-founder of JCD cultural festival in Djerba
Siwar Hakim
Siwar was born on the 17 of February 1994 in Sfax, in the south of Tunisia. She obtained her Bachelor Degree in Finance, in June 2016 from Tunis Business School. After the Tunisian revolution, Siwar joined several civil society organizations in order to be part of the political and social changes in Tunisia. She is currently working in the Arab Institute for Human Rights as fellow of the Arab Regional Exchange Program sponsored by the International Institute of Education (IIE). She also launched her own business "OpenSouk" in trading traditional clothes internationally. In August 2016, she served in Jordan as a business development advisor with a local organization called the "Business Development Center" where she helped the Syrian community in Jordan with fundraising campaigns. Early in 2015, she was selected in the MEPI Student Leaders Program in which she spent 6 weeks in Montana State University to design a project idea that will be implemented in Tunisia. Siwar was awarded 12 different scholarships where she studied in prestigious universities such as Harvard Kennedy School, Columbia University in the US and Koc University in Turkey. She has developed a network of contacts from different organizations and she visited different countries like: the US, Jordan, Turkey, Lebanon, Egypt...etc. Siwar is getting ready to start a new adventure in Germany where she will be studying Diplomacy and International Relations. Siwar is passionate about Music. She used to play violin and she painted more than 30 paintings.
Zyna Mejri
Zyna Mejri, 27 years old, Tunisian Activist, 3rd best arab blogger fighting for human rights 2013, among 10 most influential African women 2016. YOUTH CAN organization president and currently working for the international nonprofit Institute for War and Peace Reporting as project manager. 3d game development graduate since 2013 from ISAMM. Graduate of TI integrity school- Mykolas Romeris University Lithuania. Leadership, communication and body language trainer (NGO/iNGO). Civil society Academy alumni and trainer. HIVOS IGmena alumni, Beautiful Trouble alumni. International elections observer.