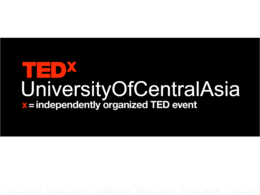 This event is about bringing people from various fields of study to provoke conversations that matter to the Naryn community. This will not only help the Naryn community but also, the diverse UCA community to prosper and have a better understanding of the global world. We envision speakers finding intersections between diverse ideas and knowledge pathways. Sometimes a new image develops when ideas from very different fields meet at a crossroads.
Speakers
Speakers may not be confirmed. Check event website for more information.
Feerooz Khasanov
Creative director and Art Editor in USTODESIGN.
Feerooz hails from Dushanbe Tajikistan. He is a graduate of Tajik Slavonic University / Politics & Historical Science. Also, he has Studied at National Conservatory & London Music Academy / Drummer. He is a Creative director & Art Editor in USTODESIGN. He has achieved 1st Place in Night ADEATERS TJK 2016 in Best Commercial Movie,1st Place in Night ADEATERS TJK 2016 in Social Movie and has been shortlisted in Red Jollbors Festival KG (2015).
Mizhgona Khudodova
Student at the University of Central Asia
Mizhghona hails from Khorog, Tajikistan and is currently studying at the University of Central Asia. She has studied from the presidential school for talented children where she was more focused on the field of chemistry and biology. She has been part of many academic camps including UCA summer camp and has served in Winter Upgrading program as a counselor. In addition, she has achieved many awards such as the third place in math Olympiad and 2nd place in chemistry Olympiad.
Nasima Karim
Co-founder for Here we are in Central Asia.
Nasima Karim is an HR Professional from Pakistan with distinctive strengths like Integrity, Vitality, Citizenship and Social Intelligence, she has experience of working in Pakistan, Tanzania and now the Kyrgyz Republic. She loves social networking and connecting people and has a passion for capacity building. She is Co-Founder and Focal Point for Here We Are in Central Asia, Here we are is a global network of professional traveling partners seeking opportunities abroad and supporting each other in initiating meaningful lives on the move.
Nathan Lowe
Director of Kyrgyz Travel
Nathan Lowe has a degree in International studies and political science from Rhodes Memphis, TN. Lowe has worked as peace corps TEFL volunteer in Ukraine for 3 years. Lowe's family first toured Naryn in 2012 and permanently relocated here in 2014 after having completed Kyrgyz language courses in Bishkek. Aside from tourism his family is working to start sustainable chicken farms for local families and provide a safe shelter for abused women. Through Kyrgyz-Travel they are excited to share the under-explored beauty of Central Kyrgyzstan that we now call home.
Robin Higgins
University Counselor
Robin Higgins is a professional counselor from Canada. Higgins holds a Masters in Counselling from the University of Victoria, Canada. Also, she is certified as an English as a Second Language instructor, high school English teacher and has undertaken training in Mediation, Mindfulness Based Stress Reduction and Art Therapy. Prior to joining UCA, she has worked with Canada's Selkirk College for 12 years, where she provided personal and career counseling. A passionate advocate for student engagement and wellness, Higgins piloted residential projects in nutrition, creativity and community building. In addition, she trained campus residence advisors in suicide awareness, communications, and leadership skills. Before working at Selkirk College, Higgins worked as a youth mental health clinician and provided counselling for women and children who experienced violence.