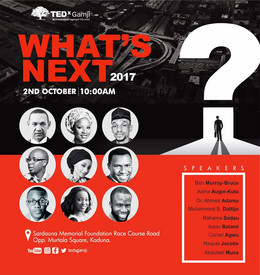 This year's TED talk promises to be an awesome experience, our line of speakers include:
Senator Ben Murray-Bruce (Senator Representing Bayelsa East and Chairman Silverbird Group), Isaac Balami (founder the Rebirth Nigeria Project), Aisha Aguie-Kuta (International Photographer and SA to the Kebbi State Governor on New Media) Rahama Sadau (Nollywood Actress) Dr. Ahmed Adamu (Former Chairperson Commonwealth Youth Council), Muhammed Sani Dattijo (Commissioner Budget and Planning Kaduna State), Cornel Agwu (Finance Expert), Prof. Rosmund Akuse (Lecturer and Pediatric Consultant with the Ahmadu Bello Teaching Hospital Shika, Zaria), among others. Expect performances from Pius Atema the Flutist and a live Orchestra, our panelists for this year are: Niyi Soyinka (KASU FM), Zulaihat Bello (Liberty FM) and Emmanuella Avong, on the red carpet for this year is Kaduna's number blogger Judith Caleb, anchoring this year's event is the duo of Uyah Freddie and Joy Kika, there is no better way to describe this than: Nigeria should get ready for a paradigm shift. It is high time we move away from our low level of thinking to begin to question our intellect as a nation as well as our human capability instead of channeling such energy to foster disunity. This year's event is slated for Monday the 2nd of October, 2017. Venue for this year's event is Multipurpose Hall Sardauna Memorial Foundation Race Course Road, opposite main Gate Murtala Mohammed Square, Kaduna, time is 10: 00am. For tickets, sponsorship or advert placements call: 08038853409 or you can reach us via e-mail: tedxgamji@gmail.com
Speakers
Speakers may not be confirmed. Check event website for more information.
Abdullah Musa
Farmer
Abdullah Musa is an entrepreneur, farmer and labourer who wants to be an aggregator to farmers to supply high quality and affordable vegetables across his country. He's the Founder and Chief Labourer of SackFarm, the first indigenous container farming company that is focused on educating about growing crops in small spaces for survival and sustainability. He's graduate of Federal University of Technology Minna, and also hold an MBA in project management from the UK. Although the art of sack farming isn't new, Abdullah is one of the pioneers in Nigeria. In 2015, he organized an on-farm free training which ran for almost a year were he tutored well over 150 people in the course of the year. His documented online success with cucumber sack farming has inspired a lot of people into farming. Currently with SackFarm, he has setup over 20 sack farms for individuals across 5 states and schools like Zamani College and Cherry Hearts.
Ahmed Adamu
Lecturer
Dr. Ahmed Adamu: First Ever Global Chairperson, Commonwealth Youth Council. He was elected on November 12, 2013 as the first Chairperson of the Commonwealth Youth Council (CYC), which is the largest youth-led organisation in the world, representing over 1.2 Billion young people from across the 53 Commonwealth nations worldwide. He represented his country in many international and commonwealth youth programmes, and was the pioneer Chief Whip of the Nigerian Youth Parliament. Dr. Ahmed was an International expert at United Nation's Global Forum on Youth Policies; Member, Policy Strategy Group, United Nations' World We Want; Member, International Panel of Judges for Youth Citizen Entrepreneurship Competition; Observer member, International Youth Task force for 2014 World Conference on Youth; Member, Advisory group panel on 50th Anniversary of the Commonwealth Secretariat. He was the Nigerian youth observer at the ECOWAS parliament.
Financial Expert
Cornel Agwu is the Principal Strategist of De-Evolution Link Ltd (DEL), a Consulting and Financial Services Company. His years of experience span the Financial, Business Development and Consulting fields. With a deep hunger for people development, Cornel coaches, speaks to, and mentors individuals who want to achieve financial fitness. Sought after by many organizations, Cornel adds phenomenal value to the effectiveness and corporate productivity of his clients' bottom line. He served as one of the mentors in the Tony Elumelu Entrepreneurship Foundation 2016 and continues to mentor willing individuals far and wide. Cornel deep hunger to contribute his quota in the eradicating of hunger, he venture in farming, with interest in palm oil production, livestock farming and vegetables. His major interest is processing and distribution. He currently cultivate on over 100 hectares.
Entrepreneur
Raquel Jacobs is an entrepreneur and educator working directly with children and young adults. She is the Media Coordinator at Dale Carnegie Training Nigeria and a graduate of the University of Lagos. In 2011, Raquel founded Beyond the Classroom Foundation, an NGO focused on improving education for children in public primary schools. Since then, she has been working directly with youths and children in marginalized communities in Nigeria focusing on education and empowerment for girls. In the last 6 years, Beyond the Classroom Foundation has provided free school supplies to over 4,000 children while organizing free weekly after-school clubs for children in two schools. She served as the President of AIESEC Lagos in her final year at the University while volunteering for the Changing our World Foundation of Guiding Light Assembly. She is a trained public speaker and trainer. She has volunteered with Fate Foundation, the World Economic Forum on Africa and U-turn Africa.