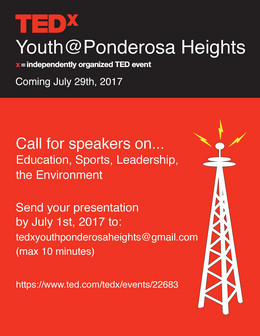 Contact Email Address: tedxyouthponderosaheights@gmail.com
Come talk and listen to some inspiring and aspiring leaders
We are having youth to present their ideas in following categories
Education – How modern day education in US school system is more
competitive or less competitive as compared to rest of the world. Some
data and statistics around this *and ideas by students on what we can and
cannot do to make US high school education more competitive.
Sport – How safe or unsafe playing contact sports is in High
School and why? I would want speakers to present data that will help them
to make a case on either side. However*, I would also want speakers to
present some ideas that will help our contact sports to become safer
Environment – What will our natural resources (water, air) look
like in next 100 years for generations to come? What are we doing to misuse
or protect these resources? *Ideas for the students on how we can protect
such limited resources, so that life as we know on earth does not continue
to exist.
Leadership - I would like students to bring *ideas that show how
to identify a true leader. What traits a true leader has, and how to foster
in our generations leaders that not only think of making profits but doing
good for the community.
Speakers
Speakers may not be confirmed. Check event website for more information.
anoushka singal
student
arnav gattani
student
ashka patel
student
hrishi modi
student
meghna Okhade
student
Saahil Sumbly
Student
sashrika pandey
student
shiv salwan
student
shreeya indap
student
shreya kumar
student
Shreya Kumar is an incoming junior at Mission San Jose High School. She is on the school's Public Forum Debate Team, and will join speech as well. Shreya is an accomplished vocalist in Indian Classical Music, and has been learning for about 11 years. She enjoys extracurriculars such as playing the flute and coding. Shreya has an immense passion for STEM and hopes to pursue a career in neuroscience.
Shurti Adusumilli
student