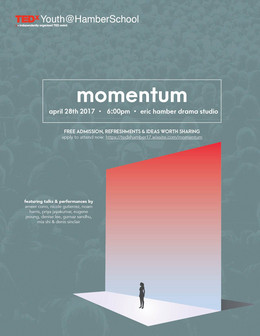 The theme of the third annual TEDxYouth@HamberSchool is "Momentum." Momentum is defined as the quantity of motion of a moving body and can be demonstrated by Newton's cradle, a device that consists of a series of swinging spheres. When one sphere is pulled away and is allowed to fall, it strikes the next sphere, passing on its energy and creating an incessant chain reaction. Like Newton's cradle, TEDxYouth@HamberSchool is a platform for the transfer of momentum—for one person's thoughts and passions to impact another, and another. It is the opportunity for one voice to empower others, and lead to both inward introspection and outward innovation. We hope our attendees can gain momentum from this event and apply it to their own lives and ideas.
Speakers
Speakers may not be confirmed. Check event website for more information.
Ameer Corro
Student
Ameer is a 16-year old musician, singer-songwriter, and human. He started off playing piano at four-years old but makes sounds with just about everything at this point. A writer and supporter of music with a message, he hopes to inspire positive momentum in the world around him.
Denis Sinclair
Student
Nearing the end of his senior year, Denis Sinclair, yes that Sinclair, continues to find opportunities to share his musical philosophy with others. He believes music to be the most descriptive form of language possible, which explains why barely any of his Ted Talk will be, well, spoken.
Denise Lee
Student
Denise Lee is a porpoise enthusiast, mediocre guitarist and eager environmentalist from Vancouver, Canada. Inspired by the gorgeous Pacific coastline, this 17-year old yearns to explore the diverse wonders of the world, and share it with everyone she encounters. If not rehabilitating seal pups, she's advocating for environmental action or mentoring young leaders. In addition to co-chairing the Vancouver School Board Sustainability Conference, she is the co-founder of Our Poles Our Planet, a youth organization dedicated to ensuring the sustainability of the polar regions. Curiosity driven, Denise is also a founding member and a contributor to a study by the Porpoise Conservation Society (can you tell she likes them?). She's ecstatic to share her ideas and stories through TedXHamber, and hopes you enjoy them as much as she does.
Eugene Jeoung
Student
Eugene Jeoung is a grade 10 currently attending Eric Hamber Secondary School. He is an avid dog lover, and his life goal is to own twenty dogs. When not petting every dog in sight, he can often be seen in the halls stressing over the homework he didn't do the night before. He enjoys public speaking very much, and he attends many debates and conferences outside of to improve his speaking skills. Eugene is honoured to be speaking in his school's TEDx event, and he hopes this will be a valuable experience for him!
Gurnaz Sandhu
Student
Gurnaz is a grade 11 student at Hamber but she sure doesn't feel like one. Time has really flown! Over her years at Hamber, she's tried to participate in many different things such as student council, the newspaper, and softball. TEDX is something new for her this year. Apart from eating and sleeping, she also enjoys music, and hopes to travel the world one day! Oh and Gurnaz also really likes ketchup, it honestly makes everything better.
Mia Shi
Student
Mia is currently completing her second to last year at Hamber. She enjoys drawing people, reading anything by Murakami, long walks in the rain, going to bed and waking up early. As someone who isn't super enthusiastic about public speaking, Mia hopes that the force will be with her. ​
Nicole Gutierrez
Student
Nicole Gutierrez is an education and climate justice activist with a zeal for storytelling. She is known for her nonprofit work, promoting business literacy and sustainability through organizations such as Target Alpha, FUSE Society, and Environmental Youth Alliance. She has been fortunate enough to have been granted opportunities to take her work outside the borders of beautiful British Columbia (she also loves alliteration and English class). ​
Noam Harris
Student
Noam Harris is a senior student here at Eric Hamber. Apart from public speaking, Noam enjoys skiing, learning obscure trivia (with little practical use outside of Jeopardy and similar games), playing the flute and guitar, acting, obsessively watching movies, and expressing his unique and often extreme political views. Despite this, Noam's greatest aspiration is to become a biologist where he would like to aid the world through scientific discovery. His favorite films are Pan's Labyrinth, 2001:A Space Odyssey, Moonrise Kingdom, and Sunset Boulevard.
Priya Jayakumar
Student
Priya Jayakumar is a grade 11 student whose real name is Krishnapriya, but prefers to be called Priya because she understands Krishnapriya is hard to pronounce. Priya spends most of her time harnessing a radioactive entity that could abolish one of man's most dangerous diseases, racism. There have also been multiples reports of her getting great deals at Daiso. She hopes everyone who comes to this years TEDx Talk have a great time, and leave with bellies full of food and heads full of inspiration.