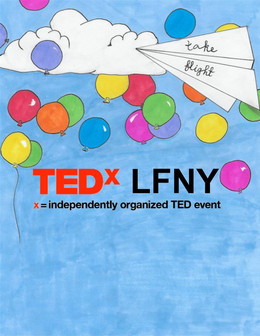 This year the conference is about reaching new heights, achieving one's potential, pulling ourselves and others towards better things. On March 21, students and outside speakers did just that on the Lycée's stage.
Speakers
Speakers may not be confirmed. Check event website for more information.
Anna De Schutter
Student
Anna De Schutter is a 12th grader at the LFNY and our club's co-president. Most of you – particularly seniors – have surely experienced that feeling we all have sometimes when we want to stay in with comfort food and a glass of wine (for those who are over 21 of course), avoiding at all costs the chore of speaking to people. Although you always feel a little guilty, in this conference Anna gave you a reason not to by portraying the time you spend alone as an opportunity for contemplation and focus, one to be relished on the off chance that you can actually find some.
Poetess + author
A voyager of love, a poetess of the heart, Billur is the woman who sold her diamonds and reborn like a Phoenix. Born in Istanbul, Billur achieved all her dreams before the age 40. Once a professor at Columbia University in New York and a celebrated United Nations expert on women's empowerment, Billur discovered that her 22 years of schooling did not teach her essential life skills to be happy. That is why she founded Cannes School of Happiness in France to help everyone discover the secrets and techniques of happiness. Then, last year, she took the most important flight of her life: 50-day around the world for her 50th birthday. Indeed, she took 22 flights in 50 days and that voyage changed her life forever. She shares her wisdom and folly through her books, retreats, courses, and films. Her upcoming book is titled "The Road to Happiness: Women's Wisdom on Love, Life, and Margaritas".
Emile Warot
Student
Emile Warot is a 12th grade student here at the LFNY and one of our club members. After last year's very popular talk, he's here to explain the importance of intellectual curiosity in daily life.
Esmé Bonnin-Farrales
Student
Esmé is an 11th grade student at the LFNY and is one of our club members. Her talk is about making the most of small moments.
Chairman and CEO at Galileo Global Advisors
M. Ugeux began his career at the Société Générale de Banque in Brussels. After various appointments, he joined the New York Stock Exhange in 1996, eventually building and managing its International Group. In 2003, he founded Galileo Global Advisors to offer CEOs, boards of directors, and governments independent advice. Today, M. Ugeux is a lecturer in law at Columbia Law School, a director of AXA Tian Ping Property & Casualty and a director of Avant Corporation. During this conference, he addressed a question that's probably looming in the back of some of our minds: "Can financial regulation prevent a new financial crisis?"
Sports medicine physician
Dr. Metzl is a renowned Sports Medicine physician who practices at Hospital for Special Surgery 4 blocks down from the Lycée and has been regularly featured in New York Magazine's Top Doctors list. In addition to being an eminent doctor in his field, he has published five books and been featured in the likes of the New York Times, CNN, the Today Show and NPR. Most of all, he is a dedicated athlete, a 34-time marathoner and 14-time Ironman finisher. His love for sport has inspired Dr. Metzl to pioneer a new connection between the worlds of fitness and medicine, which he talked about in this conference.
Léa Marchl
Student
Léa Marchl is an 11th grade student at the LFNY. She is fluent in four languages: French, English, German, and the official idiom of the LFNY, Frenglish. It seemed only natural, then, that she would be intrigued by linguistic intricacies. Her current English class and the ongoing national debate over the validity of terms like "radical islamic terrorism" or "fake news" have made her wonder about the evolution of language – why language is constantly changing and why we should embrace that transformation instead of fearing it.