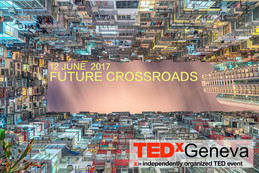 TEDxGeneva brings you to the crossroads of our fast-changing society–the crossroads of technology acceleration, human tradition, artificial intelligence, and an interconnected world. We are each living through these crossroads, together. This event merges our humanistic approach with speakers and participants at the nexus of these crossroads, each with vastly different experiences drawn from the private sector, civil society, cyber world, and international governance.
TEDx is devoted to spreading ideas. We—this diverse network–will spend an immersive evening at the crossroads, forging our experiences together to understand our world. We see the interplay between speaker and network, between experience and debate to be integral to transcending reaction and living change. We invite you to a full immersion in this topic : First speeches, then a cocktail network event. A gorgeous venue, perfectly served food, music, and debate of the key ideas of our time.
Speakers
Speakers may not be confirmed. Check event website for more information.
Antanas Mockus
Professor, twice Mayor of Bogota
Antanas Mockus was twice mayor of Bogota, Colombia and Dean of the University of Colombia. Although his accomplishments include cutting homicide rates by 70% and traffic fatalities by more than 50%, it was his methods, inspired from his days as a mathematics professor, that generated a new style of politics. In his attempts to change the mindset and behaviors of his citizens he became known for his social experiments to improve the city and has lectured all over the world on how to focus on changing the hearts and minds of the masses. His secret: don't preach, don't punish, use artistically creative strategies to empower individuals and create disapproval within communities of unacceptable behaviors.
Ecovillage (Brazil) co-founder
Gabriel Siqueira has always been intrigued by how to collaborate for a sustainable future. He started studying management because he wanted to find a way to work collectively in a productive way. His purpose in life is to support people working with social and environmental organizations to achieve their vision and maintain healthy relationships. In his Masters in Management he researched how organizations innovate. He mapped and studied 101 of the most creative and dynamic organizations of Brazil: ecovillages, cohousing and alternative communities. Later Gabriel co-founded an ecovillage in the South of Bahia, where he lived with his wife and two kids for 5 years. He discovered conflict is part of human existence and unveiled several paths to healthier relationships and conflict resolution.
Vocal adventurer, songwriter and multi-instrumentalist
Mal Webb, Bachelor of Education in Music, is a composer, singer-songwriter and multi-instrumental peformer, whose broad exploration into the workings of the human voice has made him a favourite research subject (or "Guinea Pig", if you will) for voice researchers the world over. He has performed in festival, schools and all kinds of venues for more than 30 years as a solo performer and with all manner of bands. He has composed for TV and theatre. He runs workshops on the science of sound and extended techniques for voice.
Communication trainer
Manfred Ritschard supports companies and their staff for competent customer communications and applied sales psychology. He introduces innovative ways of leadership, marketing and sales and counts well-known firms in industry, pharmaceutics, tourism and hospitality as well as non-profit organizations among his customers. He has supported large-scale distributors and retailers with the introduction of new sales concepts and models for remuneration based advise and service. In younger years he was in leadership positions of travel companies and national associations for which he also organized and directed events and congresses. Manfred Ritschard studied communication and is a corporate educator, expert for tourism and NLP-Trainer (IANLP) with higher national diplomas as well as lecturer for Marketing and Sales Management. He is part of the Top-100 Trainers of Speakers Excellence, the biggest European speaker's agency.
Monique Morrow
President and Co-Founder of the Humanized Internet
Monique is President and Co-Founder of the Humanized Internet, a non-profit organization focused on providing digital identity for those individuals most underserved, blockchain is certainly a potential mechanism for this billion people challenge. She was former Cisco CTO New Forntiers Engineering. Her greatest success has been in infusing a big-picture perspective that helps engineers and business leaders understand how existing and future technologies align with the needs of business, government, non-profits, and society-focused organizations. To this end, Monique was honored as Business Worldwide Magazine's 2016 Visionary of the Year (Technology, Social Change and Ethics) and 2016 Social Media Champion of the Year. Monique is passionate about the humanitarian use of technologies. Monique believes that our identities must be managed by us via decentralized, open technologies – else there is strong potential for abuse.
Sara Garcia
Europe Region Strategy Manager for Caterpillar SARL
Sara F. García is the Europe Region Strategy Manager for Caterpillar SARL an equipment manufacturing company. Sara's + 20 years of experience in working with customers, dealers and sales teams. This combined with her interest in data, as an engineer, has brought her to question how these two worlds can be brought together in a way that is meaningful to the data consumers, while holding up the values in how business has been conducted between the people that have access to the data.
Stanislas Zuin
President of the Geneva Court of Auditors
Stanislas ZUIN holds master degrees in both economics and economic crime investigation, as well as a certificate in development studies. Throughout his career he has worked as a private banking financial analyst, a corporate finance executive, and CFO for both privately-owned and listed industrial companies. He later founded his own consulting firm in economic crime investigation, before being elected in 2006 to his current position as magistrat at the Court of auditors of Geneva, Switzerland. As magistrat he has managed numerous audits including fraud investigations. He currently serves as the President of the Court, and is a frequent lecturer at the University of Geneva in the fields of public management and audit. Beside its professional activity, he has been a member for a six-year period at the Economic and Social Geneva Council and was the co-founder of the Geneva chamber for social economy (www.apres-ge.ch), a flagship network of more than 300 organisations.
PR/Communications executive with a passion for sustainable luxury and fashion
Known among friends as the 'environmentalist in stilettos', Xenya Cherny-Scanlon has worked with the United Nations and major international organizations across three continents — in Africa, Australia and Europe — on promoting greener and fairer ways of living. Xenya brings together her two passions — fashion and sustainability — in a blog greenstilettos.com, which has a vision of "putting glam into green". She also serves as a sustainable luxury and fashion expert, writer and researcher. Xenya lives in a small village on the shores of Lake Geneva with her husband and two children.