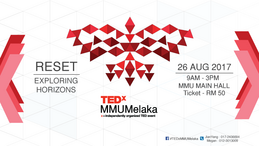 RESET: EXPLORING HORIZONS
This time , "Reset: Exploring Horizons" has become the main theme of our very own TEDxMMUMelaka.
The main idea is that we would like to cultivate growth in our audience, which would mainly consist of students from various backgrounds, to be able to see that there is so much more that the world has to offer. We believe it is essential to expand the views of a tight-knitted group within Melaka to see beyond what is in front of them to help them move forward.
We believe Melaka has lacked the support it should get in rebuilding a future where everyone is involved in building and helping one another. This is why it is imperative that we hold our very own TEDxMMUMelaka to start ignite this flame of innovation.
The event consists of three sessions, which is to Reboot, Rethink, and Restructure.
Reboot: -
In this session, we believe that for a community to believe they can start working together to innovate and work smarter instead of just working harder, we need to be able to inspire and encourage them to take challenges and even make the challenges they need to improve their way of life and thinking. We believe that motivation to think different is everywhere, but the idea of starting something scares some into inaction. Therefore, rebooting oneself is to be able to accept new ideas or challenges and work forward from then on.
Rethink: -
In this session, we think that the goal is to highlight new ways we can approach things. To have a more optimistic and analytical view, or even just ways to be happier with our own way of life. We think I is also crucial to highlight when we do something, how much goodness can we put into that one product or service that we would provide. It can also be imparted into our own way of life as to how we can be better beings just by doing good and better. This session aims to amp up the values that we provide one another in our everyday lives.
Restructure: -
In this session, we believe in giving an end to help our audience realize how they can input what they have heard into their lives. We believe that to manifest the spirit of reaching beyond horizons is to essentially make sure the audience knows that there are things and values out there that are way bigger than just the world they live in- which is at the current state, university. We believe that to prepare our audience to realize that one should always be ready, have plans and be ambitious, and to hold values above all else to enter into the new era of our century.
Speakers
Speakers may not be confirmed. Check event website for more information.
Audrey Lim
Book Writer
Audrey Lim is founder-member of Malacca Theatre Group. She has helped the MTG organise inter-school drama competitions. She also acts and helps regularly in its productions. She also wrote and directed short plays for national-level drama competitions for her alma mater, and recently she wrote 2 short plays for the latest Malacca Theatre Group production Snippets held in November 2016, one of which was a historical but fictionalized play about her aunt who had been jailed by the Japanese during the Occupation, and the other was in the finals of the Short and Sweet drama fest in KL. She also a "History-hounding" with fellow enthusiasts through MHHC and Rakan Melaka etc., with a special focus on Malacca and Malaccans. Hopes to write a book based on the LKW collection of photos, postcards and other memorabilia.she is past President of the Past Pupils Association (PPA) of Convent of the Holy Infant Jesus Malacca. Has written the PPA newsletter since it started in 1988.
Fabien Bouhier
Co-Founder
A little about him. Fabien Bouhier is a communication expert by day, and a Quantum Physics enthusiast by night. His idea is to make Science accessible to everybody, with or without any mathematical background, anywhere, for free, and that was why in 2016, with his friend Aaron Shunk, they co-founded their own science community called PubliSci to share their love of Science with other people. After receiving a Certificate of Completion in Quantum Mechanics and Computation from BerkeleyX, Fabien entered and won the "Try Zero G" contest organized by the Malaysian National Space Agency (ANGKASA), and the Ministry of Science and Technology and Innovation (MOSTI). His experiment titled "Growing Bubble in a Glass of Water" has been performed in the International Space Station by JAXA's (Japan Aerospace Exploration Agency) astronaut, Koichi Wakata, in zero gravity conditions and presented at TEDxKL in 2014.
Kong Keen Yung
NLP Trainer
Kong Keen Yung (born 1969) has been studying NLP (Neuro Linguistic Programming) since 1996. Having received professional training from Canada's leading NLP training institute, NLP Canada Inc. Being a freelance speaker and trainer, ever since 1999, the students that he has trainedhas numbered more than 5 figures. He has trained various business and non-business organizations, conducting in-house as well as public seminars. His life mission is: Always Learning and Always Sharing. He is very successful with his on going NLP PERSUASION training, MIND POWER training and SOCIAL POWER training. A lot of professional speakers, artist, TV personalities and politician have taken his training.
Makeup Artist
Alexander has been exploring face and body art and theatrical makeup since 2014. His artistry started when he wished to transform himself into characters from his favorite horror films. His work has since been featured in The Star, The Sun Daily and Says dot com, and he was invited to speak at TEDxSunwayUniversity last year. His effervescent personality is fuelled by a healthy dose of Starbucks and pizza. He is currently pursuing his Master in Child Psychology, and is working on his debut Novel.
Lennise Mia
Entrepreneur
Lennise started her entrepreneurship journey at the age of 19 and has since immersed herself into doing business in 3 different industries. Ever since her stint in working with Australian startups, she got nicknamed as the startup cheerleader - providing motivation and pushes where necessary. At Infinite Ventures, Lennise groomed and invested in multiple tech startups across Malaysia. Now jumping back into entrepreneurship, Lennise is determined to marry tech innovations with traditional industries in order to create a better future for humanity.
Michaelina Chua
Project Manager
Michaelina Chua is a Project Manager with The National Cancer Society of Malaysia for the Southern Region. She has 7 years of experience planning for programs and services run by volunteers and staff in support of cancer patients, their families and caregivers in the state of Melaka. She is enthusiastic about moulding volunteerism amongst the community. Michaelina has managed 6 Relay for Life Melaka, an annual 16 hour overnight cancer fundraiser, with an average turn up of 2000 participants and survivors per year. She has planned and trained individual volunteers in support of cancer patients for the local hospital and intends to set up the first recuperative play therapy centre for children with cancer in Melaka. She truly believes that all these were and is possible only with an empowered community and she is optimistic of its legacy of success.
Santha Nair
Teacher
Santha Nair is a highly motivated and confident first class honors graduate in the Bachelor of Teaching in Teaching English as Second Language for Primary School (TESL) from Dato' Razali Ismail Campus of Teacher's Training Institute, Terengganu. Since she was talented in drawing and painting, she participated in multiple poster drawing competitions and achieving the best in it at the age of 11. It contributed to her active lifestyle at school when she was selected as one of the Malaysian ambassadors for the 2nd Malaysia Thailand Student's Exchange Program at the age of 17 which allowed her to sustain the friendship until today. Since she was the only child, her events were her best friends. Her activeness as a school prefect and a Sargent in the Youth Cadets have gained her counselor's attention to put her profile forward for the Malaysian Youth Council.
Terrence Aaron
Debater
Terence Aaron used to debate for the UT MARA Debating Society. To him, competitive debating wasn't enough. He also trains younger debaters and goes around introducing the art to schools. In 2017, he co-founded INTRTXT to promote critical thinking and creative expression. Competitive debating was a core tenet. This includes plans to encourage creative writing and awareness on civic participation. He also noticed the gap between scenes outside and inside the Klang Valley. So he ran the Kuching Debate Leagues and the Miri Debate Leagues. An avenue for underdeveloped debating communities. Terence trains SM Sains Kuching Utara (SAKURA). A school that won the Prime Minister's Cup earlier this year. They were the first team from East Malaysia to win the tournament. He hopes to see more people participating and organizing debates or similar activities. Especially for non-Klang Valley debaters, who need greater representation.
Thomas Alex
Student
Thomas Alex is Indian by nationality. Seeing and understanding the harsh realities of the world, he has decided it was his duty to help the global society in any way possible. Having exposure from countries like England, Qatar, Wales, UAE, he still manages to win various competitions nationally and internationally. Currently, he is working with the Indian International Model United Nation to broaden the horizons of the youths. To list a few of his achievements, he has been successful at extempore, essay writing, power point presentations, personality assessments and even at the all India short story awarded by Ruskin Bond. He has even been called to be the Assistant Director at Harvard Model United Nations China 2017 and has been invited to give a TEDx speech in Mumbai.