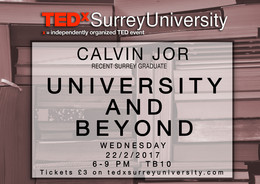 ​In the UK we spend an average of fourteen years in compulsory education, seventeen if we go onto higher education, but do those years of exams, assignments, lessons and lectures really prepare us for the real world? Does University prepare us for the world beyond structured education or is it the things we do outside of education that really count?
Speakers
Speakers may not be confirmed. Check event website for more information.
Founder & owner of Sushi Lab (Guildford, UK)
Calvin was born in Hong Kong and graduated from high school in Australia in 2011. He came to the UK to study Hospitality & Tourism Management in 2012 at the University of Surrey and joined the committee of 5 different societies. He graduated in July 2016 and has now opened his own business: Sushi Lab, a quick-service restaurant in Guildford town centre.