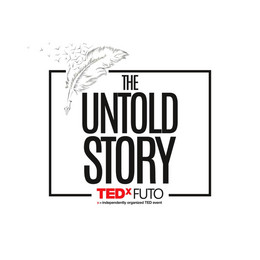 TEDxFUTO was created with a desire to share wonderful stories and insights from our community, develop connections, raise awareness, collaborate, and most importantly,
innovate and learn.
Our mission is to bring together leading thinkers and doers under one roof to share ideas that matter and to further extend the TED mission of "ideas worth spreading".
Our vision is to establish platforms that will educate entertain and provoke
conversations that will continue long after our event is over; promote conversations and
share ideas that will provide insight for individuals within our community as a whole.
Theme Choice
Quote:
There is no greater agony than bearing an untold story inside you. - Maya Angelou
Stories are important to the existence of man and this can not be exhausted. A story has the ability to transform minds, build empires, crush down walls and above all build connections. How then can we achieve this if alot of stories are left untold.
Join us at TEDxFUTO as we unravel #TheUntoldStory .
With a well curated number of Speakers all from diverse fields and backgrounds you are in for the experience of a life time.
Speakers
Speakers may not be confirmed. Check event website for more information.
Blessing Abani
Student
She is also the national publicity and media executive Girl hub Africa Volunteers Network, Administrator for The Beautiful Onyinye Foundation, Logistics head Amazing Amazon Initiative Owerri chapter Abani Blessing is a proud Volunteer and uses it as a tool to inspires, mentor and coach young girls in achieving their full potentials. An Alumnus of the young professionals BootCamp 2016. She aims to work with the United Nations in empowering young ladies in Africa and beyond.
Canice Ngumah
Community Builder
Canice Ngumah is a Software Engineer, Tech facilitator for Andela ALC Owerri, Tech community Builder, Aiki.ng student ambassador, Forloop Africa member, Microsoft (Hour of code) volunteer, Designer and an overall Techie Advocate. He his currently working with hutzpainnovation group (Innovators village), providing innovative solutions to various sectors of life, or field of life. He always attempts to look beyond the present physical level, and sees ideas as a means not only proffer solutions but to also maintain it using innovative techniques. Asides coding, he enjoys playing the piano during his free time.
Chukwuma Anurunkem
Media Practitioner
Chukwuma Anurunkem is a media practitioner, with focus on Film and TV. He runs the franchise Crystal Naija TV which is an online TV which came into the scene in 2015. A youth leadership/entrepreneurship advocate, and an Alumnus of the Tony Elumelu Entrepreneurship Program which held in 2017. He runs an entrepreneurship network called Enterprise Breakout Network which organized the the maiden edition of the Imo Startup Weekend. The Lagos born and bred Chukwuma also played an active role in the Lagos computer business environment from 2004-2011 as he took up computer maintenance prior to getting admitted into the university. Amongst other things, he is also the team lead at the Process Project Nigeria - mentorship and capacity development platform.
Kelechi Iwuagwu
Broadcaster, PR Enthusiast
Kelechi is said to be a 'lazy Nigerian Youth', an activist, a trained broadcaster, a graduate of Mathematics from the Federal University of Technology, Owerri and a Public Relations enthusiast. He goes by the popular sobriquet "PRagmatic" and is generally recognized for saying things as they are. Very practical, open minded and is passionately concerned about the preservation of the African culture using social media. A co-convener of the #AfricanLanguagesDay, a movement that has seen to the indexing of Kiswahili on Twitter as the first African Indigenous language to be indexed on the platform. He is eagerly clamoring to see more African indigenous language indexed on every social platform.
Osikhena Dirisu
Media Personality
Osikhena Dirisu is at the apex of his career as a Radio and TV Personality. He has constantly changed status quo and revolutionized the broadcast space by his involvement on Radio, TV and various media campaigns since 2005.