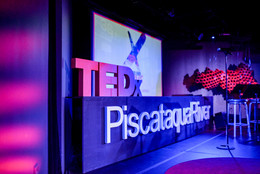 Speakers will address "On Your Own Terms" directly or indirectly through topics including ambassadorship, heroes, education, conservation, patriotism, stress, technology, ethics, gender identity, city planning and aging. We'll explore the many ways we can approach various aspects of our life and the world on our terms, and how that concept applies to our communities and others.
Our speakers include business, faith and education leaders, innovators and philanthropists, world-class athletes and musicians, artists and advocates. Speakers are a mix of local, regional and national experts across a wide range of disciplines. Full bios can be found at http://tedxpiscataquariver.com/speakers.
NEW this year: Play with us! Interact with us during the day through a series of immersive art-making experiences created by Circulus Arts that will poke at your perspectives and tickle your terms. Some are collaborative, some are created for the individual - it's all about exploring the question "what are my terms?"
Speakers
Speakers may not be confirmed. Check event website for more information.
Arts management
Adam Roberts is the founder of Arts in America, a media company moving the arts from the margins to the mainstream. He has worked in nonprofit and arts management for nearly 20 years, including the Huntington Theatre Company, Handel and Haydn Society, and Exeter Theater Company.
Writer, Teacher, Speaker
Alex Myers is a writer, teacher, and speaker. A graduate of Phillips Exeter and Harvard, he was the first openly transgender student at both institutions. He teaches English at Phillips Exeter and is the author of Revolutionary (Simon & Schuster, 2014), a novel that tells the story of his ancestor, Deborah Sampson, who disguised herself as a man to fight in the Revolutionary War. Alex runs workshops and speaks at schools across the country on the topic of gender identity and supporting transgender students.
Philanthropic Advisor
Alyssa Wright is a social change artist, movement builder and philanthropic advisor, and is the thinking behind Wright Consulting, LLC's community-driven approach to accelerating social change. She has collaborated in communities such as Women Moving Millions, Resource Generation & New England International Donors, and graduated in 2016 from Cornell University certified in Change Leadership.
Bob Fernald
Marathon Swimmer
Bob Fernald is a local open water marathon swimmer, who is among a select few swimmers in the world to hold the Triple Crown of Open Water Swimming. A Portsmouth, NH native, Bobo has a professional background in building successful customer experience businesses across several industries. With very little swim background, his swimming is adult-onset. Overcoming fear, and adversity along the way, Bob has joined the world's elite with many noted accolades in open water swimming history.
Caitlin McDonough MacKenzie
Ecologist
Caitlin McDonough MacKenzie is an ecologist and alpine zone enthusiast. She studies plant ecology above treeline in New England, with an emphasis on understanding changes in plants communities over multiple time scales — from the recent Anthropocene to the last 15,000 years. Caitlin studied Environmental Science and Public Policy as an undergraduate at Harvard University, and Ecological Planning as a master's student at the University of Vermont. Her PhD in Biology at Boston University explores patterns of species loss and spring phenology in New England's plant communities, and she conducted field work at Acadia National Park, Maine as a George Melendez Wright Climate Change fellow, a National Park Service researcher, and a National Science Foundation Doctoral Dissertation Improvement Grant recipient.
Cathleen Toomey
Branding Professional
Cathleen Toomey is branding professional who has helped build such NH brands as Timberland, Stonyfield Farm and UNH, and cut her teeth in ad agency work in New York City and Boston. In the last 10 years, Cathleen has been responsible for sales and marketing for RiverWoods, a nationally-accredited Continuing Care Retirement Community, as their VP of Marketing. A former non-profit board member for CrossRoads House, Prescott Park Arts Festival and Exeter Chamber of Commerce, she currently focuses her volunteer efforts with St. Vincent de Paul of Exeter.
Musician
Celia Woodsmith is a GRAMMY Nominated performer and songwriter. Since 2007 she has released seven albums of original music playing with Boston-based Avi & Celia, "washboard rock and roll" outfit Hey Mama and Nashville-based Della Mae (2013 IBMA's Emerging Artist of the Year & 2014 nominee, a Best Bluegrass Album GRAMMY). From 2012-2016, Celia took several trips with American Music Abroad, a cultural diplomacy program funded by the US State Department. She is currently playing solo shows all over the Northeast and also performs regularly with "Woodsmith & Hersch" a Boston based vintage electric outfit.
Christine Kelly
Master Hypnotist and Trainer of Neuro-Linguistic Programming
Christine Kelly is a Master Hypnotist and Trainer of Neuro-Linguistic Programming. Christine uses these techniques, and the underlying neuroscience, to help clients make changes in their lives. Christine teaches groups in corporate and healthcare settings to make changes for individuals, teams and leaders.
Elissa Margolin
Public Policy Consultant
Elissa Margolin is a consultant to nonprofit organizations with a focus on public policy. Her career includes roles directing a national nonprofit, policy development at the US Department of Justice, coordinating statewide coalitions and managing a re-election campaign for a US Congressman. She resides in Portsmouth, New Hampshire.
Author
Jacquelyn Benson is a writer, thinker, feminist and adventurer. She holds an MA in Anthropology from Queen's University of Belfast, where she specialized in how cognition shapes culture and wrote a thesis on the social lives of paranormal investigators. As a novelist, she writes high-stakes, page-turning thrillers featuring strong-minded women. Her debut novel, The Smoke Hunter, was nominated for Best Historical Fiction of 2016 by RT Book Reviews. Jacquelyn is a New Hampshire native and mother of two. Learn more about her at JacquelynBenson.com.
Jeff Stern
Filmmaker, Professor
Jeff Stern is a filmmaker, professor and occasional Luddite who lives in Portsmouth, NH with his wife and two sons. He earned his MFA in film production from Boston University. His most recent film, The Morning of Everything, has played at numerous national film festivals. Jeff works at Bentley University, where he teaches in the Media and Culture Program. In 2014, Stern required his Bentley University students to go on a 48-hour "Digital Fast", which received press coverage in The Boston Globe and on WBUR. Jeff helped organize the Seacoast Digital Fast, which just completed their second annual event.
John Shea
Educator
John Shea's education career spans 25 years, as a teacher, principal or counselor for schools including Berwick Academy, Spaulding High School, High Tech High (a charter school highlighted in the documentary film "Most Likely to Succeed") American Embassy School of Delhi, International School of Panama and Cambridge Rindge and Latin. Originally from Philly, John has called Portsmouth, NH his home for the past 15 years, and is currently writing a book based on a bicycle trip around the world back in 1993-94. John received his undergrad degree from Notre Dame, MBA from Harvard Business School, and M.Ed from the University of Washington.
Jonny Peiffer's Sojoy Featuring Junichi Fukuda
a big little Jazz band
Jonny Peiffer began performing on the Seacoast in the late 90's with Drika Overton's Portsmouth Percussive Dance Festival and 'Clara's Dream: A Jazz Nutcracker.' Now with Sojoy, he has gathered an ensemble of the finest improvisers in the area to perform music he has composed and perfected over the past decade and a half. His influences range from Ben Allison, Jaco Pastorius, and Andrew Hill to Ellington, Mingus, and Monk. Sojoy is a new spin on a modern Big Band tradition.
Kirsten Hunter
Teacher
Kirsten Hunter has been teaching in non-traditional settings for more than 25 years. She earned her master's degree in Special Education from the University of New Mexico, and served as a teacher in a public elementary school in Albuquerque for several years before returning to work at her family's farm in New York. During her time in New York, Kirsten was also an outspoken advocate for engaging children with the outdoors. Kirsten moved to New Hampshire in 2009, and stepped into her current role as Director of Religious Education at South Church Unitarian Universalist congregation in 2012.
Lidia Balanovich
Student
Lidia Balanovich is a 16-year-old high school student ranked number one in the class of 2018 at Nashua High School North. She has completed and is currently taking a total of six Advanced Placement classes, most of them connected to STEM topics. She is an active member of the National, Math, and Science Honor Societies at North, and has started a club at her school which has reached out to several other New Hampshire elementary schools to get more younger girls involved in robotics, engineering and life sciences.
Master Drummer & Dance
Namory Keita, a master drummer from Guinea, Namory Keita was born in 1982 in the village of Sangbarala, Guinea. At age 7 he began drumming, becoming the lead drummer for his village in 2006. Members of his family are well-known drummers. His brothers, Solo Keita, living in Japan, and Nansady Keita, in England, grew up drumming with Namory under the tutelage of his uncle, Famoudou Konate, one of the most famous West African drummers in the world. As an international teacher and performing artist, Namory has been invited to many places to share his culture including Germany, Poland, France, Canada, and Portugal. Since coming to America in 2010, he has played with noted musicians and venues throughout New England and the US and abroad. Liz Fowler has been dancing since she was a young girl. She has a BA in Dance Studies and has studied with teachers from Guinea, Mali, and Senegal Namory Keita & Liz Fowler teach Guinean style West African drum & dance at The Dance Hall in Kittery, Maine.
Authentic Placemaker
Russell Preston is the founder of Principle Group, a planning, design, and development firm focused on creating authentic places. He has worked as a designer and urbanist since 1999. A national leader in city planning and urban design, he is editor of "Living Urbanism", a publication on contemporary urban design and city building. A graduate of the University of Notre Dame School of Architecture, and University of Miami master's program in architecture and urban design, in 2010 he received the Faculty Award for Outstanding Contribution to the Profession from the University of Miami.
Photo & Video Journalist
Steve De Neef is a photo and video journalist who specializes in conservation photography highlighting the importance of our oceans. He collaborates with scientists and NGOs in the hopes of inspiring positive change, getting conservation research efforts seen by a broader audience and changing environmental policies. Steve has filmed for the BBC series "Shark" and National Geographic's 2017 documentary "Sea of Hope". He speaks regularly at conservation events and has presented documentaries at conferences like Convention on International Trade in Endangered Species that played a role in gaining more protection for sharks.